Dragonfly Mercury Project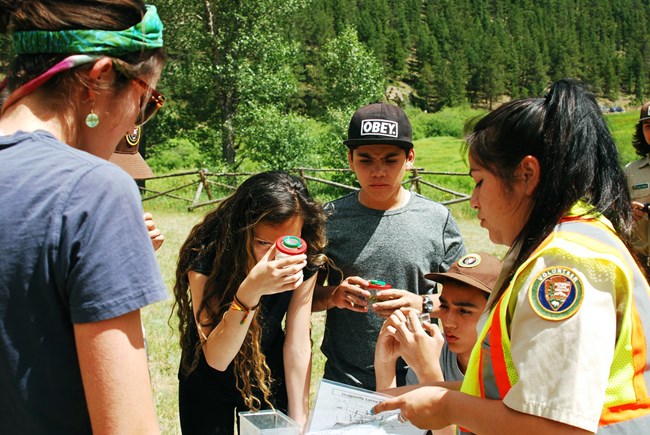 The Dragonfly Mercury Project engages citizen scientists such as students and visitors to collect juvenile dragonflies in national parks. Dragonfly larvae live for years underwater eating insects and even small fishes. Mercury builds up inside the larvae and can give scientists insight into the health of the waters in which they live. Mercury is a toxic pollutant that can harm
human health
and
wildlife health
. Mercury often enters parks as air pollution from distant, human-caused, sources, like coal-burning power plants.
Come Explore with Us!
Experience the Dragonfly Mercury Project by watching this
short video
. Or grab rubber boots and a sampling net and join park rangers as we search for juvenile dragonflies. Citizen scientists are able to collect many times the number of dragonflies from many more parks than would be possible for scientists alone.
Contact us
and learn how to join in!
"Like" us on Facebook!
Six-Legged Scouts in the National Parks
#dragonflymercuryproject
on Instagram
Why Juvenile Dragonflies?
Dragonflies live in streams, wetlands, lakes, and other water bodies across the country. We usually see the luminescent wings and elongated bodies of the adults zoom across the water's surface. Just below the surface, on rocks, plants, and in the sediment are the juvenile dragonfly larvae. Dragonflies spend most of their life in the water as larvae.
Wind can transport airborne mercury over long distances, depositing it in seemingly pristine areas like national parks. Once there, it enters the food chain and builds up in higher predators. Dragonfly larvae build-up higher levels of mercury than other types of water-dwelling insects because:
They are predators that eat a lot of smaller insects and even small fish, making them high on the food chain.
They can live up to 9 years underwater as a larva, accumulating mercury as they grow.
Dragonfly larvae are a food source for many types of fish. Anything that eats these dragonfly larvae also consumes the higher levels of mercury that the larvae have accumulated. Fish are then eaten by birds and mammals. Some of the fish that people like to catch and eat can have high levels of mercury, even in remote parks.
Unlike fish, dragonfly larvae are easy to capture with a net and to identify. Citizen science teams send the data they collect to labs for mercury analysis. The results tell us about the amount of mercury present in the sampled water body.
Results
Since 2011, over 100 national parks and more than 4,000 citizen scientists have been involved in this project. Laboratories at the U.S. Geological Survey, University of Maine, and Dartmouth College analyze the dragonfly larvae collected in parks for mercury and report the results. Recent findings indicate that:
Dragonfly larvae are widespread and effective indicators of mercury risk to ecosystems;
Concentrations vary as widely within parks as across parks; and
Mercury risk varies widely across the landscape.
Reference: Eagles-Smith et al., 2018.

Explore park and sample site specific results on the Dragonfly Mercury Project Data Map. Photographs of some of the collected larvae are also available at iNaturalist.
For More Information
Dragonfly Mercury Project 2018 - Sampling Guide
Check out our educational toolkit for resources and interpretive materials for Dragonfly Mercury Project leaders and participants.
Acknowledgements
This project began as part of Acadia Learning, a collaboration with the Schoodic Institute at Acadia National Park, the University of Maine, and Maine Sea Grant. The project was funded in large part by the NOAA B–WET (Bay Watershed Education and Training) Program and the University of Maine through Faculty Research Funds and High End Instrumentation Research. Key personnel who are contributing include:
Last updated: April 23, 2020