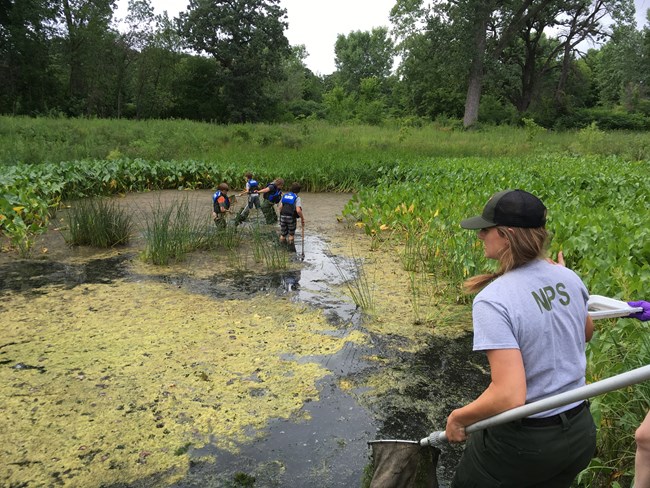 The Dragonfly Mercury Project engages citizen scientists such as students and teachers in the collection of juvenile dragonflies, also known as dragonfly larvae, from national parks for mercury analysis.

Mercury is a toxic pollutant that can harm human health and wildlife health. Mercury often enters parks as air pollution from distant, human-caused sources, like coal-burning power plants. Dragonfly larvae are excellent indicators of mercury risk because they can live for years underwater eating insects and even small fish. Once it is deposited, mercury can build up inside the larvae and give scientists insight into the health of the waters in which they live. Using parks as classrooms, this study provides data for natural resource managers to protect human and wildlife health.
Come Explore with Us!
Experience the Dragonfly Mercury Project by watching this short video. Then, grab some rubber boots and a sampling net and join park rangers as we search for juvenile dragonflies! Park rangers and enthusiastic volunteer citizen scientists collect many times the number of dragonflies from many more parks than would be possible for scientists alone. Since 2011, over 100 national parks and more than 4,500 citizen scientists have participated in this dynamic, nationwide project. Contact us and learn how to join in the fun!

Explore this interactive Story Map to see how studying mercury in dragonflies connects people to parks and helps scientists learn about mercury pollution across the country.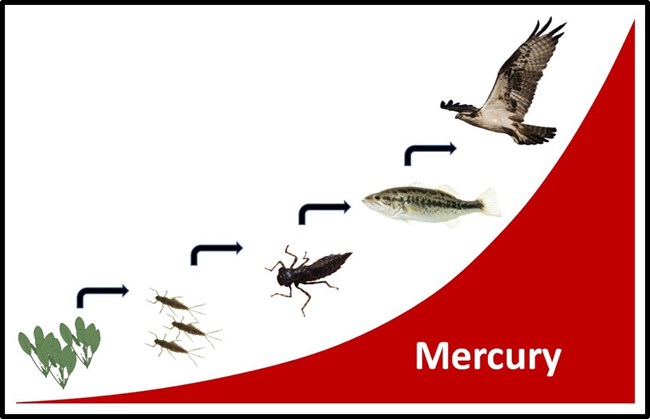 Why Dragonfly Larvae?
Dragonflies live in streams, wetlands, lakes, and other water bodies across the country. We usually see the luminescent wings and elongated bodies of the adults zoom across the water's surface. Just below the surface, however, on rocks, plants, and in the sediment, are the juvenile dragonfly larvae. In fact, dragonflies spend most of their life in the water as larvae. In this form, they can serve as an indicator of mercury in the environment.
Check out this cool dragonfly larvae video!
The Dragonfly Mercury Project uses dragonfly larvae as bioindicators of mercury in the environment. What does that mean?
Dragonfly larvae eat a lot of smaller insects and even small fish, making them high on the food chain. Each time a predator eats prey with mercury inside, they accumulate that toxin too.
Dragonfly larvae are a food source for many fish and birds. Those fish and birds are then eaten by other fish, birds, and mammals. Mercury in the larvae therefore tell us if there is a risk to humans and other animals.
Unlike fish, dragonfly larvae are easy to catch with a net and to identify. They are also smaller than many fish, making them easier to sample and analyze.
Dragonfly larvae also live in many different habitats, including ones where fish do not live. They are found on every continent except Antarctica!
Dragonfly larvae serve as a surrogate for other freshwater taxa. Mercury concentrations in dragonfly larvae are representative to those in fish and amphibians collected from the same locations.
After collection, dragonfly larvae samples are shipped to the U.S. Geological Survey Contaminant Ecology Laboratory in Corvallis, Oregon for mercury analysis.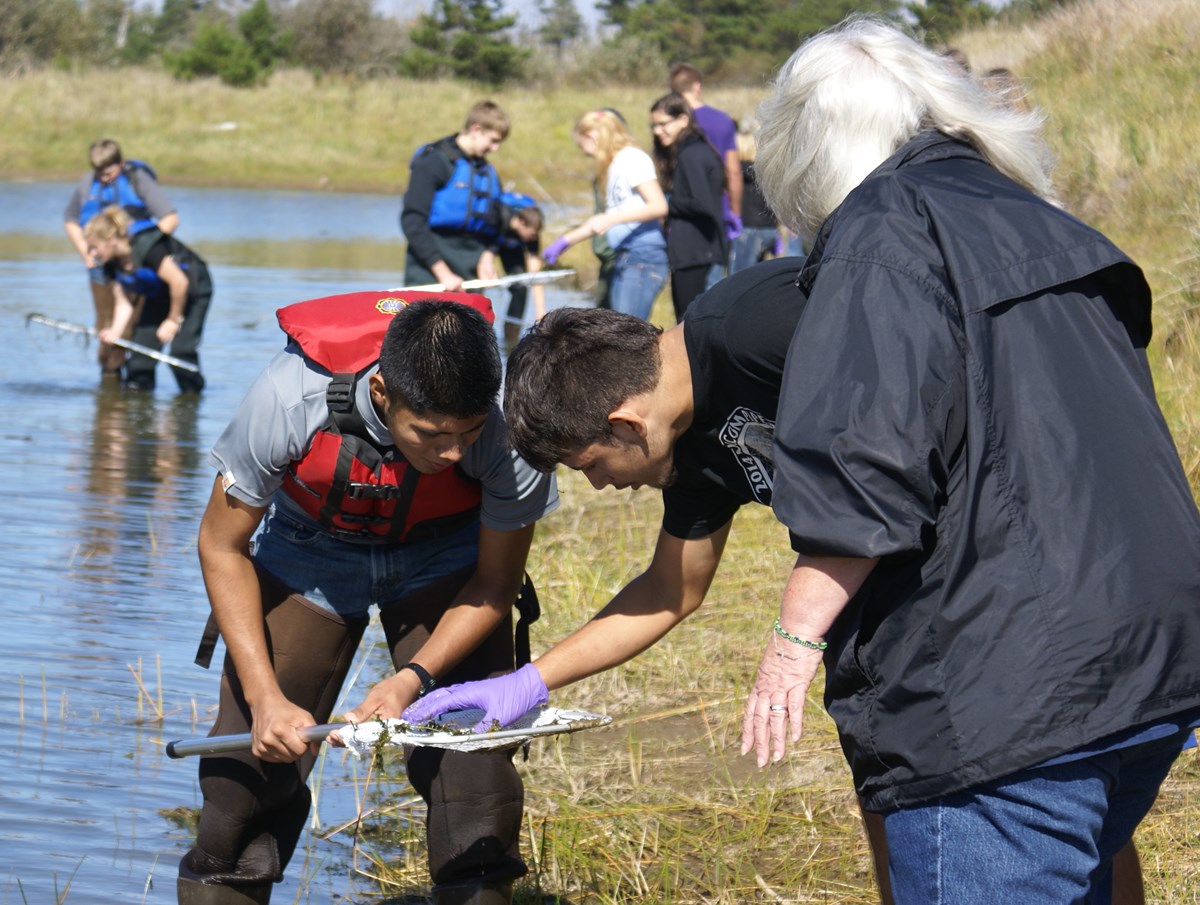 Data and Results
Explore overall park and site-specific sample results on the Dragonfly Mercury Project Data Map.

Study results show that:
Dragonfly larvae are an effective biomonitoring tool.
The DMP is a great way for people to help with meaningful research and learn through experience.
Mercury levels can be very different in nearby locations. This may mean that things like elevation or vegetation have an important influence on mercury risk in parks.
Most sample sites are in the moderate to low risk category, but 12% of sites are at high or severe risk for mercury, potentially causing harm to fish, wildlife, and people who eat those fish and wildlife.
Continuing to sample and study mercury in dragonfly larvae could help researchers predict potential risk to other animals and see how well efforts to reduce mercury (in the U.S. and internationally) are working.
Reference: Eagles-Smith et al. 2020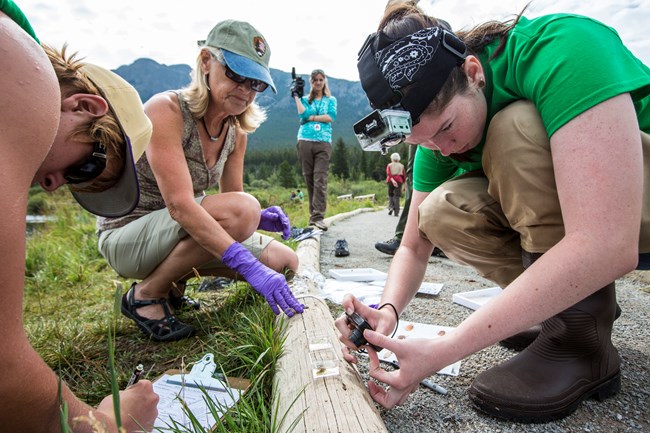 More Resources
Check out our Sampling Guide to learn about the process of sampling dragonfly larvae for mercury analysis.

View photos of some of the collected larvae on iNaturalist.
Tools for dragonfly identification:
Supplemental activities: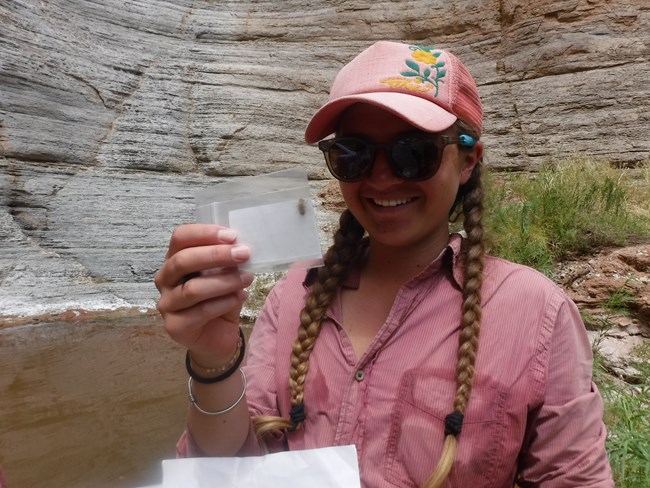 How to Get Involved
Do you want to get involved with collecting dragonfly larvae in a beautiful national park? Contact us to learn how to join in the fun! You can also:
Project Partners
The DMP is jointly managed by the National Park Service and U.S. Geological Survey, with collaborative engagement from the Appalachian Mountain Club and Dartmouth College. Support for this work is provided by the National Park Service, the USGS-NPS Water Quality Partnership, USGS Environmental Health Mission Area's Contaminants Biology and Toxics Substances Hydrology Programs, the USGS Ecosystems Mission Area, University of Maine, and the National Park Foundation. Key contributors to the Dragonfly Mercury Project include:
Collin Eagles-Smith, Ph.D., James Willacker, Ph.D., Colleen Emery, and David Krabbenhoft, Ph.D., U.S. Geological Survey
Colleen Flanagan Pritz, Katherine Ko, Abe Miller-Rushing, Ph.D., National Park Service
Sarah J. Nelson, Ph.D., Appalachian Mountain Club
Celia Chen, Ph.D., Dartmouth College
Jennifer Wilkening, Ph.D., U.S. Fish & Wildlife Service
Multi-agency DMP Steering Committee representing diverse resource management and regulatory agencies, including U.S. Environmental Protection Agency
National Park Service staff and citizen scientists
The early underpinnings of the Dragonfly Mercury Project began in 2009 as part of Acadia Learning, a collaboration with the Schoodic Institute at Acadia National Park, the University of Maine, and Maine Sea Grant. The project was funded in large part by the NOAA B–WET (Bay Watershed Education and Training) Program and the University of Maine through Faculty Research Funds and High End Instrumentation Research.