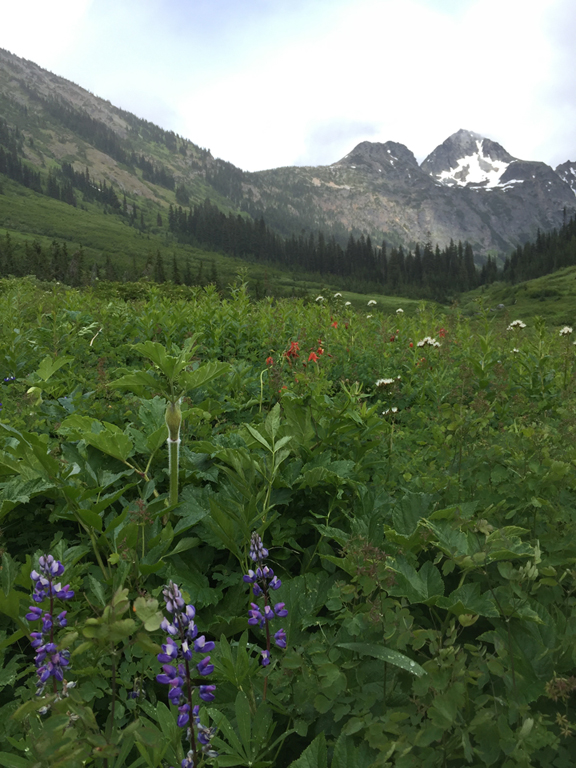 General Conditions

July 14, 2016
Cool, wet conditions have predominated recently, including snow flurries on the peaks of the North Cascades' western slopes. Forecasts are predicting generally wet conditions for the coming week, with slightly warmer temperatures than the past week's weather systems. Check current weather forecasts before heading into the backcountry for the day or for overnight. Weather this time of year ranges from clear, hot weather to rainy, cooler weather, so be prepared! The winter snowpack was relatively normal and robust above 5,000 feet, and July's unseasonably cool and cloudy conditions has resulted in a slow-than-usual melting of the snowpack in the high country. Most passes near the crest will likely retain some snow through late July. Trails below 5,000 feet are generally snow-free now. Although trail crews are hard at work clearing last winter's extensive windfall and assessing for trail damage, there are still trails that have not yet been cleared. Be prepared for a variety of trail conditions. Following significant rain events and thunderstorms, streams can become more swollen and unbridged crossings become challenging. If venturing in the high country, be prepared for deep or occasional new snow, thin snow bridges, the potential for steep slopes and avalanche hazards, and route-finding. Some passes still require an ice axe for safe navigation across steep snow slopes. If you are planning a wilderness trip to the park, leave a detailed trip plan with friends or family.
The trail conditions listed in the table below represent the last known status or typical conditions, but please note that conditions are always changing. Biting insects are being reported in many locations now!
Backcountry permits: Backcountry permits are required year round and are available from the main permit office, located at the Wilderness Information Center in Marblemount. See the Wilderness Trip Planner page for trip planning resources. Whenever and wherever you travel in the wilderness, please be safe and touch the wilderness gently. Know and practice Leave No Trace camping and hiking. Please e-mail us if you have trail conditions to report.