Cascade Pass / Sahale Arm Trail
The wilderness is a place of rest-not in the sense of being motionless, for the lure, after all, is to move, to round the next bend. The rest comes in the isolation from distractions, in the slowing of the daily centrifugal forces that keep us off balance.

-David Douglas, from "Wilderness Sojourn"
Distance - one way from Cascade Pass Trailhead
Elevation gain
Use
Difficulty

To Cascade Pass: 3.7 miles (6 km)

To Sahale Glacier: 5.9 miles (9.5 km)

To Cottonwood Camp: 9.0 miles (14.5 km)

1700' (550 m)

3940' (1200 m)

1700' (550 m) /
2600' (790 m) loss

Hiking only

Hiking only

Hiking only

Moderate

Strenuous

Moderate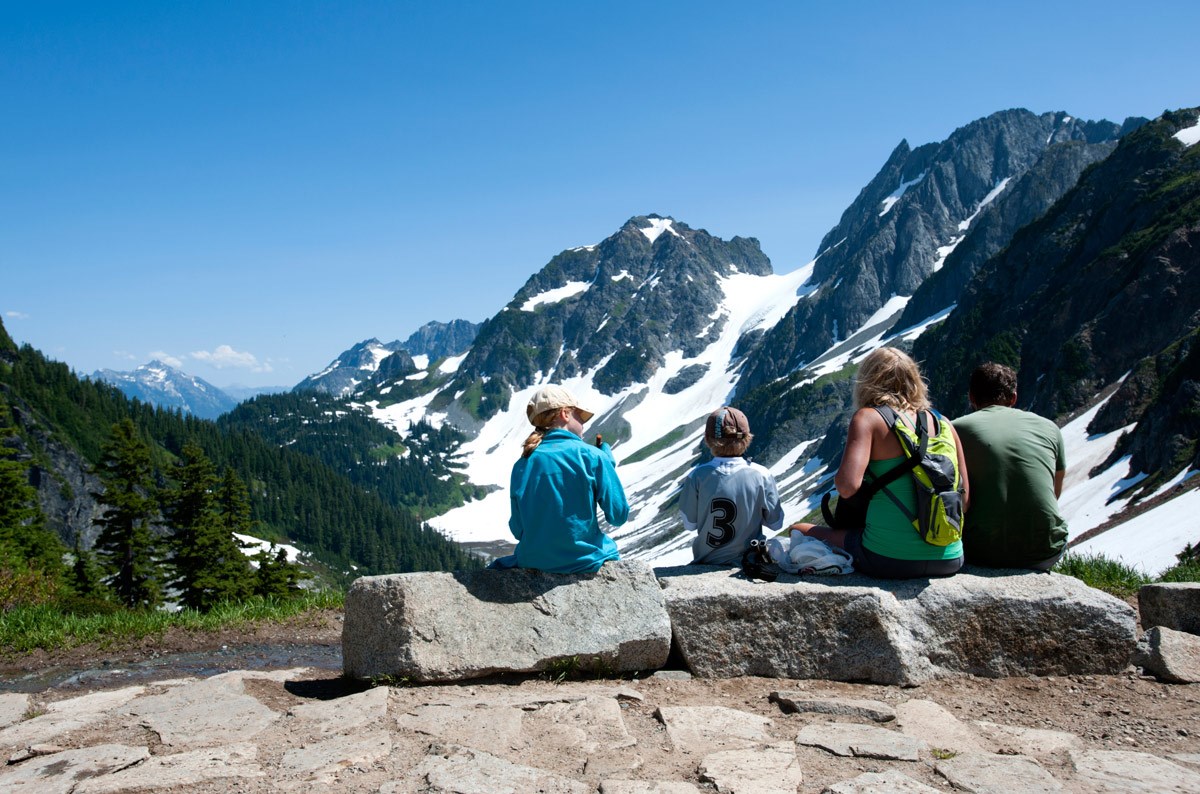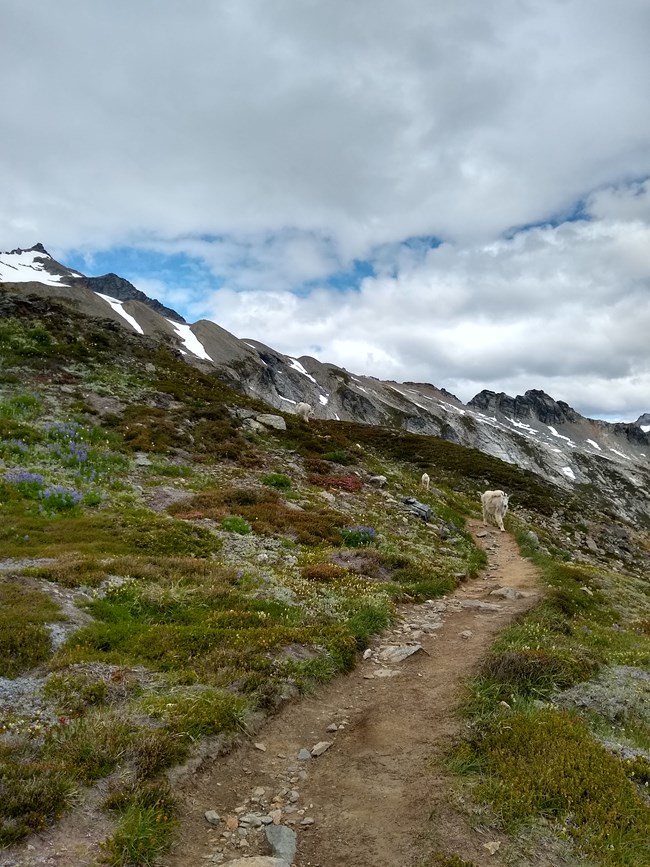 The Cascade Pass Trail is a great day hike with spectacular views of peaks and glaciers. The trail climbs steadily to the pass, with views of peaks such as Eldorado, Johannesburg, Magic, Mixup and McGregor. This trail provides the shortest and easiest access in the park to the alpine environment. As a result, Cascade Pass is the most popular day hike in the national park and can be quite busy on summer weekends.
For an extended day hike, continue on to the Sahale Arm Trail. This trail ascends steeply through subalpine meadows and talus fields to the base of the Sahale Glacier. Expansive view of numerous peaks, including Mt. Rainier on a clear day, await. Stehekin can be accessed via the Cascade Pass Trail. It is a 23 mile (37 km) hike from the Cascade Pass parking lot to High Bridge, where shuttle service is available to Stehekin. See the detailed trail description for more information on this area.
Special Concerns:
Pets are not allowed.
This area has very fragile vegetation. Please take care to protect the plants by hiking and resting only on durable surfaces such as the trail, snow or rocks.
Fires are not allowed at any of the backcountry camps in this area.
The Cascade Pass Trail may have steep snow sections that require an ice axe for safe travel as late as July.
Backcountry Camping: A backcountry permit is required for all overnight stays. Permits are limited. There is no camping allowed directly at Cascade Pass but there are several campsites nearby: Pelton Basin, Sahale Glacier, Basin Creek and Johannesburg. There are numerous campsites along the trail to Stehekin as well.
The Cascade Pass area is one of the most popular backcountry destinations in the park, therefore permits can be difficult to obtain during busy periods.
Access: The Cascade River Road leaves State Route 20 at Marblemount and extends 23.1 miles (37 km) to the trailhead-about an hour's drive. The road is paved for the first third and then becomes gravel, with some narrow and steep sections near the end. The road typically opens to the Cascade Pass parking lot by the end of June, except in heavy snow years when it may not open until early July.
For more information on current road and trail conditions, backcountry permits, regulations and trip planning please see our Wilderness Trip Planner.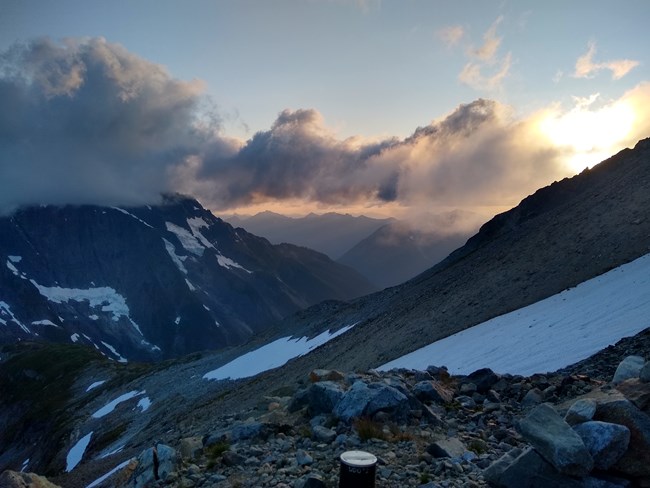 Detailed Trail Description
The Cascade Pass Trail is a spectacular hike with views of peaks and glaciers. The trail climbs steadily to the pass, from which hikers may explore in several directions. The Cascade Pass Trail is also a popular starting point for climbing routes to Sahale, Boston, Mixup, and Magic Peaks, and the Ptarmigan Traverse into the Glacier Peak Wilderness.
The trail switchbacks through cool forests then traverses through meadows to the pass. While hiking up the trail, listen for the roar of falling ice from hanging glaciers on Johannesburg Mountain and the sound of water from the many falls which give the Cascades their name. As you reach the pass, you are following the footsteps of travelers from ancient times. Native Americans used this route as a passage through the rugged Cascades. In 1811, fur trader Alexander Ross explored this route. Later, prospectors with dreams of gold and silver came this way.
Cascade Pass is in the subalpine life zone, a place of deep snows and brief summers. A show of yellow glacier lilies and other brightly flowered plants quickly follow melting snow. Look for mountain heather, a short, woody evergreen shrub with pink blooms. Although heather thrives in this harsh environment, its brittle stems easily succumb to careless steps.
Cascade Pass is the site of a major revegetation effort. Seeds and cuttings are collected here and nurtured in greenhouses. Later they are planted back to heal old scars. Please help in this effort by staying on designated trails and stopping for breaks on trail or rock!
Just to the east of the pass, the Sahale Arm Trail veers steeply north towards Sahale Peak. The views from Sahale Arm are breathtaking as the trail ascends through sublpine meadows and over steep rock scree, before ending at the toe of the Sahale Glacier and a designated campsite.
From Cascade Pass, you can also head east and downward towards campsites at Pelton Basin and a popular side-trip to Horseshoe Basin-a spectacular steep walled cirque with waterfalls, wildflowers, and an historic mining site.
Past Horseshoe Basin, the trail continues into the Stehekin Valley, following the course of this scenic river for much of the hike. This trail provides access to the east side of the park, including the village of Stehekin. Because of severe flood damage to the old Stehekin Valley Road, it is now a 23-mile (37 km) hike from the Cascade Pass parking lot to the Stehekin shuttle bus at High Bridge.
Look and listen for wildlife, such as marmots and pikas on rock slopes. Deer, and sometimes black bear, may be seen in meadows. Please help the wildlife stay wild; do not feed them!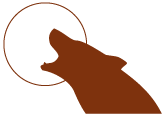 Ninety-three percent of North Cascades National Park Service Complex is designated as the Stephen Mather Wilderness, set aside by law for "the American people of present and future generations" for our protection and enjoyment. Please follow all
Leave No Trace
hiking and camping practices to reduce your impact on this special place and leave it unimpaired for future generations.
Last updated: June 6, 2021