Fees & Passes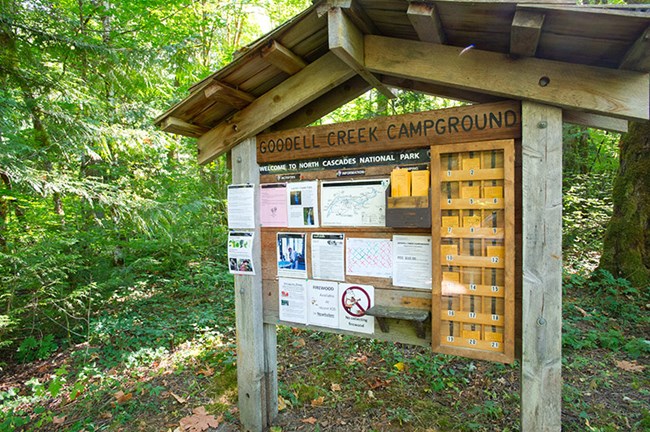 Entrance Fees
There is no fee to enter North Cascades National Park. Enjoy your visit!
If you plan to visit other parks with an entrance fee, learn more about the America the Beautiful - the National Parks and Federal Recreation Lands Pass series and fee free days in the national parks.
Car Camping Fees
Free to $24 (varies by campground and season)
Details
Campsites at Colonial Creek, Goodell Creek, and Newhalen Creek campground are $24 per night. Gorge Lake is $20 per night. Hozomeen campground is free. More Information on Camping
Car Camping Reservations
Car camping reservations are available online at Recreation.gov or by calling 1-877-444-6777. Please visit our Camping page for more information.
Backcountry Permit Camping Fees and Reservations

Backcountry camping requires a permit.
Fees - $20 plus a non refundable $6 administrative fee
Reservations - Limited reservations are available for backcountry campsites.
Northwest Forest Pass (required at USFS trailheads only)
Fees
$5 - Day
$30 - Annual
Details
There are no trailhead or parking fees for trails that begin on National Park Service lands. The Northwest Forest Pass or Recreation Day Passes are required at many trailheads on adjacent U.S. Forest Service land with trails leading into the national park. You may also use the Annual, Senior or Access passes for U.S. Forest Service recreation sites. The Discovery Pass is a state pass and is neither required nor valid on any federal lands. Passes are available at most ranger stations, many local business, by calling the USGS Store at 1-888-275-8747 or online.
Lake Chelan Dock Permit
Fees
$5 - Day
$40 - Annual
Details
Between May 1 and October 31 each year, boaters must have a Dock Fee Permit in order to use the docks in Lake Chelan National Recreation Area. This is the same permit needed for using the docks provided by the U.S. Forest Service along other parts of the Lake Chelan shoreline. The dock pass can be obtained at the Chelan Ranger Station and selected stores in Chelan and Stehekin, Washington.
Last updated: April 12, 2022