Thunder Knob Trail
Commonly we stride through the out-of-doors too swiftly to see more than the most obvious and prominent things. For observing nature, the best pace is a snail's pace.
- Edwin Way Teale
| | | | |
| --- | --- | --- | --- |
| Distance - round trip | Elevation gain / loss | Use | Difficulty |
| 3.6 miles (5.8 km) | 425 ft (130m) gain | Hiker only | Moderately easy |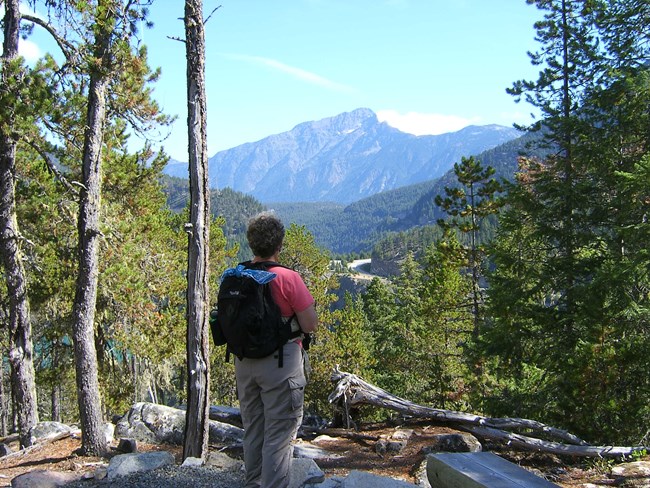 Thunder Knob is perfect for an afternoon hike or an easy hike with children. Located within Colonial Creek Campground, it makes a nice destination for campers or others driving the highway and looking to stretch their legs. The relaxing benches with views of Diablo Lake are wonderful, but this little hike also offers big views of many high peaks as well. Pets are allowed on a leash. See the detailed trail description for more information.
Special Concerns:
Pets are allowed but must be on a leash--please respect others and protect wildlife by leashing and cleaning up after your pet.
Backcountry Camping: There is no backcountry camping along this short day hike, but car camping is available at the start of the trail at Colonial Creek Campground.
Access: Drive State Route 20 to milepost 130, Colonial Creek Campground (24 miles east of Marblemount and 63 miles west of Winthrop). Park at the signed trailhead on the north side of the highway at the entrance to the campground.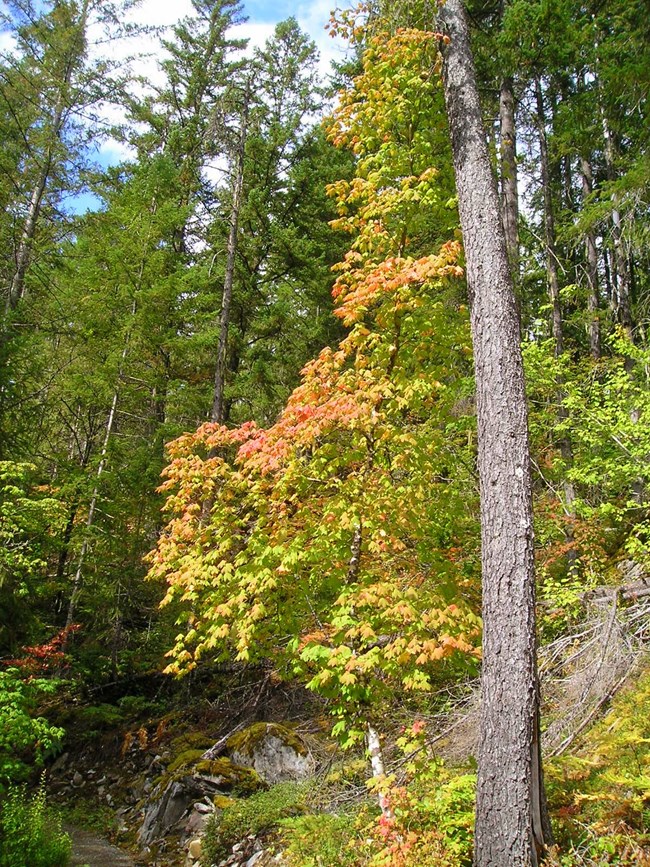 Detailed Trail Description
Thunder Knob is a well-constructed trail with a moderate grade, and lots of views of surrounding peaks and Diablo Lake. With an elevation gain of only 425 feet, it's a perfect hike for children and those who seek mountain scenery without the physical demands of high-country hiking. To find the trail, walk back through the north side of Colonial Creek Campground until you see a series of footbridges that lead to several walk-in campsites as well as the Thunder Knob Trail. While crossing the branches of the creek, look for signs of the massive floods from 2003 and 2006 that rearranged this section of the creek and spilled rocks and woody debris throughout the forest and campground. Just past the bridges you'll cross a wide swath of the alluvial fan of Colonial Creek—this was the path of the creek before the floods shifted its course. The footing here is rocky and uneven, so watch your step, and look for rock cairns marking the path through the old creek bed and into the forest on the other side. Immediately the feel of the hike changes, from open, sunny and rocky to shady and cool. The trail crosses a small, clear creek entirely different than the larger, glacial-fed creek you just passed, and enters a moist forest of Douglas-fir, red cedar and Western hemlock forest growing among moss-covered rocks. Understory trees add color in season: flame-orange vine maple in autumn, and white-blossomed Dogwood in spring.
In about a mile, the mood of the trail changes again as it enters a dry, south-facing clearing with a bench and a view of snowy Colonial Peak. From here the hike rises to knobby terrain covered with lodgepole pines, low-growing kinnickinnick (watch for its red berries) and other plants that thrive in thin, dry soil. As you near the top, the trail winds around a small pond, providing yet another microclimate along this hike, and then finishes with a gentle ascent to a knoll and several view points. Looking west, Davis Peak rises over Diablo Lake. Benches overlook Diablo Lake, turquoise in summertime when glacier-scraped rock flour refracts blue-green light in the water. To the south rise Colonial and Pyramid peaks, and the northeast view is dominated by Jack Mountain.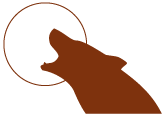 Ninety-three percent of North Cascades National Park Service Complex is designated as the Stephen Mather Wilderness, set aside by law for "the American people of present and future generations" for our protection and enjoyment. Please follow all
Leave No Trace
hiking and camping practices to reduce your impact on this special place and leave it unimpaired for future generations.
Last updated: September 1, 2021