Rainbow Creek Trail
For there are some people who can live without wild things about them and the earth beneath their feet, and some who cannot. ... We belong to no cult. We are not Nature Lovers. We don't love nature any more than we love breathing. Nature is simply something indispensable, like air and light and water, that we accept as necessary to living, and the nearer we can get to it the happier we are.
–Louise Dickinson Rich, American writer
| | | | |
| --- | --- | --- | --- |
| Distance - one way | Elevation gain | Use | Difficulty |
| Stehekin Valley Road to McAlester Pass: 9.7 miles (15.6 km) | 4800 ft (1463 m) gain | Hiker and stock | Moderately strenuous |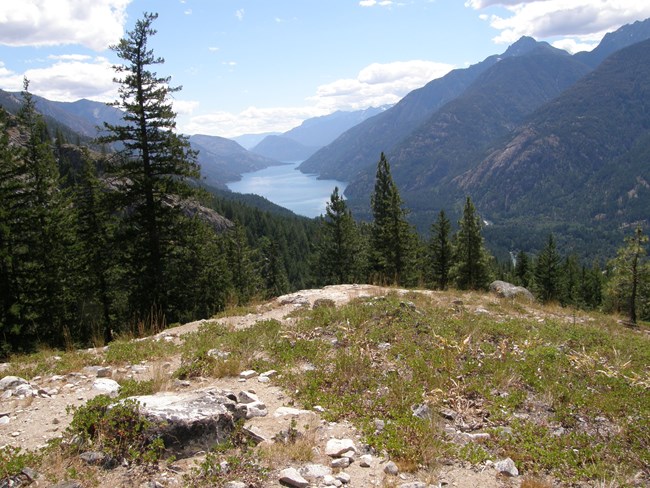 Although day hikers may explore the lower reaches of this trail, with it's excellent views of Lake Chelan, you will need more time and energy to reach the broad meadows of McAlester Pass or access the side trails such as Rainbow Lake. Fishing is popular at McAlester Lake. For hikers and stock, this is a scenic route between Stehekin and State Route 20, and it is part of the popular Rainbow-McAlester loop backpack.
Special Concerns:
The lower section of this trail, near the junction with Rainbow Loop, burned in the 2010 Rainbow Bridge Fire. The camp by the same name was also burned. Snags and falling trees are common in burned areas.
The bridge over Rainbow Creek near Rainbow Ford Camp is removed seasonally--do not cross if water levels are high.
Hunting is allowed in season in the Lake Chelan National Recreation Area. Washington State hunting and fishing regulations apply. Hunting and transport of game are not allowed in North Cascades National Park.
Pets are allowed only on a leash within the Lake Chelan National Recreation Area (pets cannot enter via State Route 20, Bridge Creek Trail).
Backcountry Camping: A backcountry permit is required for all overnight stays. Permits are limited. There are several camps spaced along the Rainbow Creek Trail: tiny Rainbow Ford, Bench Creek, and Bowan. McAlester Pass offers more camping options for both hikers and stock. Campfires are not allowed at High Camp--please protect this meadow environment by bringing a camp stove.
Access: From Stehekin, take the shuttle bus or walk to the lower Rainbow Loop Trailhead, at mile 2.6 on the Stehekin Valley Road. To access the Rainbow Creek Trail from the north, drive State Route 20 to mile 159, Bridge Creek Trailhead. A Northwest Forest Pass or federal recreation access pass is required at this USFS trailhead, and is available at any ranger station. Then follow the McAlester Lake Trail description.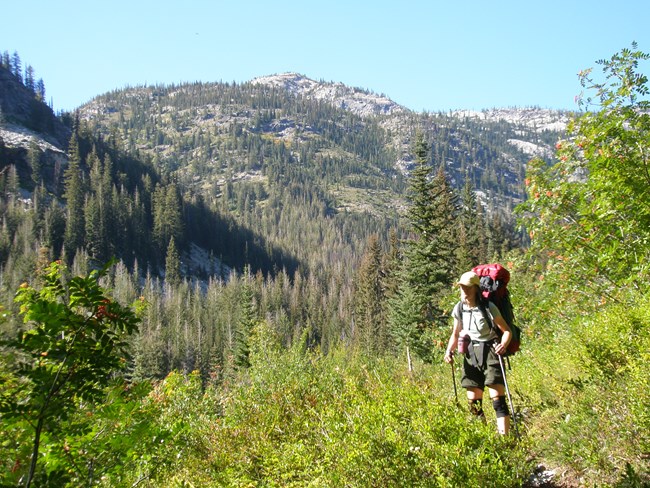 Detailed Trail Description
The total distance hiking between SR 20 and the Stehekin Valley Road, via McAlester Pass, is 18.5 miles (30 km), and makes a nice one or two night trip.
To make a loop trip, follow the Bridge Creek (PCT), McAlester Lake, Rainbow Creek, and Rainbow Lake trails. The loop works equally well starting from SR 20 or Stehekin. Total mileage for the loop from Stehekin is 35 miles (57 km). Total mileage for this route from SR 20 is 32 miles (51 km). Typical hiking time is 4 days.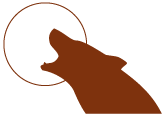 Ninety-three percent of North Cascades National Park Service Complex is designated as the Stephen Mather Wilderness, set aside by law for "the American people of present and future generations" for our protection and enjoyment. Please follow all
Leave No Trace
hiking and camping practices to reduce your impact on this special place and leave it unimpaired for future generations.
Last updated: September 1, 2021