Thornton Lake Trail
It is our task, in our time and in our generation, to hand down undiminished to those who come after us, the natural wealth and beauty which is ours.
–John F. Kennedy
Distance - one way
Elevation gain / loss
Use
Difficulty

To Thornton Lake: 5.2 miles (8.4 km)

2,400 ft (731 m) gain to ridge

500 ft (152 m) loss to lake

Hiking only

Moderately strenuous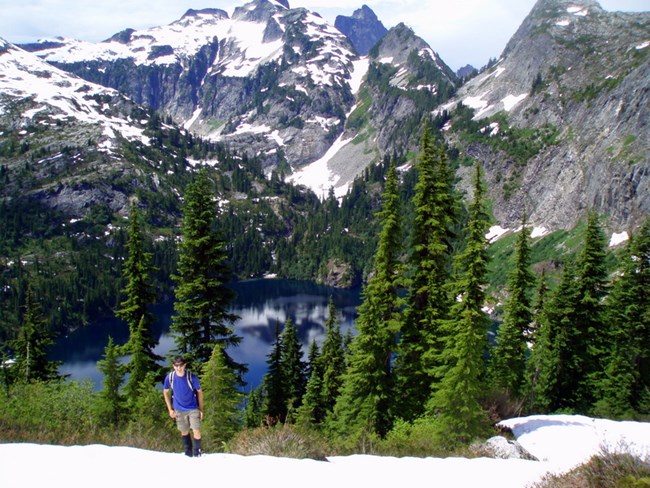 This trail makes a nice day hike or overnight backpack to a subalpine lake, with opportunities for off-trail exploration in the area. The first two miles of trail follow the gentle grade of an old road, although new growth means this section is often brushy. Then the trail climbs steadily upward through mature hemlock forest until it reaches meadows of heather and huckleberry just before attaining the ridge. From the ridge, views of Triumph Peak and lower Thornton Lake dominate. It is a steep, often muddy and slippery descent to the lake, with a rock- and floating-log scramble to cross the outlet of the lake and reach the camp. See the detailed trail description for more information about this area.
Special Concerns:
Leashed pets are allowed only as far as the national park boundary (below the ridge). Pets are not allowed on the ridge, or at Thornton Lake or Trapper Peak.
This area has very fragile vegetation. Please take care to avoid trampling the vegetation by hiking and resting only on durable surfaces such as the trail, snow or rocks.
Fires are not allowed anywhere in this area.
This trail often has steep snow sections that require an ice axe in early season.
Crossing the outlet of the lake requires a scramble on large, often slippery boulders and floating log debris.
Backcountry Camping: A backcountry permit is required for all overnight stays, and must be at a designated site in the Thornton Lakes areas. Permits are limited. There are three sites at lower Thornton Lake, and this popular camp can fill quickly during busy periods. Camping is not allowed on the ridge above the lake, Trappers Peak, or at the second lake. Climbers headed for Triumph Peak may obtain a permit to camp at the Triumph Col cross-country zone.
Access: Drive State Route 20 approximately 11 miles (18 km) east of Marblemount. Turn onto the Thornton Lakes Road, and follow this road for 5 miles (8 km) to the trailhead. This road is rough and steep in sections, and is not recommended for low-clearance vehicles or trailers. Drive slowly.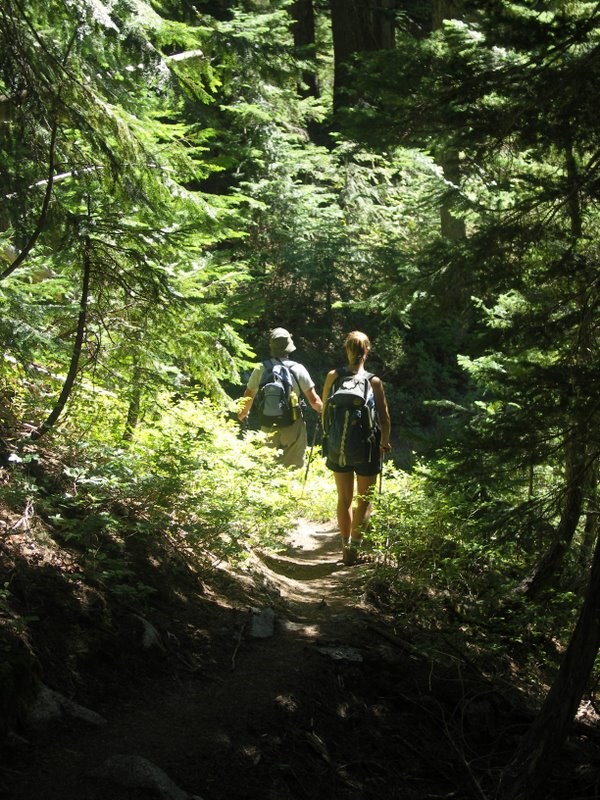 Detailed Trail Description
The first 2.3 trail miles (3.7 km) of trail follow an old road grade through a logging area from the 1960s, before the park was established. A natural mix of Douglas-fir, Pacific silver fir, hemlock, cedar, alder, and maples are returning. This lower section can be brushy.
The trail enters steep forested slopes, with moderate to steep switchbacks, and a wet meadow with boggy plants and a clear creeklet, just before entering the park. Four and a half miles (7.4 km) from the trailhead, the trail breaks out into meadows just below an open ridge. From here there are views of Mt. Triumph, Teebone Ridge, and the Skagit Valley. A scramble route leads steeply upward to Trappers Peak and views of all three lakes. The main trail continues to a lesser ridge with fine views of the first lake and Triumph Peak beyond.
A steep .6 mile (1 km) drop from the saddle ends at lower Thornton Lake. Use caution when crossing the outlet on boulders and logs! There are two more lakes, each cupped in its own rocky basin, above the first lake. These classic cirque lakes were created as glaciers gouged out rock basins, then retreated. A primitive climber's path proceeds to the upper lakes and Triumph Col.
This is a rich wildlife habitat. Look for deer, bear, marmot, and birds. Observe hawks and eagles during autumn migration.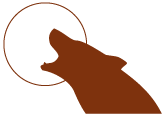 Ninety-three percent of North Cascades National Park Service Complex is designated as the Stephen Mather Wilderness, set aside by law for "the American people of present and future generations" for our protection and enjoyment. Please follow all
Leave No Trace
hiking and camping practices to reduce your impact on this special place and leave it unimpaired for future generations.
Last updated: September 1, 2021