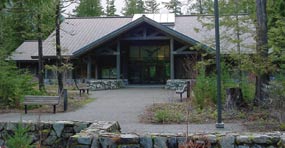 How do I access the park?
SR 20 (North Cascades Highway), Cascade River Road, Lake Chelan, and Visitor Information Centers offer details.
Are there accommodations in the park?
Ross Lake Resort, Stehekin Valley and the neighboring communities of Marblemount, Chelan and the Methow Valley offer various accommodations and services. For more information please check our Accommodations and Services Page.
Are there campgrounds in the park?
Vehicle access campgrounds include Newhalem, Goodell, Colonial Creek Campgrounds, RVs ok but no hookups. There are almost two hundred backcountry campsites available by permit.
Can you reserve campgrounds?
Yes, through the National Recreation Reservation Service (NRRS). Please check our Fees & Reservations page for direct links to this service. Due to the success of our first come-first served camping system most sites are available upon arrival at the park.
Is there backcountry camping?
Yes, Permits and information is available through the Wilderness Information Center. See questions below for specifics.
What is there to do and see?
Hiking, scenic vistas, boating, climbing
Where can I get backcountry permits and hiking information?
Any of the visitor information centers offer hiking information, however the best place to get permits for overnight trips and up-to date details is the Wilderness Information Center in Marblemount.
What kinds of wildlife live in the park?
A wide variety of animals live in the park and additionally the North Cascades provide crucial habitat for neo-tropical bird species. See the Nature and Science pages for details on the abundant yet, somewhat elusive wildlife of the North Cascades.
When is the best time for wildflowers?
Flowers bloom earliest at low elevations. As early as April and May, flowers bloom in the valley bottom. High in the alpine the peak of flower display is normally in late July but, may linger into August.
Can you recommend a hike or trail?
There are a wide variety of hiking options in the park, from beautiful old-growth valley trails to steep, arduous hikes to high lakes or views. The right trail for you depends on your fitness level and your goals for your trip. We recommend using a guide book or map and trail guide, and reading up on what sounds interesting. Then, call the ranger station to get the latest conditions for your top hiking choices.
Where can I hike with my dog?
Dogs are allowed on a leash within the Ross Lake and Lake Chelan National Recreation Areas, as well as on most surrounding US Forest Service lands. Dogs must be leashed and in control at all times, including while in camp. Dogs are not allowed in the National Park.

Am I allowed to have firearms in North Cascades National Park Service Complex?

As of February 22, 2010, a new federal law allows people who can legally possess firearms under applicable federal, state, and local laws, to legally possess firearms in North Cascades National Park Complex which includes North Cascades National Park, Ross Lake National Recreation Area and Lake Chelan National Recreation Area.

It is the responsibility of visitors to understand and comply with all applicable state, local, and federal firearms laws before entering this park. As a starting point, please visit Washington State's website.

Federal law also prohibits firearms in certain facilities in this park; those places are marked with signs at all public entrances and generally includes all NPS staffed offices open to the public.
Is the park open year-round?
Yes, but some access may be difficult in winter since SR20 is closed over the pass.
How do I get my boat, kayak, or canoe onto Ross Lake?
There is no road access to Ross Lake from SR 20 on the south end of the lake. The most common method of getting a boat on Ross Lake from SR 20 is to launch on Diablo Lake at the Colonial Creek campground, then paddle five miles to the base of Ross Dam. At that point, you can either portage yourself around the dam (~ a mile, 600 feet of elevation gain) or portage service is available from Ross Lake Resort for a fee.
From the north, it is possible to drive to Ross Lake via the Silver / Skagit Road from Hope, British Columbia. This is a long, rough, gravel road that leads to the Hozomeen Campground and a boat launch.
What is the current level of Ross Lake?
In the summer, between July 4 and Labor Day, Ross Lake is generally at full pool, with all docks floating. At other times of year, however, the water level of the lake is lower. Please check here for current lake levels.
Is the Cascade River Road open?
The Cascade River Road is open as snow and road conditions permit. Normally, snows block the road at variable elevations from October until May. This road is susceptable to winter storm damage and access can vary greatly. Visitors should check our Road Conditions page before traveling on it.