Boating on Ross Lake
Notice to Boaters
To maintain and improve the current visitor experience, visitor safety, soundscapes, and water quality, all motor boats operating within the Ross Lake National Recreation Area now require the exclusive use of four-stroke engines, direct-injection two-stroke engines, or equivalent technology. For details, refer to the Ross Lake NRA General Management Plan and Environmental Impact Statement.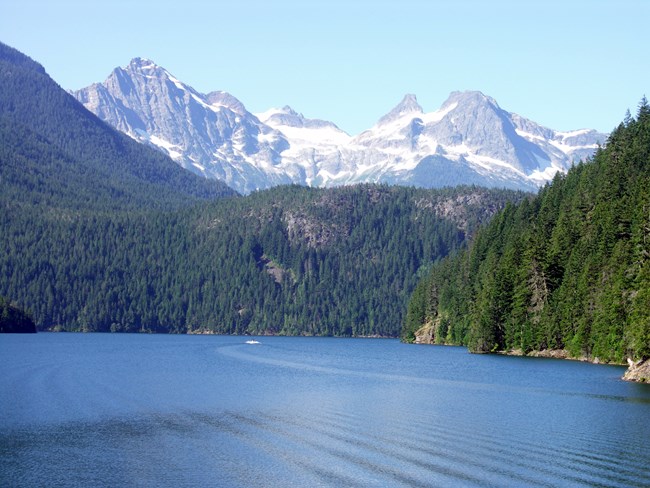 General Information
Ross Lake can be accessed via a gravel road from Hope, British Columbia from the north. Two graded-cement boat ramps at Hozomeen are normally usable from mid-June through September. This road is not anticipated to open in 2023 due to damage. There is no direct road access from the south, but canoes, kayaks and other portable craft can be launched on Diablo Lake at Colonial Creek Campground and boated five miles to the end of Diablo Lake. Boats and gear must be portaged around Ross Dam over a mile long gravel road with switchbacks (520 foot gain/120 foot loss). Ross Lake Resort also provides portage service for portable boats, rents out small power boats, canoes, and kayaks, and provides water taxi service on the lake.

Use this detailed map of Ross Lake to learn more about boat accessible camps, mileage between sites and trails in the Ross Lake area.
Ross Lake is a reservoir with changing water levels. The lake is generally at full pool from July - September. Docks are not usable at low water levels. See the table below for an elevational chart that shows when docks and ramps are usable.
Ross Lake Elevations for Boat Dock and Ramp Use (Note: Full pool: 1,602.5')
Minimum lake level
required for use
(in feet)
Dock/Ramp Location
1600
International Point boat launch and dock (Canadian side)
1599
Silver Creek dock
1598
Green Point dock
Lightning Creek dock
1597
Hozomeen north end dock
1596
McMillan dock
May Creek dock
Spencer's dock
1594
Winnebago Flats dock and launch
Cougar Island dock
Devil's Junction dock
1590
Rainbow Point dock
1586
Cat Island dock
1583
Hozomeen main boat launch (Picnic Point)
1582
Little Beaver dock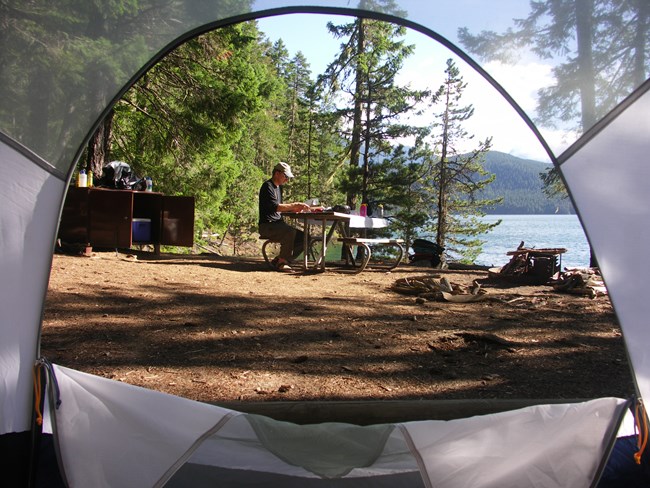 Camping
Nineteen boat-in camps are available along the shores of Ross Lake. All Ross Lake campsites are equipped with fire-rings, picnic tables, vault toilets, and bear-resistant food storage boxes. Some have docks. A
backcountry permit
is required for any overnight camping at these sites.
Food Storage and Cooking
Although most people never see them, grizzly and black bears, mountain lions, and wolves can be encountered along the lakeshore--along with many smaller critters who might be interested in your food! All food, garbage, cooking items, and anything else with an odor must be stored securely in the provided food storage lockers whenever you are not in camp actively cooking. Even deer are may be attracted to your camp, especially to salty items, so store everything appropriately at all times! This applies to camping on the islands as well, as most animals, including deer, bear, and cougar, can and do swim. Be sure to pack out all leftover food and garbage, and keep a clean camp.

Grey water from cooking should be strained and scattered over a wide area. Never use soap in or near the lake. Use small amounts of biodegradable soap at least 200 feet (60 meters) away from water.
Campfires
Campfire rings are provided at all the sites along Ross Lake. Use these best practices to protect the lake and reduce your impact:
Use driftwood for firewood. The cutting of any standing tree (living or dead) is prohibited.
Firewood gathering is prohibited on Cat, Cougar, and Ten Mile Islands (gathering driftwood is OK)
Use wood that is small enough to fit within the fire ring--large pieces that extend beyond the metal ring are a fire hazard and increase the impacts of your campfire
Never burn leftovers, trash, foil or any other garbage in your firepit, as this often leaves a messy residue and can attract animals to your site.
Make sure your campfire is out and cool to the touch before leaving your camp or going to bed. Stir water into the ash and spread the coals out to reduce the heat and flames, and then soak the firepit with water. Do not use dirt, which can insulate the coals and fills up the firepits.
Thank you for helping to care for the lake and protect the park for all to enjoy. Learn more about Leave No Trace in the park.
Safety
Even in summer, the water temperature in Ross Lake seldom gets above 50°F (10°C). Falling in the lake or getting caught in a sudden storm can rapidly bring on hypothermia, the lowering of body temperature to a point at which the body can not maintain its own heat. Always carry raingear and extra food, and be prepared to make an emergency camp or for sudden weather changes.
Water taken from the lakes and nearby streams may contain micro-organisms such as giardia which can cause serious intestinal disorders. Always boil or treat drinking water.
All federal and state boating regulations are enforced on the lakes. Approved life jackets, oars, bailing buckets and running lights are all required. Check your boating gear before leaving home.
Ross Lake water level is generally full from late June through mid-September. During other months of the year, drawdowns of the reservoir expose rocks, snags and other underwater hazards. Watch for floating logs, debris, shallows and submerged obstacles at all times.
Strong gusty winds and whitecaps occur frequently and without warning. It is safest to travel along the eastern shore of both Ross Lake and Lake Chelan where there are more landing sites, camps, and trail access. On Ross Lake, it is frequently calm in the morning with breezy south winds from afternoon to early evening. A comfortable paddling distance for most groups is 5-7 miles per day.
Commerical Services
Ross Lake Resort
is open June-October and is the only lodging facility on Ross Lake. There is no direct road access to the resort--hike or boat in only. The resort rents paddle and motor boats, and operates a water taxi service to all major trailheads and camps along the lake. The resort also provides portage service between Ross and Diablo Lakes. Contact the resort directly for information on these services.
Last updated: April 27, 2023