Backcountry Permits

Learn and Explore
When is a Backcountry Permit Required?
Permits are required year round for all overnight stays in the backcountry of North Cascades National Park Service Complex (North Cascades National Park, Ross Lake and Lake Chelan National Recreation Areas). The primary objective of the permit system is to better manage backcountry visitation to prevent overcrowding and resource damage, and to provide for opportunities for solitude and a quality backcountry experience for all visitors, including future generations.
Each party (individual or group) must obtain and carry a backcountry permit for the duration of the backcountry trip.

Permits are specific to a site (along trails or boat-in areas) or a cross-country zone each night of the itinerary. You must follow the itinerary listed on your permit.

Failure to possess and display a valid backcountry permit may result in a fine and/or immediate removal from the backcountry.
Note: Permits are not required for day use or for camping in car-accessed campgrounds along State Route 20 or at the drive-in campground at Hozomeen. Parking passes (such as the Northwest Forest Pass, required at USFS trailheads) do not substitute for a backcountry permit.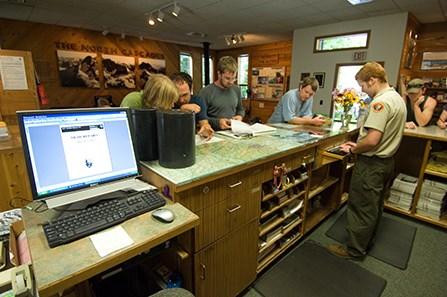 How to Get a Backcountry Permit
Advance Reservations
The reservation period for 2020 is now closed and will not re-open until next spring for the 2021 season.
Reservations are available for up to 60 percent of the sites in the park. Reservation holders must still convert to a permit before entering the park. Visit the advance backcountry reservations page for full details.
Walk-Up Permits
For the remaining areas of the park, backcountry permits are available the day before or day of a desired trip start date on a first-come, first-served basis. There are many options for walk-up permits in the park, including many that are not popular or crowded. Rangers can assist you with planning, but please be flexible, as walk-up permits are subject to same-day availability. Keep in mind that not all sites will be available every day because backpackers on longer trips may obtain walk-in sites for their entire trip itinerary. Arrive early for the best campsite availability. Walk-in permits are free, but must be obtained before entering the backcountry. Also, please note that:
Walk-up permits are issued in person only, at the ranger stations listed below

These permits can be issued the same day your trip starts, or up to one day before your trip starts, but no sooner than one day.

First-come, first-served permits cannot be issued over the phone.

There is no fee for a first-come, first-served permit.

Bring the license plate number of any vehicle(s) that will be parked at a trailhead during your stay, along with make, model, and color of the vehicle(s)
Where to Obtain a Permit
Permits may be obtained only at ranger stations within or around the park. These stations are:
Wilderness Information Center in Marblemount. Obtain permits here for all areas of the park. This center is the main backcountry permit office for the park complex. Wilderness rangers are on hand to provide firsthand trip planning advice for all wilderness and backcountry areas of the park, including Ross Lake and climbing areas. You'll also find current trail and camp conditions, maps, and more to assist with your trip planning. Note: All permits for the Cascade River Road are issued via Marblemount in person only (including Sahale, Cascade Pass, Boston Basin)
NOTE: Due to COVID-19, the following stations will not be open for permit issuance this year. If your trip would normally have been permitted in Sedro-Woolley, Stehekin, Glacier, Chelan or Winthrop, please email us at the Wilderness Information Center the day before your trip begins with an explanation of your situation and leave a good callback number. A ranger will contact you within 24 hours to issue that permit remotely. Remote permits are only issued the day of the trip or the day before. Thank you for your patience during our limited operations in 2020.
North Cascades Park Headquarters in Sedro-Woolley (closed 2020) Obtain permits here for access to the park via Baker Lake Road (i.e. Sulphide Glacier route on Shuksan, Baker River) . Sedro-Woolley is also the permiting station for HOZOMEEN access to Ross Lake (access via the south must obtain permits in Marblemount)

Golden West Visitor Center in Stehekin (closed 2020) Obtain permits here for entering the park via Stehekin (Lake Chelan ferry system, private boat, plane, foot) or coming in via the southern PCT (Agnes Creek)

Glacier Public Service Center (closed 2020) Obtain permits here for entering the park via Hwy 542 (Mt. Baker Highway), including Hannegan Pass, Copper Ridge, Whatcom, and northern Shuksan access (i.e. Price XC)

Chelan Ranger Station (closed 2020) Obtain permits here for trails that enter the park from the south or east (Chelan Summit Trail, War Creek, Twisp River Road)

Methow Valley Ranger Station in Winthrop (closed 2020) Visitors approaching the park from eastern Washington on SR 20, or via Twisp Pass or War Creek Pass

For driving directions and current hours for all National Park Service ranger stations, click here. If you have any questions about obtaining a permit, please email us at the Wilderness Information Center.
Winter Permits
Backcountry permits are required year round. When the Wilderness Information Center in Marblemount is closed, a self-issue permit station is available at an outside kiosk, and is accessible at any time. Ranger station hours are listed here.
Are you a Pacific Crest Trail hiker?
Beginning in 2020, North Cascades National Park will honor the long-distance Pacific Crest Trail (PCT) hiking permit issued by the Pacific Crest Trail Association (PCTA) for camping at specific camps. This is a policy change from previous years. PCTA long-distance permit holders no longer need to obtain an overnight backcountry camping permit for Six Mile Camp and Bridge Creek Camp within North Cascades National Park.

Any hiker without a PCTA Long-distance Permit must obtain, in advance, a park-issued backcountry permit at designated ranger stations for camping inside North Cascades National Park.

Visit the Pacific Crest Trail page for more information.
Permits Are Limited
To protect the wilderness and visitors' experiences, the number of permits issued for each area is limited. Popular areas such as around Cascade Pass, along Ross Lake, on Copper Ridge, and at Thornton and Monogram Lakes can be very busy during the height of summer, and permits can fill quickly. The busiest climbing areas are: Sulphide Glacier, Boston Basin, and Eldorado cross-country zones. To maximize your chance of obtaining a permit and finding solitude, visit these areas midweek or after Labor Day, and have a backup itinerary or climb in mind if your first-choice area is already full. Ask a ranger for less busy alternative areas to visit. There is always somewhere to go.
Why do I need a permit?
Backcountry permits protect your wilderness experience and prevent overcrowding at camps or climbing routes, provide for opportunities for solitude and a quality backcountry experience, and protect natural resources so that all visitors – including future generations – can enjoy them. Permits also serve an important safety function in the event of an emergency or wildfire, and allow park managers to gather data important for planning and decision making. Thanks for doing your part to help steward these important wilderness resources.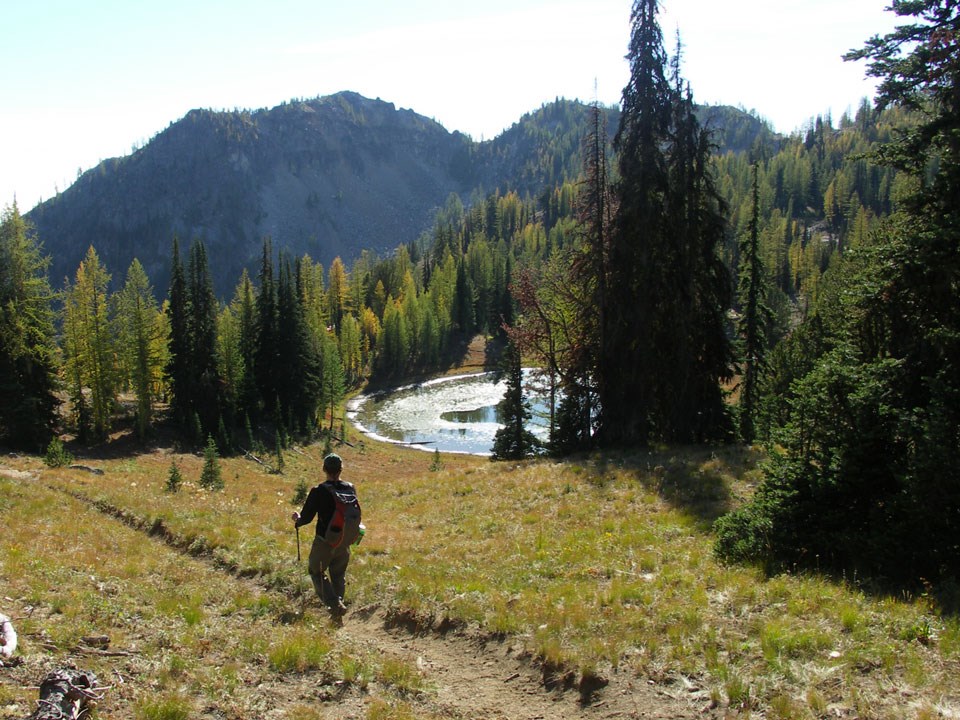 Last updated: July 27, 2020