Backcountry Permits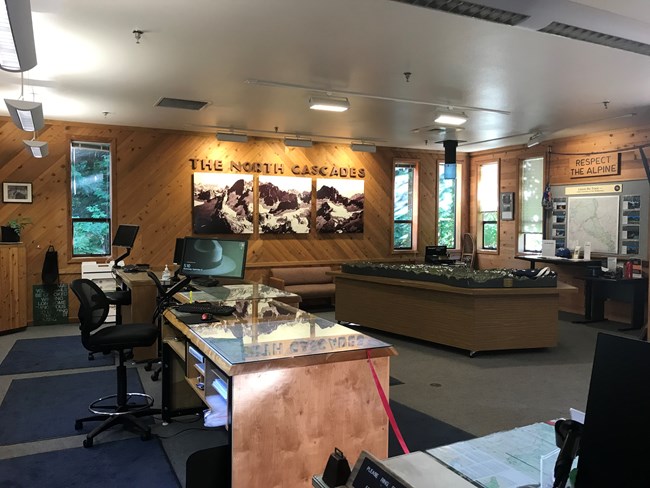 Winter Permits — Starting October 8th
The Wilderness Information Center in Marblemount will be closed starting October 8
th
, but
backcountry permits are required year round
. While we are closed for the season, physical self-issue permits will be available outside the ranger stations in Marblemount and Stehekin, or you can submit your permit via email. Please follow the steps below to submit a permit via email.
Self-issue permits are only valid until the Wilderness Information Center reopens in May.
Please visit our
Backcountry Reservations
page to learn more about permits for summer 2024.
Winter Permit Process
To submit a winter self-issue permit via email, please complete the following steps:
PERMITS ARE REQUIRED and valid only for the trip leader, number of people, and sites/dates listed. Your group must follow this itinerary!

KNOW AND FOLLOW ALL PARTY SIZE LIMITS: 12 pairs of eyes (people + stock) in all trailed areas and around the Boston Basin, Eldorado, and Sulphide Glacier Cross Country Zones; 6 in all other areas.

CAMP ONLY IN DESIGNATED SITES along trail corridors. IN CROSS-COUNTRY ZONES camp on snow, rock, or bare ground. Avoid vegetation and water.

STORE FOOD PROPERLY at all times. Hang food and scented items at least 12 feet up, 5 feet out from any tree limb, or use a food canister or box.

MINIMIZE CAMPFIRE IMPACTS — Use a stove instead. Where allowed, use established campfire rings only, and burn only small, dead and downed wood. Campfires are prohibited in all cross-country zones. Never burn trash.

PROPERLY DISPOSE OF WASTE — Use toilets where provided; if no toilets are provided, dig a cathole in organic soil. On rock, snow or ice, pack out human waste. Pack out all garbage—never burn it!

LEAVE WHAT YOU FIND — Leave all natural and cultural objects as you found them.

PETS are not allowed in the National Park (except on the Pacific Crest Trail). Leashed dogs allowed in the Recreation Areas.

STOCK PACKERS must use stock trails and camps. No grazing in the National Park, grazing permit required for Recreation Areas where allowed.

HUNTING / FISHING must follow state regulations and require a valid WA license. Hunting prohibited in National Park.
Check for camp and trail closures on our
Trail Conditions
page or
Recreation.gov
, then plan your itinerary.
Fill out the form below.
(To copy, select the content in the box below, right click and select "Copy".)
FULL NAME: __
RECREATION.GOV ACCOUNT EMAIL: __
PHONE NUMBER: __
# OF PEOPLE: __BOATS: __ STOCK: __
VEHICLE MAKE/MODEL: __
VEHICLE LICENSE/STATE: __
TRIP START DATE: MM/DD
BEGINNING TRAILHEAD: __
ITINERARY...
1: CAMP/ZONE: __ DATE: __
2: CAMP/ZONE: __ DATE: __
3: CAMP/ZONE: __ DATE: __
ENDING TRAILHEAD (If different.): __
REQUIRED: Do you agree to abide by all NPS regulations and Leave No Trace principles? Violators are subject to fines. If so, type YES: __
Send the form with your itinerary information to noca_wilderness@nps.gov.
Your submission of the email is sufficient during the winter season (October 8 - May reopening.) Ranger follow up is not needed
, we will enter your permit into
Recreation.gov
.
Keep in mind that rescue resources are very limited during the off season. Going on a backcountry trip in winter is done so at your own risk.
Where to Obtain a Permit
See below for locations in the park that issue backcountry permits. 
No permit services are available at the Sedro Woolley office.
These issue stations are only open during the summer: 
Operating Hours and Seasons.
7280 Ranger Station Road, Marblemount WA 98267
This center is the main backcountry permit office for the park complex. Wilderness rangers are on hand to provide firsthand trip planning advice for all wilderness and backcountry areas of the park, including Ross Lake and climbing areas. You'll also find current trail and camp conditions, maps, and more to assist with your trip planning. Note: All permits for the Cascade River Road (including Cascade Pass and Boston Basin) must be picked up in person in Marblemount.
10091 Mt. Baker Hwy, Glacier, WA 98244
This is a U.S. Forest Service ranger station that is jointly staffed by National Park Service wilderness rangers during the summer season. Backpackers and climbers can obtain backcountry permits required for overnight stays in areas within North Cascades National Park that are accessed via trailheads along the Mt. Baker Highway, such as the Fisher Chimney's route on Mt. Shuksan, the Chilliwack River drainage, or Copper Ridge. 
A short walk from the passenger ferry landing at Stehekin Landing near the north end of Lake Chelan. Reached via passenger ferry, trail, or float plane, not accessible by road. This visitor center is staffed by park rangers who can answer questions about backcountry trips starting from Stehekin. Popular trailheads include the Rainbow loop, Purple Pass, Boulder Creek and the Pacific Crest Trail at High Bridge.

Note: Please get your permit before arriving to Stehekin. Send an email to noca_wilderness@nps.gov early the day before you travel to Stehekin and a ranger will send you a permit remotely.
Exceptions to being physically present at a ranger to obtain a permit are detailed below. 
1. Accessing remote areas of the park
Access to the park via Baker Lake Road (i.e. Sulphide Glacier route on Shuksan, and Baker River Trail)
Entering the park via Stehekin (Lake Chelan ferry system, private boat, plane, foot)
2. Approaching the park from eastern Washington on SR20
Walk-up permits can only be issued for trips starting at East Bank, Panther Creek, Easy Pass, Bridge Creek trailhead, or via Twisp Pass, War Creek Pass, and Chelan Summit Trail. Note: All walk-up permits for boat access to Ross and Diablo Lake, Ross Dam, and all the trailheads to the west, must be picked up in person in Marblemount
3. Pacific Northwest Trail Thru-Hikers
We highly recommend PNT hikers make reservations ahead of time on Recreation.gov
Westbound hikers should contact us in Oroville, the last town with cell service prior to entering the park. Eastbound hikers should contact us the day before entering the park via Hannegan trailhead.
Contact the Wilderness Office in Marblemount by 
email (noca_wilderness@nps.gov) 
to request a permit only for the cases detailed above.
Please email us early in the morning the day before you want to start your trip and provide us with a good callback number. 
To expedite the process create a Recreation.gov account before contacting us.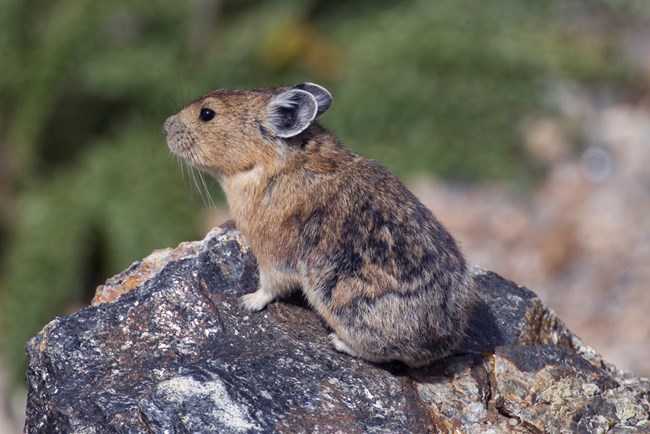 Good Stewards Program
North Cascades National Park Service Complex is piloting a new program to expedite the backcountry permitting process for frequent users who adhere to park rules and regulations, adequately prepare for backcountry trips, and follow Leave No Trace principles. The program provides a process for frequent users with advanced reservations to print their permit online.
Advanced Reservations with no Itinerary Changes:
Make a reservation for a backcountry trip with the same Recreation.gov account used for past permits. If you have previously camped in the park, but you were not the permit holder (trip leader), then you do not qualify for the program.
Two days before your trip start date, e-mail us to request a permit. Mention that you want to participate in the Good Stewards Program and rangers will verify eligibility.
Rangers will review your itinerary, share any important information via email regarding closures, hazards, and conditions, then issue the permit. You will print your permit online from Recreation.gov.
The group leader must read, sign, and carry their permit. Permit holder must carry photo ID with permit for the duration of their trip. This privilege can be revoked at any time, contact us at NOCA_wilderness@nps.gov if you have questions.
Are you a thru-hiker?
Beginning in 2020, North Cascades National Park will honor the long-distance Pacific Crest Trail (PCT) hiking permit issued by the Pacific Crest Trail Association (PCTA) for camping at specific camps. PCTA long-distance permit holders no longer need to obtain an overnight backcountry camping permit for Six Mile Camp and Bridge Creek Camp within North Cascades National Park.

Any hiker without a PCTA Long-distance Permit must obtain, in advance, a park-issued backcountry permit at designated ranger stations for camping inside North Cascades National Park. Visit the Pacific Crest Trail and Pacific Northwest Trail pages for more information.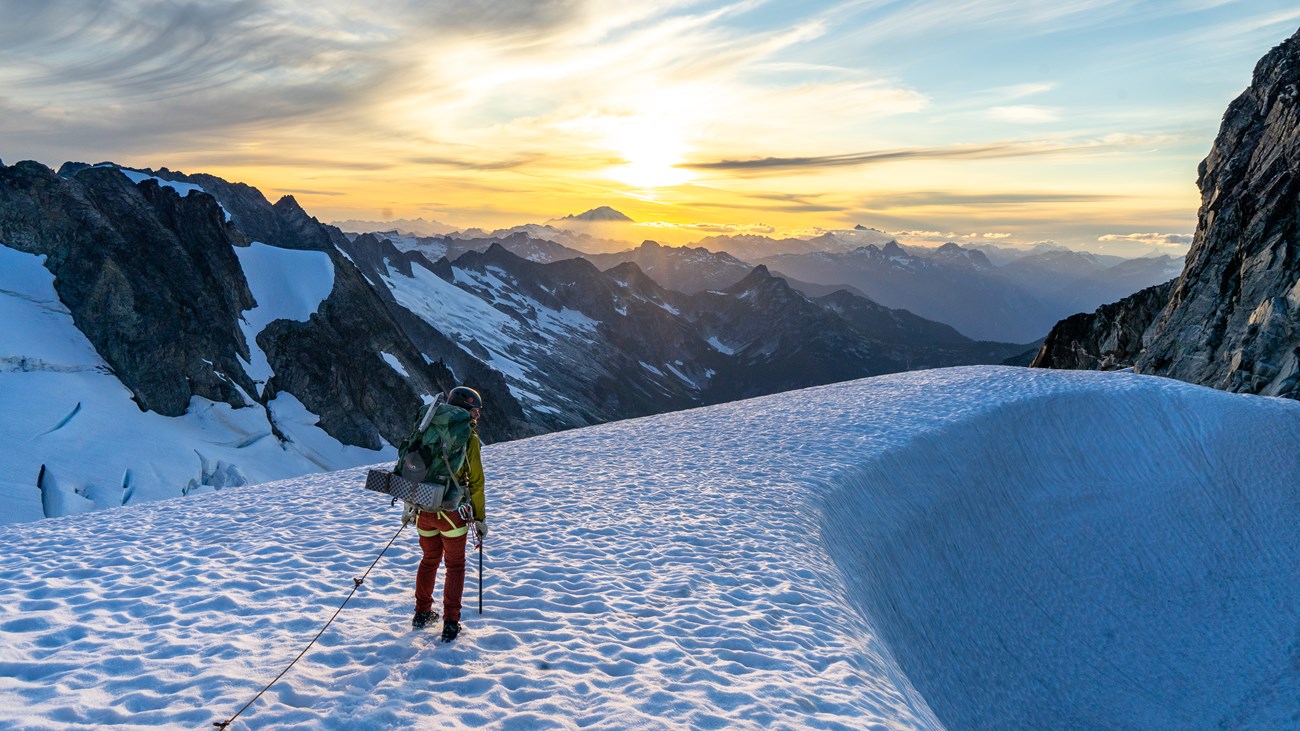 Permits Are Limited
To protect the wilderness and visitors' experiences, the number of permits issued for each area is limited. Popular areas such as Cascade Pass, Ross Lake, Copper Ridge, and Thornton Lakes can be very busy during the height of summer, and permits can fill quickly. The busiest climbing areas are Sulphide Glacier, Boston Basin, and Eldorado cross-country zones. To maximize your chance of obtaining a permit and finding solitude, visit these areas midweek or after Labor Day, and have a backup itinerary or climb in mind if your first-choice area is already full. Ask a ranger for less busy alternative areas to visit. There is always somewhere to go.
Why do I need a permit?
Backcountry permits protect your wilderness experience and prevent overcrowding at camps or climbing routes, provide for opportunities for solitude and a quality backcountry experience, and protect natural resources so that all visitors – including future generations – can enjoy them. Permits also serve an important safety function in the event of an emergency or wildfire, and allow park managers to gather data important for planning and decision making. Thanks for doing your part to help steward these important wilderness resources.
Last updated: October 23, 2023