Fire Closures
Current Fire Closures
Due to the Sourdough Fire the following closures are in place:
Roads
Diablo Dam Access Road - Access across Diablo Dam is limited to Seattle City Light employees, Ross Lake Resort reservation holders, and Environmental Learning Center staff
road into the town of Diablo
Areas
North Cascades Environmental Learning Center
Lakes
Ross to overnight use - Ross Lake is open for day-use only
Frontcountry Campgrounds
Gorge Lake
Colonial Creek North and and most of South - Colonial Creek South walk-in sites (sites 64-73) are open on a first-come, first-served basis.
Trails
Trails on the west side of Ross Lake including Diablo Lake, Stetattle Creek, Big Beaver, Sourdough Mountain, and Little Beaver trail - Ross Dam Trail is open to Ross Lake Resort only.
Backcountry Camps
Sourdough
Pierce Mountain
Big/Little Beaver Camps

Big Beaver Stock
Pumpkin Mountain
39 Mile
Luna
Beaver Pass
Stillwell
Twin Rocks
Perry Creek

Diablo Lake Boat-in Camps
Ross Lake Boat-in Camps

Green Point
Cougar Island
Roland Point
McMillan
Spencer's
Big Beaver
May Creek
Rainbow Point
Devils' Junction
Ten Mile Island
Dry Creek
Ponderosa
Lodgepole
Lightning Creek
Cat Island
Little Beaver
Boundary Bay
Silver Creek
Cross-country Zones
Sourdough
Davis Peak
Terror Basin
Elephant Butte
Luna
Challenger
Prophet
Tapto Lakes
Middle Lakes
Bear Mountain
Depot
Spickard
For more information visit the News Release page or visit inciweb.

See below for long term area, trail, and camp closures due to hazards in a burned landscape. Trail closures are listed on the Trail Conditions page in each specific area drop down menu.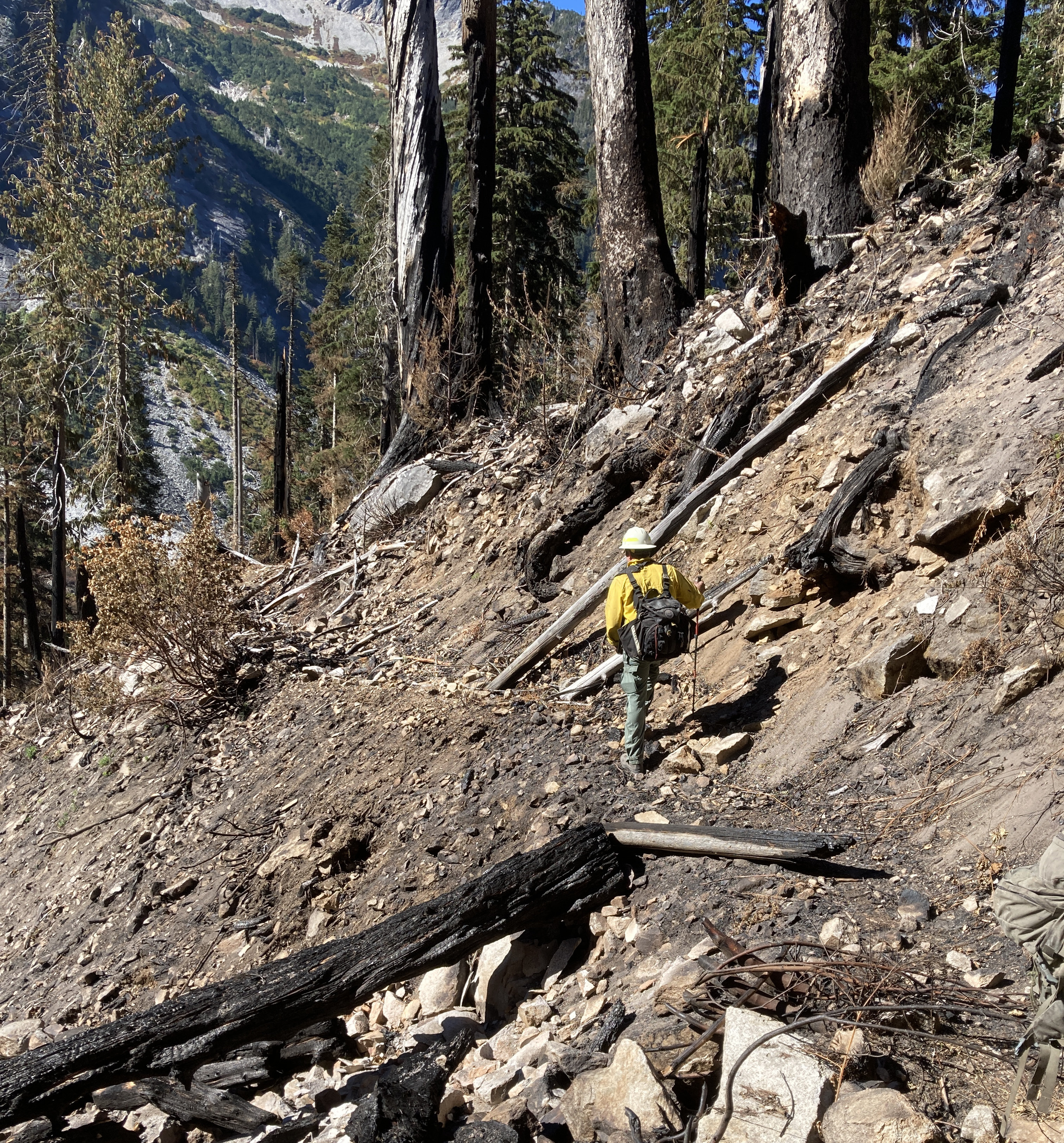 Long-term Fire Closures
A burned landscape presents a number of safety hazards that either did not exist prior to the fire or are increased by the effects of the fire. In some cases these hazardous conditions may continue for several years after a fire. Be very aware of your surroundings, follow warning signs, and pay particular attention to potential safety hazards such as unstable terrain, falling or rolling debris, displaced wildlife, burned stump holes and root chambers, hazard trees, and debris flows.
The following closures will remain in effect until further notice due to hazards from falling dead trees and other ground hazards resulting from wildfires.
Area Closures, including Climbing Approaches (map link):
Chilliwack Trail between the Chilliwack River cable car and its northern terminus (the Copper Loop)
Copper Ridge Trail between Copper Lake and Indian Creek camps (the Copper Loop)
Brush Creek Trail between the junction with the Chilliwack Trail and Whatcom Pass
Cross Country Zone access from closed trails
Camp closures (map link):
Chilliwack, Brush Creek, Whatcom Pass
Indian Creek Camp
U.S. Cabin Stock Camp
Graybeal and Graybeal Stock camps
Whatcom Camp
Tapto Lakes and Middle Lakes cross country zones

Trail closures are listed on the Trail Conditions page in each specific area drop down menu.
Last updated: September 25, 2023