Visiting in Summer
June, July, and August
Summer is a great time for a visit to Mammoth Cave National Park, the park is alive with activity. From canoes and kayaks exploring the rivers, the constant flow of curious adventurers entering the cave, to flowers blooming and animals foraging in the forest for food, there are many things to see or things to do.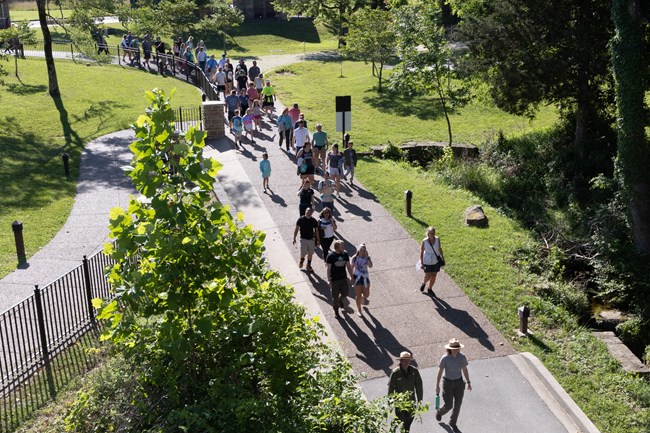 Cave Tours
While more options of cave tour routes and departure times are available during the summer months, you should remember summer is the busiest time in the park. Advanced reservations are strongly recommended as they are the only way to ensure a spot is available for your party.

Please plan accordingly by visiting Recreation.gov to secure your tickets in advance. Availability of walk-up tickets is not guaranteed.

Other Ranger-led programs on the surface of the park are offered everyday throughout the summer including guided hikes and walks, ranger talks, and evening programs. These surface programs do not have a fee and do not sell-out but some programs require visitors to meet at an alternate location from the visitor center.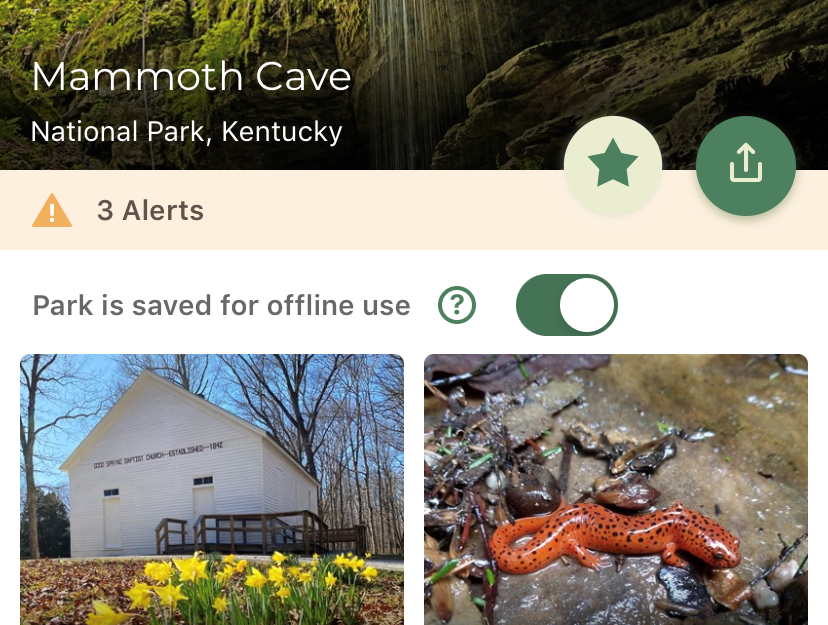 Download the App
The NPS App is especially useful for vacation planners and frequent park visitors alike. Cell service is oftentimes hit and miss in many national park areas including Mammoth Cave National Park, which is why all national parks' information can be saved for offline use on the NPS app.

The app includes useful ideas of things to do and see, where to find specific amenities, and self-guided tour options like Mammoth Cave's Beneath Your Feet walking tour which takes visitors throughout the visitor center and campground area.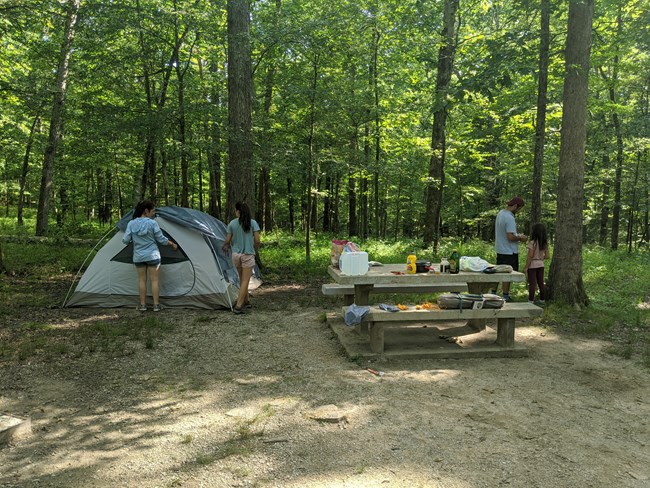 Camping and Lodging
If one day in Mammoth Cave is not enough, the Lodge at Mammoth Cave has hotel rooms and cabins available for rent and all three park campgrounds are open. There are also lodging options in nearby communities that surround the park.
Summer Weather
As the day lengths increase, so does the areas heat and humidity. Daytime temperatures can exceed 90°F (32.2°C) with high humidity. The temperature in the cave stays in the mid-50s Fahrenheit (10°C), making it a welcome relief from the surface weather. Come prepared for warm temperatures on the surface and cool temperatures in the cave, and maybe even pack a rain jacket — afternoon thunderstorms are common.
Watch Out For Ticks!
Summer is tick season at Mammoth Cave. Ticks can be prevalent throughout the park and there is a risk of tick-borne illness if one bites you. It is important to take precautions and to be aware of the risks. When in tick habitat:
Wear light-colored clothing, long sleeves, and long pants, with pant legs tucked into socks and shirts tucked into pants. Consider wearing gaiters as well.

Do frequent tick checks of yourself and any children or pets with you.

Always check for ticks after any outdoor activity, both at the end of the day and the next morning.

Consider using chemical applications such as permethrin or DEET. Always use and store chemicals according to the manufacturers' instructions.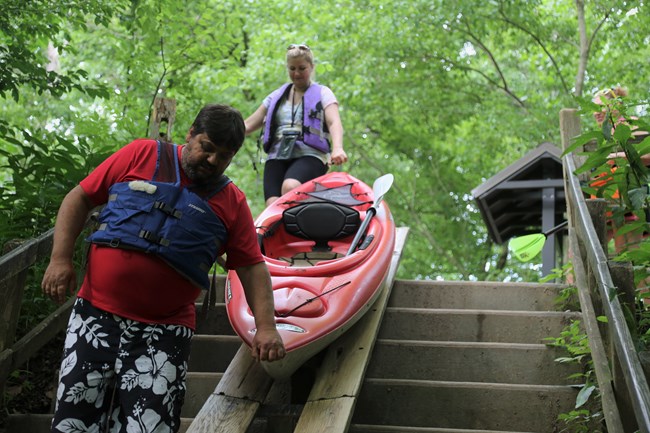 What to See
Take a scenic drive through the park and explore the three remaining historic churches and several historic cemeteries, stop by and see the historic Mammoth Cave Railroad steam engine and train car, or take a short walk to one of several viewpoints and overlooks —and of course don't miss seeing the Historic Entrance of Mammoth Cave which is just a short walk from the visitor center.
Things To Do
There is so much more to do in the park then just exploring the underground cave passages on cave tours. Summer is a great time to experience the surface of the park and spend a day canoeing, kayaking or boating on the Green and Nolin Rivers or fishing from a river island. Hit the trails on the surface for a hike and view the park wildlife or take in the scenery from atop a bicycle or on horseback. When the sun goes down, the fun doesn't have to stop, there are many opportunities for stargazing and taking in the peace and quiet of the park at night as well.
Make the Most of Your Visit
Last updated: December 2, 2021