Frequently Asked Questions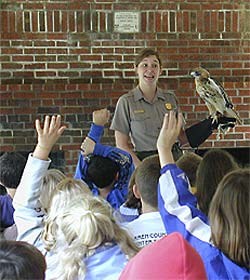 By its very nature, Mammoth Cave inspires questions: How long? How old? How big? What time? Can I? Why? Why not? We do our best to anticipate your queries, and below you will find answers to some of the more common ones visitors ask.
---
How do I get to Mammoth Cave?
From the North: Take Interstate 65 to Exit 53 (Cave City Exit). Turn right onto KY-70. Follow 70/255 as it becomes the Mammoth Cave Parkway in the park. Follow the Mammoth Cave Parkway to the Visitor Center.
From the South: Take Interstate 65 to Exit 48 (Park City Exit). Turn left onto KY-255 and follow 255 as it becomes the Park City Road into the park. Follow Park City Road until it joins the Mammoth Cave Parkway; turn left. Follow the Mammoth Cave Parkway to the Visitor Center.
Please take note! Do not rely exclusively on your mobile GPS, Google Maps™ or similar automated navigation system to get your to the park Visitor Center in time for your Cave Tour. Numerous visitors trusting in navigation devices have reported that the device or service has taken them the long way around by way of the park's north side and required a river crossing by ferry, or backtracking over many miles, to reach the Visitor Center. In some instances, travelers have arrived too late to participate in their scheduled cave tour. In other cases drivers of large commercial vehicles have followed automatic navigation onto park roads that are prohibited and/or too narrow for them to traverse safely. When planning your trip to or through the park, take a few moments to review your route before you travel so that you will be able to confirm your navigator's instructions on the road, and arrive on time for the adventure you intended to have.

How do I make a cave tour, campsite, or picnic pavilion reservation?
Simply call the National Park Reservation Service toll-free at (877)444-6777, or you can reserve online: Click here.

Do you still offer a boat tour inside the cave?
No. The Echo River Tour was discontinued in the early 1990s because human traffic in the river levels was causing harm to aquatic creatures that live there. Also, keeping the passages, which flood frequently, open for the public was prohibitively expensive. In season, we do offer the River Styx Tour, which lets visitors get a glimpse of the underground rivers. Check cave tour schedules for availability.

Are you on "slow time" or "fast time"?
Mammoth Cave is on Central Time, which some people call "slow time." Visitors coming from the north will cross the boundary from the Eastern Time Zone, or "fast time," at the northern Hart County line.

What cave tours do you have?
You can find a full set of tour descriptions by clicking here.

How strict are the age and size limits?
Some tours have limits on the age and size of participants. These restrictions have been established for your safety and to ensure that we are able to offer a quality interpretive experience. The limits are, therefore, strictly enforced. In some cases, proof of age may be required before a person will be permitted to purchase a ticket.

What are the prices of your tours?
Cave tours range from $6 to $60 (U.S. Dollars). For a breakdown of tours with prices, click here.

Can I get an information packet sent to me?
Almost all the information we would include in an information packet is also contained in this website. We would, however, be pleased to send you an information packet if you wish; simply call (270)758-2180 or email us.

What tour do you recommend?
Mammoth Cave National Park offers a number of tours, most of which are quite different from one another, and which place different demands on visitors. For your first visit to Mammoth Cave, the Historic Tour or the Domes and Dripstones Tour are good options. If you only have a little time, we recommend the self-guiding Mammoth Cave Discovery Tour (in season).

What else can we do besides taking a cave tour?
Visitors to the park hike and ride horses on the more than 70 miles of surface trails, fish and canoe in the Green River, camp, and picnic.

What are your hours?
Hours vary by season. Click here for the Basic Information page, and then select "Operating Hours and Seasons".

What time does the last tour go out?
Tour schedules vary by season. Click here for the current schedule.

What does "strenuous" mean?
Many cave tours require some exertion on the part of visitors. In general, if you are accustomed to walking without getting severely winded, and have no difficulty climbing and descending stairs, and have no heart, respiratory, or similar impediments, you should be able to take a "strenuous" tour with little difficulty.

Is there a hotel inside the park?
Yes. The Lodge at Mammoth Cave is located in the visitor center area. Call (270)758-2225 for pricing, availability, and reservations.

What kind of clothes should people wear in the cave?
Cave temperatures are usually as cool as a late fall day. A jacket or sweater is recommended, as are good shoes for walking. The Wild Cave Tour, the Introduction to Caving, and the Trog Tour have special clothing requirements; click here to read the descriptions of these tours.

May I take a rock from the cave home with me?
No. As with all National Parks, taking souvenirs of any kind is prohibited. If you see a rock or other object that interests you, it would probably interest someone else as well - please leave the object where you find it.

Is it all right for me to write my name on the cave wall?
No. You can, unfortunately, see where uncaring and insensitive people have done so in the past, and it does not improve the appearance of the cave. Such vandalism is very hard to clean up.

How cold or hot can it get inside Mammoth Cave?
Temperatures inside the cave vary somewhat, but usually hover around 54° Fahrenheit, year-round. In the "variable temperature zones" close to the entrances, wind chills in winter can dip below freezing, or temperatures can rise to around 60°.

How old is Mammoth Cave?
Geologists estimate that the oldest part of Mammoth Cave began forming around 10 million years ago.

Can Mammoth Cave turn into a volcano or a canyon?
Volcanoes are caused when molten rock from below the Earth's crust is forced upward through the crust. Although some caves called "lava tubes" are produced from the action of molten lava, Mammoth Cave is not one of these. There is no volcanic activity in the region. Eventually, thousands of years in the future, Mammoth Cave will erode into a series of canyons. But none of us will be around to see them.

Does Mammoth Cave draw big crowds?
On our busiest summer days, between 5,000 and 7,000 visitors come to the park. In a year, more than 2 million visitors come to the park, with nearly 500,000 of them taking a cave tour.

How long is Mammoth Cave?
To date, explorers have mapped and surveyed more than 405 miles of cave passage, making Mammoth Cave by far the longest known cave system in the world. The explorers are still discovering new passages, and they often say that "there is no end in sight."

How was the cave formed?
An ancient sea that covered the central United States 325 million years ago laid down over 600 feet of soluble limestone here, which was then covered by a sandstone and shale cap deposited by an ancient river. The sea and the river disappeared, and erosional forces eroded the cap until about 10 million years ago, when cracks and holes began to expose the limestone underneath. Rainwater worked its way underground in the form of sinking streams, which began hollowing out the cave as underground rivers. For a detailed explanation of karst geology, click here for our Karst Geology page.

Does Mammoth Cave have a place to fish?
Yes. You may fish in the Green and Nolin Rivers in the park, and in First Creek Lake, without a license. Kentucky State creel limits do apply; inquire at the visitor center information desk.

Why is the cave called "Mammoth Cave"?
The name "Mammoth" was first used to describe the cave in the early 1800s. It refers to the "mammoth" size of the cave's chambers and avenues, not the prehistoric elephant-like mammal.

Are there endangered animals and plants in the park?
The park contains several species of endangered plants and animals, including Eggert's Sunflower, the Eyeless Cave Shrimp, and several species of river mussels, among others.

When was the park established?
July 1, 1941.

Why was the park established?
The Park was established to preserve the cave system, including Mammoth Cave, the scenic river valleys of the Green and Nolin rivers, and a section of south central Kentucky's hill country.

Last updated: February 16, 2019