Frequently Asked Questions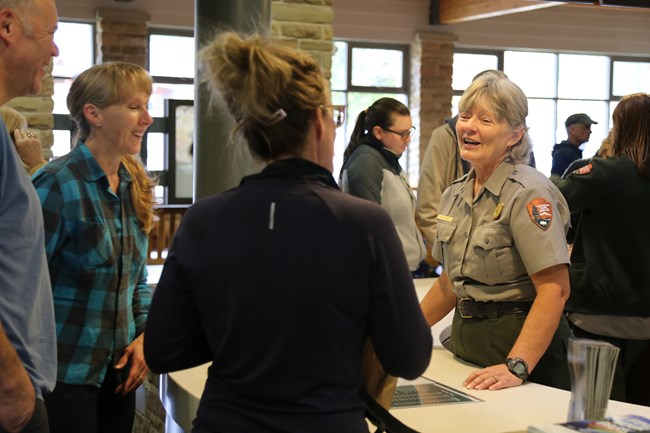 Getting to the Park
What are directions to the visitor center?
From the North: Take Interstate 65 to Exit 53 (Cave City Exit). Turn right onto KY-70. Follow 70/255 as it becomes the Mammoth Cave Parkway in the park. Follow the Mammoth Cave Parkway to the Visitor Center.

From the South: Take Interstate 65 to Exit 48 (Park City Exit). Turn left onto KY-255 and follow 255 as it becomes the Park City Road into the park. Follow Park City Road until it joins the Mammoth Cave Parkway; turn left. Follow the Mammoth Cave Parkway to the Visitor Center.

Visit our Directions and Transportation page for more information.
What time zone is the park in?
Mammoth Cave is on Central Time (GMT-5). Visitors coming from the north will cross the boundary from the Eastern Time zone (GMT-4) at the northern Hart County line.
What airport should I fly into?
The closest full-service international airports to the park are Louisville International Airport (80 minutes) and Nashville International Airport (90 minutes).
Cave Tours
Can I explore the cave on my own?
No. To protect the cave environment and for your safety, you must be on a cave tour to enter the cave. Ranger-led cave tours are offered throughout the year and a short self-guided cave tour is offered seasonally. Tickets are required for guided and self-guided tours.
Do I have to have a reservation for a cave tour?
Tickets are required to enter Mammoth Cave. Reservations are strongly recommended. Reservations are the only way to ensure a spot is available for your party. Please plan accordingly by visiting Recreation.gov to secure your tickets in advance. Availability of walk-up tickets is not guaranteed.
What cave tours are offered?
The park offers a variety of cave tour throughout the year. More information about cave tours is available on our Cave Tour page.
What is the cost of a cave tour?
Cave tours range from $6 to $60 USD. A complete list of tour fees is available on our Fees & Passes page.
How strict are the age and size limits?
Some tours have limits on the age and size of participants. These restrictions have been established for your safety and to ensure that we are able to offer a quality interpretive experience. The limits are, therefore, strictly enforced. In some cases, proof of age may be required before a person will be permitted to purchase a ticket.
How difficult are the cave tours?
Many cave tours require some physical exertion. In general, if you are accustomed to walking without getting severely winded, and have no difficulty climbing and descending stairs, and have no heart, respiratory, or similar impediments, you should be able to take a tour with little difficulty. Be sure to review the Cave Tour Descriptions page when choosing which tour is right for you.
Are boat tours still offered in the cave?
No. The Echo River Tour was discontinued in the early 1990s because human traffic in the river levels was causing harm to aquatic creatures that live there. Also, keeping the passages, which flood frequently, open for the public was prohibitively expensive. In season, we do offer the River Styx Tour, which lets visitors get a glimpse of the underground rivers. Check cave tour schedules for availability.
What is the temperature inside the cave?
Temperatures inside the cave vary somewhat, but usually hover around 54°F (12.2°C), year-round. A light jacket or sweater is recommended, as are good shoes for walking.
Camping and Lodging
I want to reserve a campsite, should I call the park?
No. Campsite reservations for Mammoth Cave Campground and Maple Springs Campground can only be made by calling 1 (877) 444-6777 or visiting www.recreation.gov. Houchin Campground is reservable on a in person first come, first served basis.
Are there backcountry camping opportunities in the park?
Yes. Backcountry and riverside camping is a great way to experience Mammoth Cave National Park, visit our Backcountry and Riverside Camping page to learn more.
How do I make reservations at the lodge?
Reservations can be made online at The Lodge at Mammoth Caves website  or by calling (270) 758-2225.
Rules & Regulations
Where can I find out about the park's rules and regulations?
The park's superintendent's compendium and a list of rules and regulations can be found by visiting our Laws & Policies page.
May I collect rocks or other items in the park?
No. Removing items of any kind is prohibited in all areas of the park.
I've seen writing on the cave walls, can I write my name on the wall or ceiling?
No. Much of the writing that is seen on the walls and ceiling of the cave comes from before the park was established and is now considered historic. Adding new writing today would be considered vandalism and is very hard to clean up.
Can my pet visit the park?
Pets are welcome on park trails, multi-use paths, and park roads, but must be on a leash less than six feet in length. Pets are restricted from several areas of the park, please visit our Pets page for more information.
Fees & Passes
Is there an entrance fee to the park?
No. There is no entrance fee to the park, however there are fees to tour the cave.
Where can I purchase my cave tour reservations?
Cave tour reservations can be purchased online at www.recreation.gov or in person in the ticket sales area of the visitor center.
Can I purchase an Interagency Pass in the park?
Yes. Interagency Passes are sold in the ticket sales area of the visitor center.
Other Information
How do I contact the park?
If you cannot find what you're looking for or need more information, visit our Contact Us page.
When does Green River Ferry operate?
The Green River Ferry is operated year-round, from 6 am to 9:55 pm, with the exception of Christmas day. Check our Current Conditions page to see the status of the ferry.
What events or programs are happening in the park?
Visit our Calendar page for information regarding upcoming events and programs. Ranger programs are updated monthly.
How do I reserve a Picnic Shelter?
Reservations for the park's picnic shelters can be made calling 1 (877) 444-6777 or visiting www.recreation.gov.
How do I volunteer at the park?
Visit our Volunteer page to learn more about how you can volunteer with us. Additionally, all volunteer positions are posted on www.volunteer.gov.
Geology
How old is Mammoth Cave?
Geologists estimate that the oldest part of Mammoth Cave began forming around 10 million years ago.
How long is Mammoth Cave?
To date, explorers have mapped and surveyed more than 420 miles of cave passage, making Mammoth Cave by far the longest known cave system in the world. The explorers are still discovering new passages, and they often say that "there is no end in sight."
How was the cave formed?
Over the course of several million years, underground rivers and streams carved out the underlying limestone creating a vast network of underground passageways. To learn more about the geology of Mammoth Cave visit our Geology page.
Becoming a National Park
When was the park established?
July 1, 1941.
Why was the park established?
The Park was established to preserve the cave system, including Mammoth Cave, the scenic river valleys of the Green and Nolin rivers, and a section of south-central Kentucky's hill country.
Why is the cave called "Mammoth Cave"?
The name "Mammoth" was first used to describe the cave in the early 1800s. It refers to the "mammoth" size of the cave's chambers and avenues, not the prehistoric elephant-like mammal.

Last updated: January 24, 2022