Cave Tours
Tour Schedule
Tour route availability and times change depending on the season. Before arriving at the park or trying to reserve tickets for a tour, please review the tour schedule for the dates of your trip. Read more about tour descriptions at the bottom of this page.
Tour

Departure Time

9:30 am
1:30 pm

9:00 am
10:00 am (Sat/Sun)
11:00 am
12:00 pm (Sat/Sun)
1:00 pm
2:00 pm (Sat/Sun)
3:00 pm
Tour Reservations
Tickets are required to enter Mammoth Cave. Reservations are not required, but are strongly recommended. Cave tours frequently sell out and reservations are the only way to ensure a spot is available for your party. Please plan accordingly.
Things To Leave Behind
To ensure the safety of all visitors and the continued protection of Mammoth Cave the following items are not permitted on cave tours:
Flash photography (photography is allowed if the flash is turned off)
Child backpack carriers (front packs are permitted)
Strollers
Tripods/Monopods
Walking sticks
Metal framed backpacks and backpacks that are higher than the shoulder or that are of a length that extends below the hips (i.e. large trekking backpacks)
Firearms or other weapons
Pets (Day use kennels at the Lodge at Mammoth Cave are available for rent. Learn more about pets in the park.)
Mammoth Cave is for Everyone
During the spring and fall seasons the park is a very popular destination for school trips and other parties. As a result, your tour may include other group(s) of various ages.
Dress Appropriately
You may wish to bring a light jacket during your tour. Cave temperatures can vary widely near entrances (especially in winter), deep cave temperature is 54ºF (12ºC) while surface temperatures in the summer can exceed 90ºF (32ºC).
Cave Tour Accessibility
Visitors with limited mobility may find some cave tours too strenuous. Please review cave tour descriptions and consider your limitations when choosing which tour to participate on.

For members of the deaf and hard of hearing community, assisted listening devices and sign language interpreter services are available with advanced arrangements.

The park is committed to providing accessible options for all visitors. Learn more about accessibility in the park.
Getting Here
When traveling to the park for a cave tour, plan for adequate travel time to the visitor center to arrive around 30 minutes before the start of your scheduled tour. This will allow for time to find parking, pick up your physical paper tour tickets and time to use the restroom.

Do not rely on your mobile GPS or web based mapping applications. These services often lead visitors off track onto routes requiring river crossings via ferry or onto narrow winding roads not suitable for large vehicles. More information about travel directions to the park are available.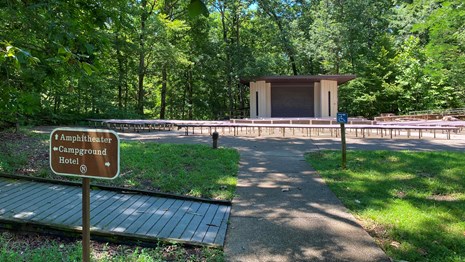 Ranger-led Programs
Join us for a ranger-led program on the surface.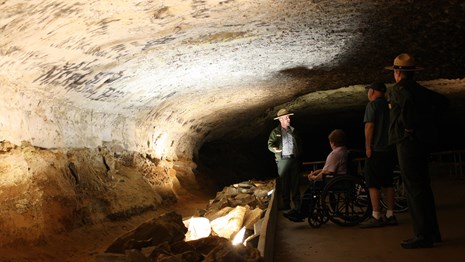 Accessible Activities
Description of Accessible Cave Tours, Ranger Walks & Talks, and Self-Guided Adventures
Descriptions of Currently Offered Cave Tours
Walk a hillside trail down to Mammoth Cave's most famous entrance as you follow the path used during nearly two centuries of touring. Experience the gently lit ambiance of a large trunk passage in the world's longest cave. Discover how Mammoth Cave has intrigued countless visitors since the first human entered its darkness nearly 5,000 years ago. This tour enters and exits through the Historic Entrance, visiting the Rotunda, Broadway Avenue, Methodist Church, the saltpeter mining ruins at Booth's Amphitheatre, Giant's Coffin, and the Tuberculosis Huts along the way.

Includes part of the Self-guided Extended Historic Tour.

Duration: 2 hours
Distance: 1.75 miles (2.8 km)
Total Stairs: 160
Difficulty: Easy
Ages: All ages. Youth under the age of 16 years, must be accompanied by an adult 18 years or older.
Restrooms: No
Tickets available for each tour time: 30
Fees: $11 Adults, $8 Youth, $5.50 Senior Pass Holder, $5.50 Access Pass Holder.
Visit Recreation.gov to reserve tickets for the Broadway Tour.
An introductory tour into the Historic Entrance, this section of cave houses many great artifacts left behind by historic and prehistoric people. Staying along broad walkways in some of the largest rooms in Mammoth Cave, this tour is ideal for those who do not like tight spaces, have small children, or anyone looking for a tour with limited steps. This tour is the guided version of the self-guided Discovery Tour.
Includes part of the Self-guided Extended Historic Tour.
Duration:
1.25 hours
Distance:
0.75 miles (1.2 km)
Total Stairs:
160
Difficulty:
Easy
Ages:
All ages. Youth under the age of 16 years, must be accompanied by an adult 18 years or older.
Restrooms:
No
Tickets available for each tour time:
30
Fees:
$8 Adults, $6 Youth, $4 Senior Pass Holder, $4 Access Pass Holder 
Visit Recreation.gov to reserve tickets for the Mammoth Passage Tour.
Last updated: January 16, 2021