Viewing Park Wildlife
Mammoth Cave is home to a wide variety of plant and animal life ranging from rare exotic cave species to more common woodland creatures. While viewing wildlife can be a highlight of any park visit, it is important to remember that animals in the park are wild. Precautions must be taken to keep not only you, but the wildlife safe.
Viewing Safely
Keep a safe distance. Deer may appear tame and may approach vehicles, but they are wild animals and can be unpredictable and dangerous.
Store your food and stash your trash. Feeding wildlife is prohibited. Feeding wildlife can make the animal sick or cause them to seek handouts from humans in dangerous areas like roads or parking lots. Animals used to human contact lose their fear of humans and may become aggressive. Wildlife may also carry diseases that can be transmitted to humans.
Do not disturb. Feeding, touching, and harassing wildlife is strictly prohibited. Pets must be always kept on-leash, fecal matter picked up, and vaccinations up to date when visiting the park. Do not use bird calls or wildlife calls and attractants. If you find a sick or injured animal, leave it where it is and alert a park ranger.
Keep your eyes on the road. Wildlife may be present on park roads at any time of day or night. Obey posted speed limits and watch for wildlife as they cross the road. Every year wildlife such as, deer, turkey, and turtles are killed on park roadways due to vehicle collisions.
When viewing wildlife, remember that your safety is your responsibility.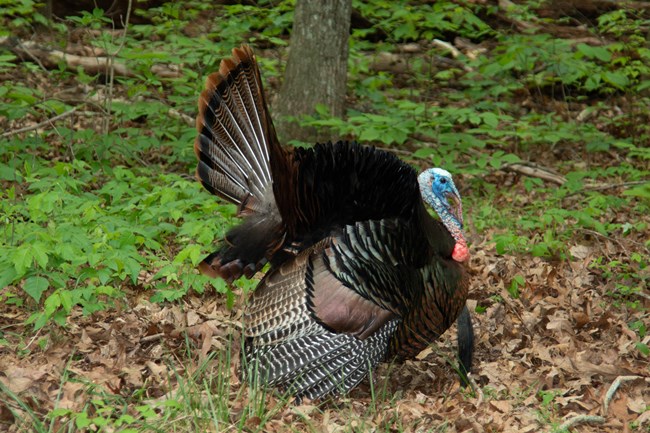 Where to See Wildlife in the Park
The Surface
Many species of animals can be viewed aboveground throughout the park. Larger mammals include white-tailed deer, fox, raccoons, opossums, beavers, rabbits, and squirrels. Smaller mammals, such as bats, mice, and chipmunks also abound. Many reptiles and amphibians find protection in the park, too, such as copperheads and rattlesnakes. Birds such as mourning doves, whippoorwills, owls, hawks, woodpeckers, and warblers may be seen along the miles of hiking trails.

For a good opportunity to view marsh birds and several species of turtles and frogs, visit Sloans Crossing Pond. Additionally, the trails near the visitor center are a great place to view white-tailed deer in the early morning and evenings. Wild turkeys, reintroduced in 1983, are also regularly seen near the campground and visitor center.

To try to see bats in flight, depending on the season, the best time is around dusk when bats emerge from their roosts in search of food. Unlike some other caves, the bat species native to the area do not fly out of cave entrances all together in a colony. Rather, bats might be spotted preying upon flying insects drawn to the visitor center parking lot's streetlights, or other light sources.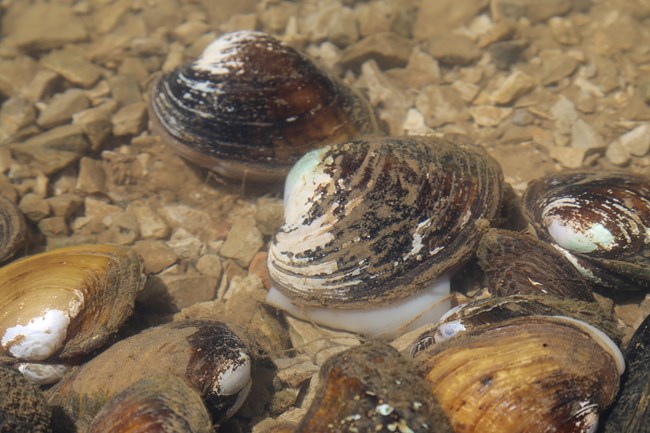 On the River
The Green and Nolin Rivers flow through the park and support a notable diversity of fish, a wide variety of mollusks, including over 50 species of mussels, of which seven species are on the endangered species list. While a few species of turtles are frequently seen along the riverbanks, less commonly seen animals include blue herons, river otters, or occasionally a bald eagle.

The best opportunity to view wildlife along one of the rivers is to spend the day on the water in a canoe or kayak. If time doesn't allow for a paddle trip, visit the banks of the river at Dennison Ferry Day Use Area, Green River Ferry and Echo River Spring Trailhead, or Houchin Ferry Picnic Area.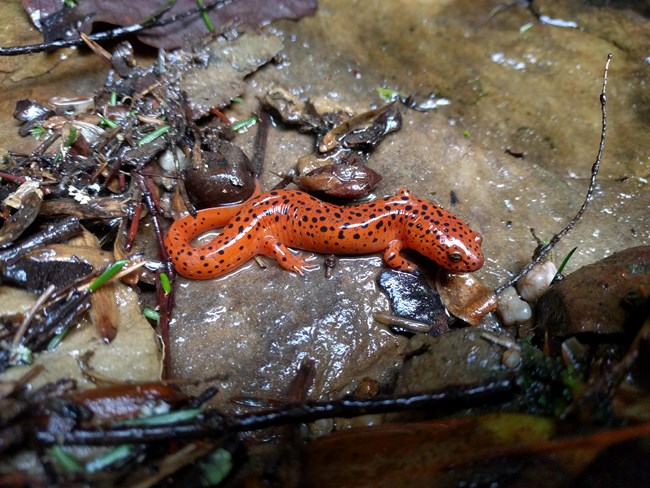 In the Cave
More than 160 species are regular inhabitants within the Mammoth Cave system. While bats are often the first animal that comes to mind when thinking about caves, they are not frequently seen on tour routes. Historical accounts from the 1800s describe large numbers of bats roosting on the walls and ceilings of passages just inside the Historic Entrance. In modern days, with increased tourism through the cave, deforestation in the area, and the arrival of the White-nose Syndrome causing fungus, it is now uncommon to see bats while on a cave tour.

Two other species that used to be seen more often on cave tours are eyeless cavefish, and eyeless crayfish. The animals most commonly seen on cave tours are cave crickets, they are perfectly harmless but do look like spiders at first glance.

To view wildlife within Mammoth Cave itself, you must be part of a cave tour. Wildlife such as cave crickets, cave salamanders, and spiders typically frequent the Frozen Niagara and Domes and Dripstones tour routes, but with a careful eye there is a chance to view wildlife on any tour within the cave.
Last updated: November 5, 2021