Stargazing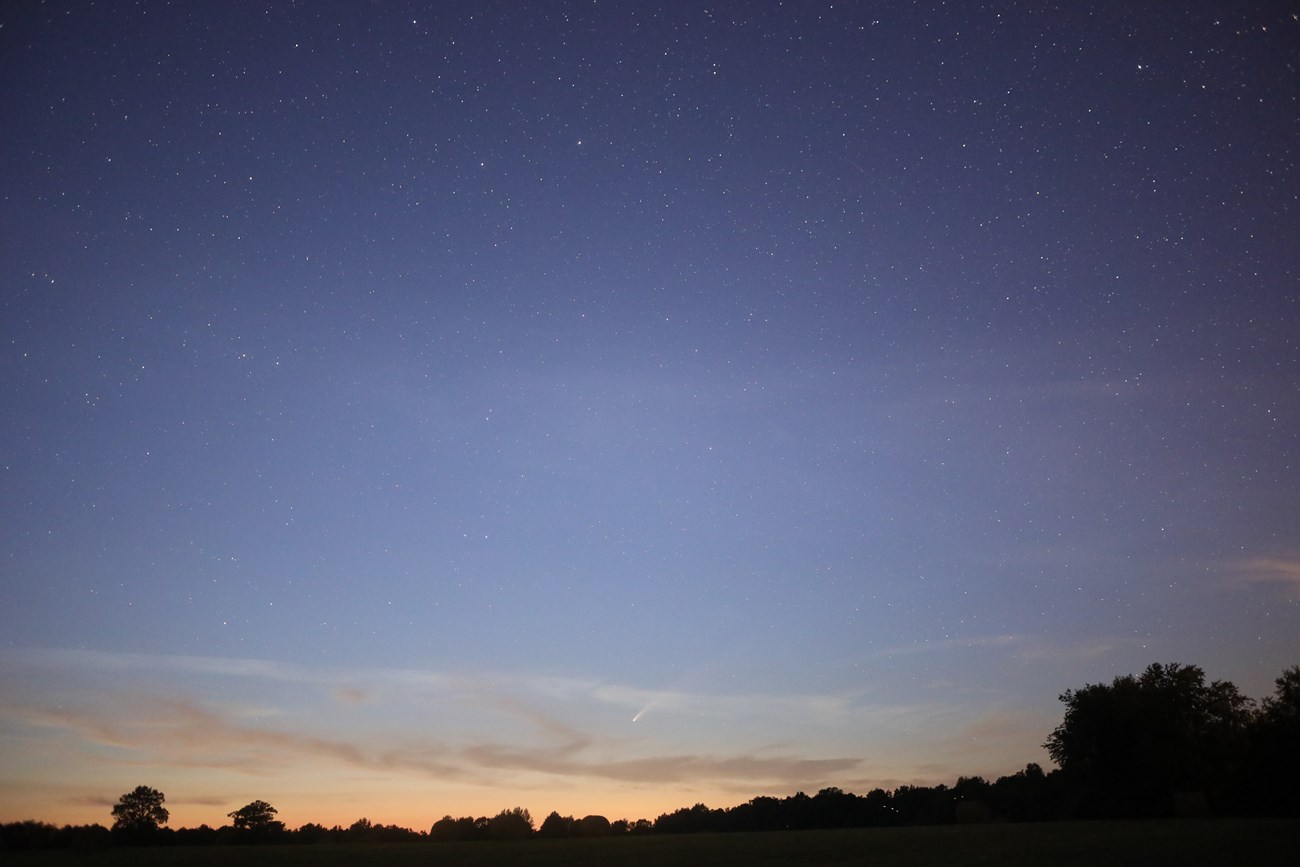 Since prehistoric times, humans have looked up at the night sky and pondered the wonders of the universe. People have used the stars and planets to navigate, keep track of time, and to connect with other cultures. Regardless of your reason, Mammoth Cave National Park provides an ideal place for stargazing.

After a day of hiking, kayaking and exploring the cave, the fun doesn't have to stop there, because half the park is after dark!
Tips for Stargazing in the Park
A red light works best. Flashlights with red lights will allow you to navigate walkways in the dark without disturbing your night vision.
Find a wide-open area. The grass fields and parking lots near the visitor center can make a great spot to have a wide view of the sky. Tall trees and hills may block your view.
Avoid areas with artificial light sources. You'll want to find a place that you can step away from car headlights and lights from buildings, to get the best experience.
You don't need a telescope. While a telescope can be a great tool to see smaller night sky objects, they aren't always necessary. Many planets and constellations can be seen with the naked eye. For an extra boost, try using a pair of binoculars.
Join us for a Night Sky Program
Ranger-led stargazing programs are offered throughout the year to provide an opportunity to experience unfettered views of the starry night and evoke a new appreciation for the park's dark sky environment. Attendees get to view planets and other night sky delights through telescopes provided by the park. Be sure to check the current ranger-led program schedule for the dates of your visit to the park to see when Night Sky programs are available.
Can you Spot the Station?
The International Space Station can often be seen passing overhead by the watchful stargazer. To the naked eye the station usually looks like a bright white dot moving very quickly as it passes without changing direction. It is often the brightest object in the night sky second only to the moon. The tracker below will help you determine when the station is passing over the park.
Preserving Dark Skies
The National Park Service is working to help protect our night skies and reconnect the world to the stars above. An overabundance of artificial light at night can impact not only people but wildlife too. You can help protect our night skies by turning off lights when they are not needed, and by learning more about the dark skies in the park.
Last updated: August 18, 2023