Canoeing, Kayaking and Boating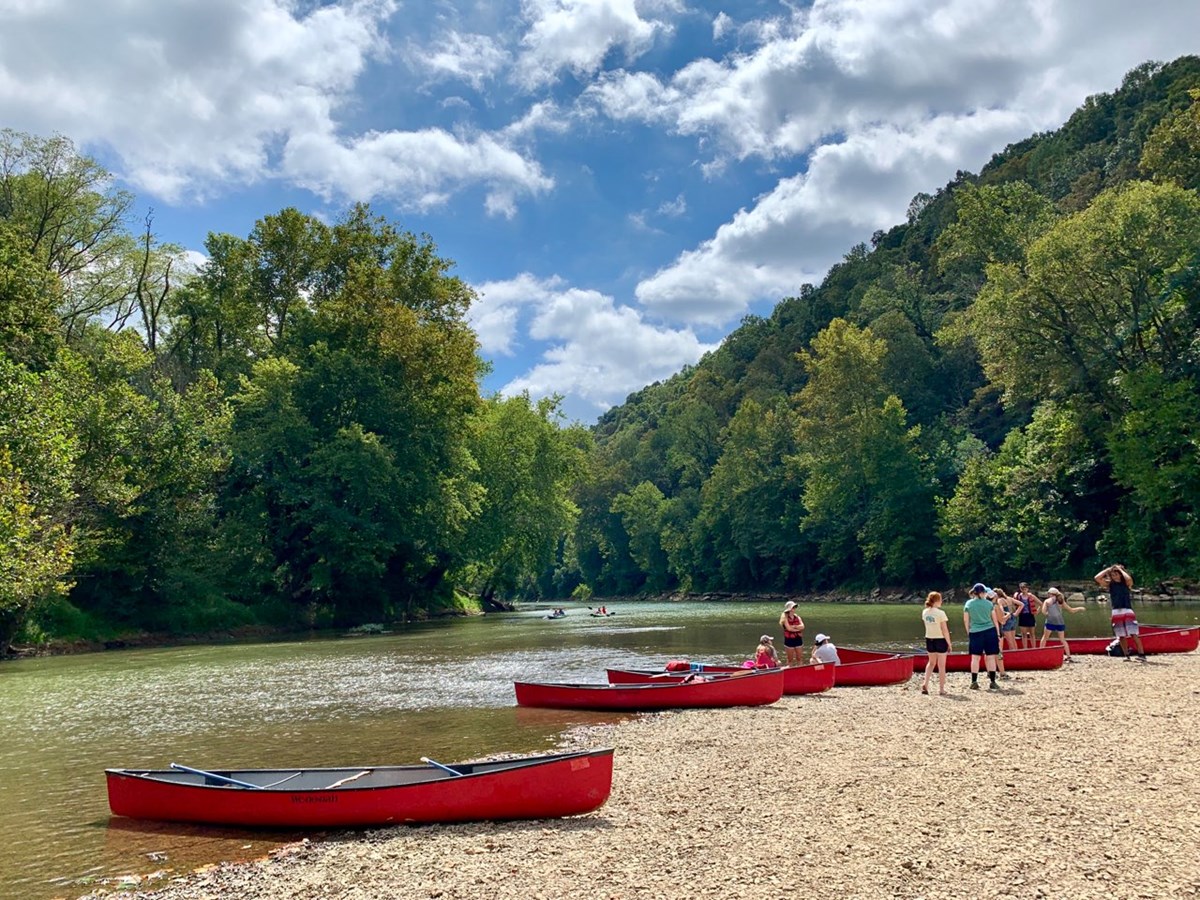 Over 30 miles of the Green and Nolin Rivers trace through the Mammoth Cave National Park and offer a wealth of recreational opportunities. Angle for muskellunge, bluegill, catfish, bass, perch, crappie, and other game fish. Canoe or kayak the rivers looking for wildlife, springs and river bluffs. Camp on islands, in the floodplain, or by the river at the Houchin Ferry Campground. These rivers offer something for everyone.
About the Rivers
The Green River is one of the most biodiverse rivers in the country. It is home to more than 150 fish species, more than 70 species of mussel including many threatened or endangered species. The river spans 25 miles (40.2 km) through the park and is dotted with sandbars, islands, and subsurface springs. The river averages 200 feet ( 61 m) wide and 10 feet (3 m) deep, though its depth may be much greater in places.

While considered a flat-water river, the current can still be very swift and prior paddling experience is recommended. Regardless of water level, always be alert to hazards such as submerged trees and rocks, drifting debris, and the park's ferry.
7.5 miles (12 km) of the Nolin River span from the Tailwater Recreation Area, part of the
US Army Corps of Engineers Nolin River Lake and Dam Area
, to the confluence with the Green River in the park.
In 2016 there was a failure of Lock and Dam No. 6 on the Green River, downstream of the confluence with the Nolin River, and the dam was ultimately removed. The removal of the dam has resulted in lower water levels and swifter river currents. Water levels can change rapidly due to weather (i.e. rise 20-50 feet in the hours and days after a rain event) or due to water release schedules from the Nolin River Dam. Serious hazards such as fallen or submerged trees and rocks, drifting debris and swift currents can exist. Paddlers on the river should be familiar with operating paddle craft on moving water as part of a dynamic river system.
Planning Your River Trip
Always wear a life jacket. Personal Flotation Devices (PFDs/life jacket) are 

required to be worn

while on rivers inside of Mammoth Cave National Park at all times.  It is important that your PFD is properly fitted, and US Coast Guard approved.  
Let someone know your plan. You should always leave a float plan with family/friends and inform them of your departure and return. Do not forget to inform them when you return so an unnecessary search is not started.
Leave alcohol at home. Alcohol is prohibited on the rivers inside the park.
Know the water level and weather forecast. River use is prohibited when river levels are at or exceed 20 feet on the park's water level gauges.
More information on boating and watersports throughout the national park system is available for you to review, including safety and trip planning tips.
River Access Points
Within the park there are three river access points accessible by car: Dennison Ferry, Green River Ferry, and Houchin Ferry. All of these sites are located on the south side of the Green River.
Dennison Ferry consists of a wooden canoe and kayak ramp with a series of concrete stairs to the water.
Green River Ferry consists of a gravel canoe and kayak launch ramp and a auto ferry ramp that doubles as a launch site for motorboats.
Houchin Ferry consist of a temporary canoe and kayak launch ramp. This launch site is often very muddy, please use caution.
Trip Ideas
More Trip Ideas
Paddling in the area is not limited to the rivers in the park. Visit Cave Country Trails for more information on paddling options in the greater Mammoth Cave area.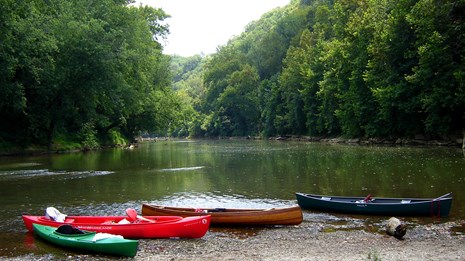 River Safety and Regulations
Learn your responsibilities when recreating on the river.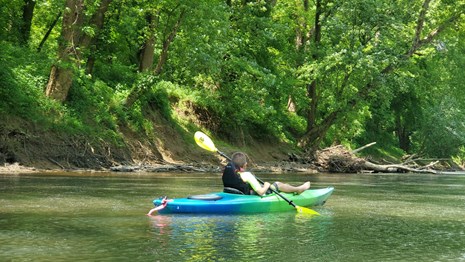 Canoe and Kayak Outfitters
Rent a boat for a day on the river.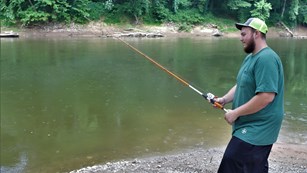 Fishing
Fishing regulations and more.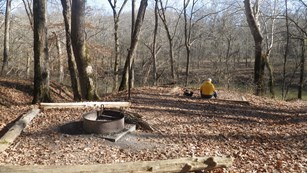 Backcountry and Riverside Camping
Learn more about backcountry camping in the park.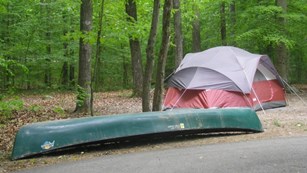 Houchin Ferry Campground
Camp along the Green River in a campground.
Current Water Levels on the Green River
In cooperation with the US Geological Survey, the park maintains a water level monitoring station on the Green River inside the park boundary.
Swimming
Swimming in park waters is not recommended. At normal stage, the Green River flows at a relatively brisk 4.3 knots, about 5 miles per hour, which is too strong to swim against. There is no designated swimming area in the park and no lifeguards on duty.

Wading in shallow water can also pull you off of your feet. Stay far enough back from moving water so that an accidental trip or slip on wet rocks will not cause you to fall into the current and be swept away.
Swimming, wading, or bathing within 200 feet (61 m) of the Green River Ferry crossing is prohibited.
The use of tubes, inflatable pool toys, or pool rafts to float the rivers is prohibited.
Last updated: June 30, 2020