Bicycling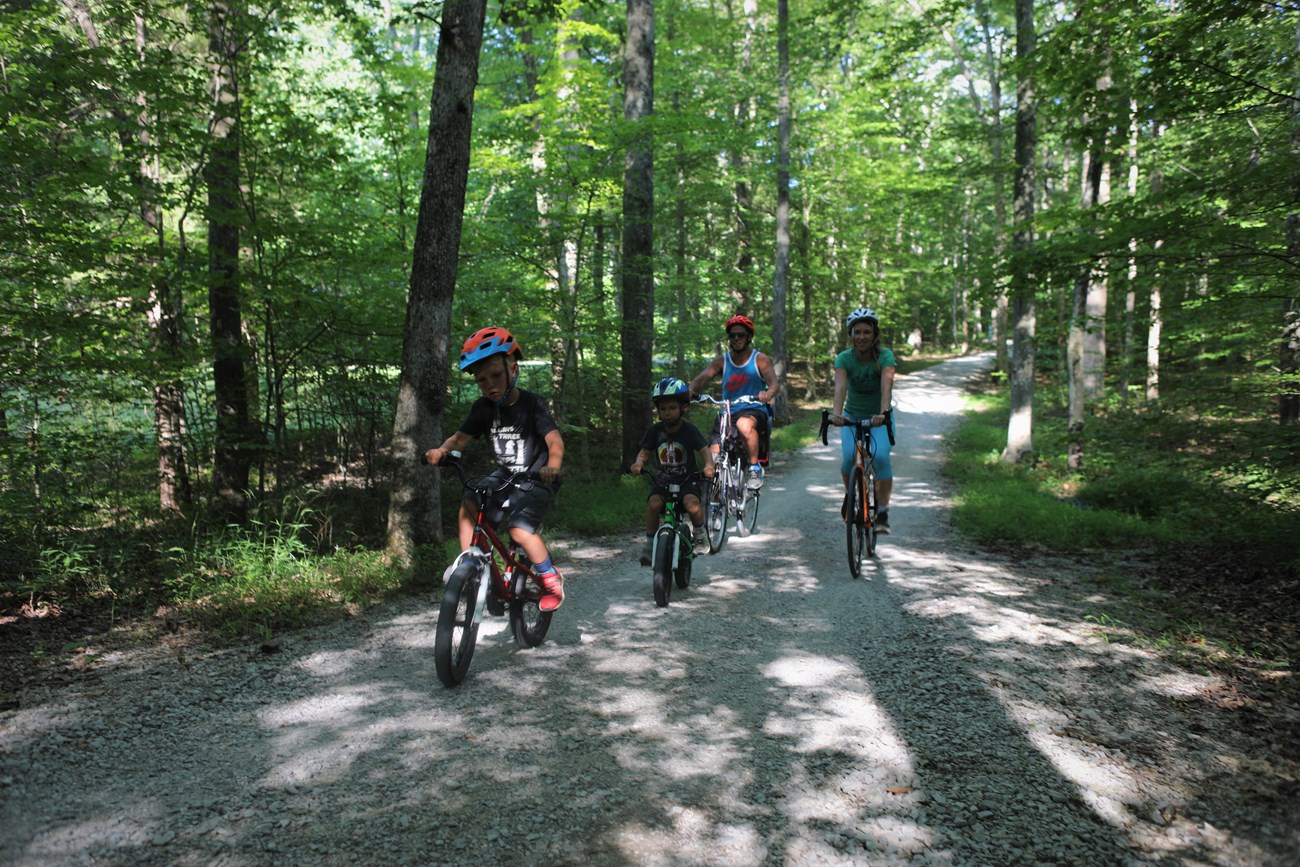 Off-road Bike Trails
Several unpaved trails and service roads are available in the park for cyclists with mountain bikes. Trails not listed below are closed to bicycle use.

Remember that when on trails shared by hikers and horses, cyclists are required to yield to the other trail users.
Mammoth Cave Railroad Bike and Hike Trail
9 miles (14.4 km)
Originally opened in 1886 the Mammoth Cave Railroad brought early tourists to Mammoth Cave and other neighboring caves in the area. The train line continued its service for 45 years and made its final run on August 1, 1931.

Today, a portion of the path of the former Mammoth Cave Railroad has been converted into a 9-mile hike and bike trail. This trail can be accessed from Park City, KY, several points along Mammoth Cave Parkway, and the park's visitor center area. Along the trail, cyclists and hikers can stop at historic sites, interpretive waysides, and scenic overlooks.

While on the Trail:
Dismount and walk your bicycle at all road crossings.
Be aware of hills and steep grades. Walk your bicycle when signs instruct you to do so.
Keep your children near at all times.
Observe warning signs.
Bicycle helmets are recommended for all riders.
Remain on the trail and always practice Leave No Trace.
Big Hollow Trail
9.1 miles (14.6 km)
North Loop: 5.3 miles (8.5 km)
South Loop: 3.7 miles (5.9 km)
Connector Trail from the Big Hollow Trailhead to the Maple Springs Trailhead
1 mile (1.6 km)
The Big Hollow Trail Loop Trails and Connector Trail offer over 10 miles of single track mountain bike trail that winds through dense woodlands and rocky outcroppings. The trail can be accessed from the trailhead within Maple Springs Campground.
Road Biking

For visitors wishing to travel to Mammoth Cave National Park on two wheels instead of four, the park roadways offer miles of scenic and forested landscape to enjoy on the ride.

While on the Road:
Cyclists must respect and obey all rules that apply to automobile traffic, including speed limits and stop signs. 
Bicycle helmets are highly recommended for all riders.
No bike lanes exist on park roads.  Bicycles must be ridden single file and well to the right-hand side of the road, except when passing or turning left.
Cyclists should use extreme caution, particularly along narrow areas and blind curves. Wear bright, highly-visible clothing to help drivers see you.
Part of the U.S. Bicycle Route System
Mammoth Cave National Park is included in two U.S. Bicycle Routes (USBRS) that connect urban and rural communities across the United States via signed roads and trails.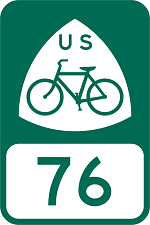 TransAmerica Bicycle Route, USBR 76
The TransAmerica Bicycle Trail was designated in 1982 and spans the nation from coast to coast. On its 4,228-mile (6804.3 km) journey, the trail passes through the states of Oregon, Idaho, Montana, Wyoming, Colorado, Kansas, Missouri, Illinois, Kentucky, and Virginia. Along the way riders can take several spur routs to scenic destinations like Mammoth Cave National Park.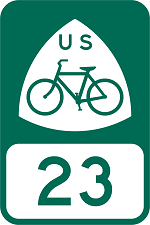 Cave Country Bicycle Route, USBR 23
Designated in 2019, the Cave Country Bike Route connects USBR 76 to the Tennessee boarder, through Kentucky's Cave Region. The 109-mile (175.4 km) route takes riders through Mammoth Cave National Park and connects to small towns and historic sites.
E-Bikes
What is an e-bike?
The term "e-bike" means a two or three-wheeled cycle with fully operable pedals and an electric motor of less than 750 watts (1 HP).

Where can I ride my e-bike in the park?
E-bikes are allowed in the park where traditional bicycles are allowed.

Can I ride my e-bike by using only the electric motor?
Using the electric motor to move an e-bike without pedaling is prohibited on bike trails and service roads. The sole use of the electric motor is allowed only where motor vehicle use by the public is allowed, i.e. paved roadways.

Learn more about e-bikes in national parks.
Safety
Whether riding on one of the parks scenic roadways or on an off-road trail, your safety is your responsibility. Make your visit more enjoyable by learning about safety while in the park.
Last updated: November 6, 2020