Backpacking & Camping
Isle Royale Backpacking During COVID-19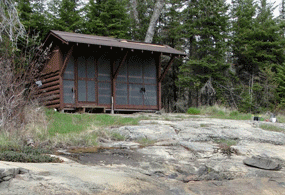 Camping Overview
Isle Royale has 36 campgrounds located across the island. Campsites are accessible only by foot or watercraft. All campgrounds offer tent sites, a water source, and outhouses. Some campgrounds on Lake Superior offer shelters and picnic tables. For boaters and parties of 6 or fewer, overnight permits are free.
Backpackers hike from one campground to another, usually traveling six to eight miles per day.
Several campgrounds on the Lake Superior shoreline have docks for power boaters and sail boaters.
Canoes and kayak campgrounds, located inland, are only accessible by non-motorized boats.
For those looking for a more rugged and adventurous experience, cross-country camping is allowed with an additional permit addendum.
Consecutive night stay limits are in effect from June 1 through Labor Day. Rock Harbor extends through September 15. See specific stay limits for each campground in the current park newspaper.
Camping Permits
Permits are required, regardless of group size or method of travel, for all overnight stays at campgrounds, cross country sites, docks, or at anchor. Permits are free for parties of 6 or fewer or boaters.
Permits should be displayed on a backpack when hiking and on a tent or shelter when at camp. Please follow camping regulations during your visit.
Camping Fees?
For boaters or parties of six or fewer, there is no additional fee to camp overnight in the park. You do need the overnight camping permit discussed above. You are still required to pay park entrance fees, which are seperate from camping.

For parties of 6 or more (group camping), there is a $25 per permit fee. Advanced reservations are required.
Campgrounds
Last updated: September 28, 2020