Canoeing & Kayaking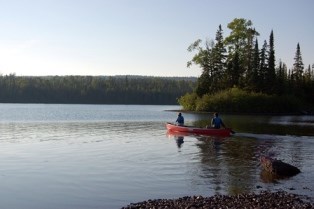 With numerous lakes, bays, and islands, Isle Royale National Park provides many miles of waterways for the experienced canoeist and kayaker. Small, open vessels are encouraged to use the numerous miles of waterways the inland lakes provide. Canoes should be at least 15' long to navigate waters in large bays and not swamp in rough water. Recreational kayaks are not appropriate for Isle Royale's marine environment - sea kayaks are recommended. Sea kayaks should be at least 15' 8" to 19' long for open water, and behave well in wind and waves.
Camping Permits
A backcountry permit is required when staying overnight at a campground, cross-country zone, dock, or at anchor. Canoe-only campground sites are limited to a maximum two night stay, for parties of six or less. There are cross-country options (camping outside of designated campgrounds - requires a permit addendum) available for those who seek solitude or have planned a unique itinerary. Camping on offshore islands is limited to designated campsites. Groups (7-10 people) must stay at designated "group campsites," and must get backcountry permits in advance. Permits should be displayed on your tent or shelter when at camp.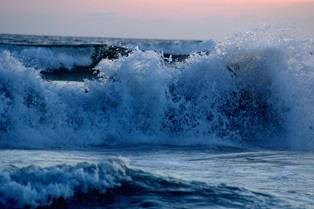 Canoeists and kayakers need to be aware of safety hazards and considerations for Lake Superior and the inland lakes and streams prior to their trip. Lake Superior is well-known for its cold temperatures, fog, and sudden squalls that can generate waves that could easily swamp a canoe or kayak. This, along with scarce outer shore landing sites, adds to the potential danger.
Transportation & Boat Rental
Ferry transportation services are able to transport canoes and kayaks for a fee. The Grand Portage-Isle Royale Transportation Line, which operates the Voyageur II and Seahunter III ferries, has a limited number of canoes for rent. Canoes and kayaks are available for rent in both Rock Harbor and Windigo when Isle Royale Resorts services are operational; these watercraft can be used within a designated vicinity of both locales.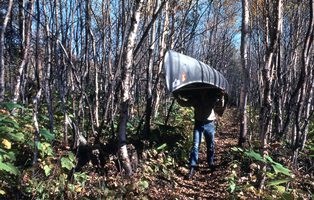 Portages
Canoe routes and portages are on the eastern half of the Island. Portages are marked with an indented 'P' on a post. The use of wheeled portage devices is prohibited. For a list of portages and their descriptions, look to the map page of the most current park newspaper.
Motors
Canoes with motors are permitted in Lake Superior waters; they must have valid state registration. It is illegal to use or transport motors, even if not being used, through inland lakes and streams.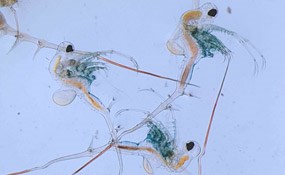 Invasive Species
The park's Lake Superior waters contain several exotic species, one of which is the spiny water flea (Bythotrephes longimanus). It appears at this time that the spiny water flea has not made their way into the park's inland lakes. This is good news, because this invasive invertebrate has been shown to out-compete native species for food.

In 2005, Isle Royale staff discovered that spiny water fleas could stick to the surface of a canoe or kayak after it had been pulled out of the water. The biggest threat to the inland lakes will be involuntary transfer of spiny water fleas on gear that has first been in the park's Lake Superior waters.

We ask all paddlers to empty out all residual water and thoroughly wipe down all surfaces of canoes, kayaks, and gear that have been in contact with Lake Superior, before you approach an inland lake to paddle. If you can arrange your trip so that you camp prior to entering an inland lake, also use boiling camp water to pour over smaller gear that was in Lake Superior (sandals, booties, etc.).

Bring clean rags on your trip to wipe down your paddling gear and vessel. Be sure to carry a container or sealable plastic bag to store the wipe rag(s). Do not let those rags come in contact with inland lakes after use.

Read about other invasive species and what you can do to help stop the spread during your visit.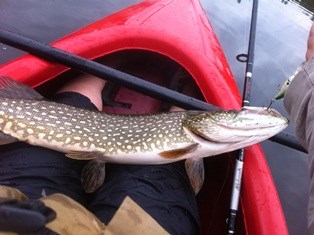 Fishing
A State of Michigan fishing license is required to fish in Lake Superior waters. Persons 17 years of age and older are required to have a license; those younger than 17 years of age are not required to have a license, but are required to observe all fishing rules and regulations. Licenses can be obtained online through the Michigan Department of Natural Resources. No license is needed to fish inland lakes and streams, but Michigan size and possession limits apply. Check out the most current park newspaper for rules and regulations regarding fishing in the park.


Last updated: April 4, 2021