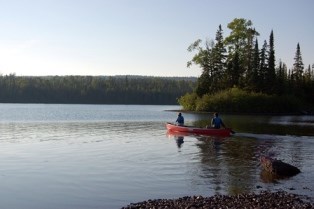 With numerous lakes, bays, and islands, Isle Royale National Park provides many miles of waterways for the experienced canoeist and kayaker. Small, open vessels are encouraged to use the numerous miles of waterways the inland lakes provide. Canoes should be at least 15' long to navigate waters in large bays and not swamp in rough water. Recreational kayaks are not appropriate for Isle Royale's marine environment - sea kayaks are recommended. Sea kayaks should be at least 15' 8" to 19' long for open water, and behave well in wind and waves.

Paddling Safety, Transportation & Boat Rental, Portages,
Motors, Invasive Species, Fishing
Camping Permits
A backcountry permit is required when staying overnight at a campground, cross-country zone, dock, or at anchor. Canoe-only campground sites are limited to a maximum two night stay, for parties of six or less. There are cross-country options (camping outside of designated campgrounds) available for those who seek solitude or have planned a unique itinerary. Camping on offshore islands is limited to designated campsites. Groups (7-10 people) must stay at designated "group campsites," and must get backcountry permits in advance. Permits should be displayed on your tent or shelter when at camp.