Canoeing & Kayaking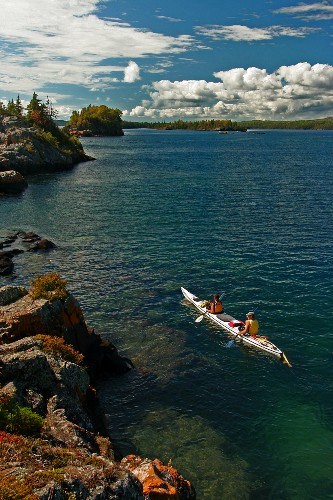 Overview
With numerous lakes, bays, and islands, miles of waterways await for the experienced canoeist and kayaker.
Route Considerations: Lake Superior is well-known for its cold waters, fog, and sudden, wave-generating squalls. Small, open vessels are encouraged to use interior lake waterways instead.
Safety Requirements: Every paddler must have a U.S. Coast Guard-approved personal floatation device. Wear it; your life may depend on it.
Weather: Consult the marine forecast at visitor centers before embarking. Be prepared to adjust your schedule. A portable marine radio is recommended for overnight trips.
Invasive Species: Vessel owners are legally responsible for invasive species decontamination prior to entering park waters. Before moving from Lake Superior to interior waters, wipe down your boat and gear.
Equipment: Canoes should be at least 15' long to navigate open water. Sea kayaks should be at least 15'8" to 19" for open water. Recreational kayaks are not recommended.
Check current conditions before your visit for the most up to date information.
Permits
A backcountry permit is required to overnight at a campground or dock. Camping outside of campgrounds is allowed in designated locations, and requires an additional cross-country camping permit. Groups (7 or more people) must acquire a group camping permit, and camp at designated group campsites.
Fees
For parties six or fewer, there is no permit fee to camp overnight in the park. The payment of park entrances fees is required, and separate from camping. For groups (7 or more people), there is a $25 fee per permit.
Transportation & Boat Rental
Ferry transportation services are able to transport canoes and kayaks for a fee. Boat rentals are available at Windigo and Rock Harbor. Contact Isle Royale Resorts for more information.
Portages
Interior lake canoe routes and portages are on the northeast half of the island. Portages are marked with a letter "P" on a post. Portaging devices are not allowed in wilderness.
Motors
Canoes with motors are permitted in Lake Superior waters; they must have valid state registration. The use or transportation of motors through inland lakes and streams is not allowed, even when not in use.
Last updated: March 2, 2023