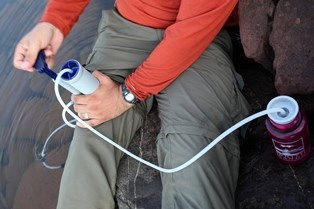 Drinking Water Safety
Potable water is only available seasonally (typically end of May-end of September)in Rock Harbor and Windigo. All surface lake and stream water should be considered contaminated with pathogens. Drinking contaminated water can make you very sick. Water collected at the park should be boiled at a rolling boil for at least one minute or passed through at least a 0.4 micron filter (using a water filter).

To be assured of no risk of contamination from small bacteria and viruses, all filtered water should be further treated with iodine or other approved chemical methods. By itself, chemical treatment is not an effective method of water purification. If you boil your water, bring plenty of stove fuel. If filtering, bring a replacement cartridge for filters that cannot be cleaned in the field.

SteriPENs and other UV purifiers have not been manufacturer-tested for a common parasite found on Isle Royale and cannot be considered effective.

If you have further questions regarding safe drinking water, contact the park.