Article
Plan Like a Park Ranger for El Malpais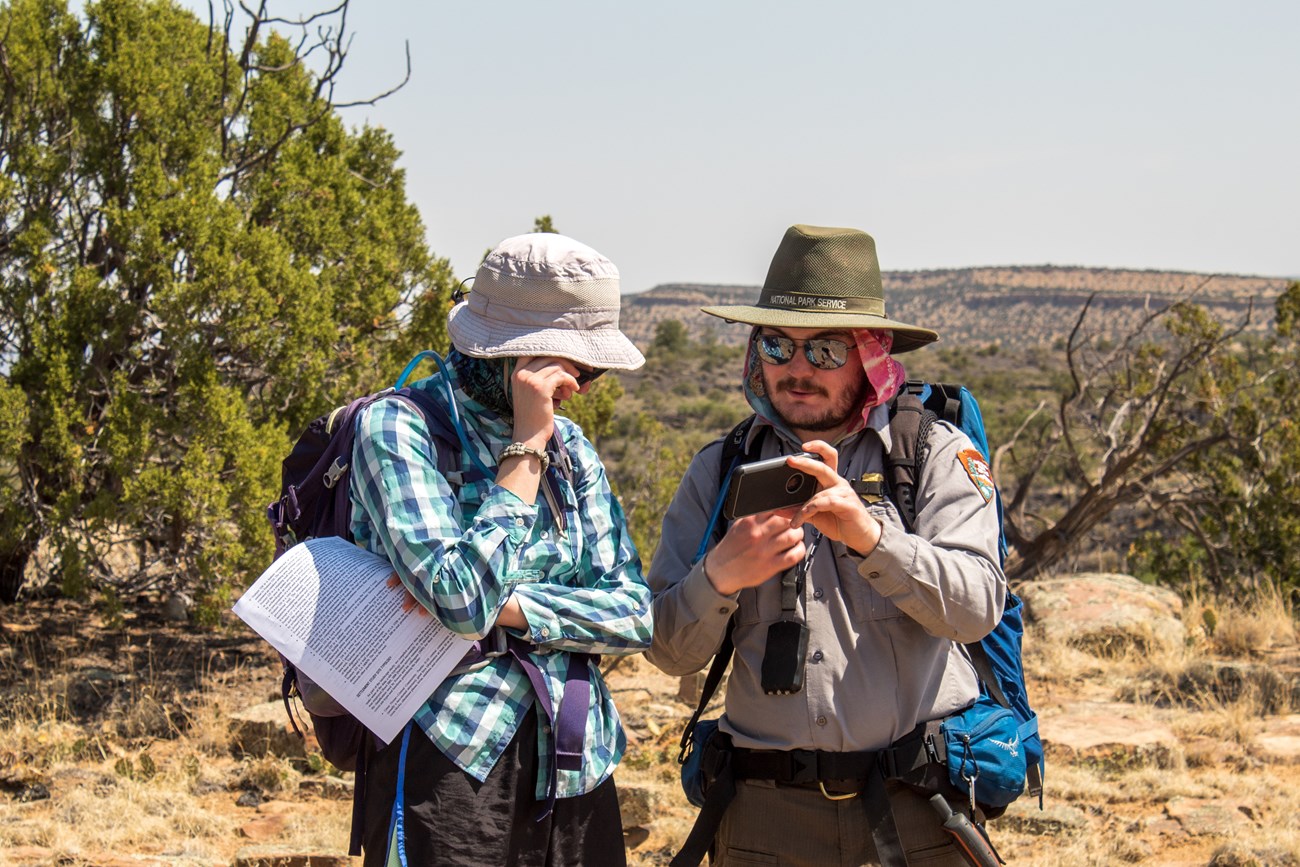 Top 10 Tips For Visiting El Malpais National Monument
Plan like a park ranger and use these helpful tips to have a great visit to El Malpais National Monument. A little trip planning can go a long way and improve your visit to the park!  
No, really.  Like from an actual volcano.  Or in the case of El Malpais, more than 10 volcanos.  All of the lava makes planning a visit very different from planning for other parks.
There are no roads through the park because lava is difficult to build over.  Since you can't go over it or through it, you have to decide which road to take to get around it. Two state highways and a county road border the park and provide access to park trails.

Hiking trails aren't as...refined...as what you may find in other national parks.  Some trails over the lava have wide cracks you have to cross, and the trail surface is sharp, jagged rock. Cairns, or rock piles, mark the way instead of a winding dirt path.  One does not simply hike across lava with sandals--wear sturdy shoes!.

Since plants don't like growing in lava, there isn't much tree cover.  Or ground cover.  Or plants.  Be ready to hike in full sun all day.  Layered clothing is the best kind of sunscreen.  

The same lava that's unfriendly to shoes is also not so friendly to dog paws. Check out our list of paw friendly trails.   
Before you visit El Malpais--or any national park--visit the park's website, download the NPS App from the Apple App Store or Google Play, or call ahead to find out operating hours and current alerts.

Social media such as Facebook and Instagram are great resources for sudden changes in what is available, but updates vary from park to park.

The El Malpais Visitor Center in Grants, New Mexico is open every day from 9:00 am to 5:00 pm.  The visitor center parking lot locks at 5:00 pm.

There are no food or vehicle services within the park.  The closest town of Grants has gas stations, grocery stores, hotels, and restaurants if you need to stock up on any supplies or take a break during your travels.
Summer weather at El Malpais is sunny, hot, and dry.  Daytime temperatures can reach into the low 90s (32 Celsius) with little to no cloud cover, and nights can dip into the low 40s (4-5 Celsius) if you plan on camping. Strong wind is also common.

Mid-summer is also thunderstorm monsoon season.  Storms can appear quickly, and lightning is common.  Since there are many points in the park where you are the highest spot on the landscape, remember the adage, "when thunder roars, get indoors." 
Much of the park is at or above 6,400 feet elevation (higher than Denver!), which may cause shortness of breath or lightheadedness if you are visiting from a lower elevation.  Packing extra water and snacks for an El Malpais adventure is also highly recommended.  If your body is not acclimated to the elevation, it has to work extra hard to get the oxygen it needs.  One gallon of water per person per day is ideal.  Salty snacks like trail mix help the body retain water.

Elevation also makes the sunlight more intense, so wearing layers of clothing as sun protection is highly recommended.   Long-sleeved shirts and pants may seem counter-intuitive, but such layers block direct sun exposure and also help keep your body cool.  Sunglasses and wide-brimmed hats are also suggested. 

Most hiking trails take you across rugged lava surfaces (See "The Ground is Lava!).  Expect to cross deep cracks and uneven terrain.  Sturdy shoes are advised.  If you plan on hiking in the summer, do so in the morning or early evening to beat the heat from above and the black rock beneath you. 
Since the ground is lava, no road cuts through the park.  However, state highways run along either side of the park, and a rugged dirt road connects the two.
Highway 117 travels along the east side of the park and combines a scenic drive with short things to do.  If you are traveling east or west along I-40, expect to make an out-and-back trip.  
Highway 53 follows the west side of the park.  It is also a scenic drive and offers more longer-distance trail access.  It also takes you to the El Calderon Trail, one of the few paw-friendly hiking trails in the park.

County Road 42 offers a drive for the extra adventurous.  High-clearance, four wheel drive vehicles are highly recommended, and the road can sometimes be impassible.  Check with a ranger for best advice, on whether you should attempt this drive.  If you choose to drive County Road 42, also known as the Chain of Craters Scenic Byway, expect to be out for a few hours and have limited cell service. Even though this road connects Highway 117 to Highway 53, this is not the fastest route between the two. It is always faster and safer to go back to the interstate.
All surface hiking trails are open to hiking from sunrise to sunset.  All lava tube caves remain closed for resource and visitor safety.
All trails are open to pets, but not all of them are paw friendly.  Jagged lava rock can injure paw pads and be very unpleasant for Fido!  (See "The Ground is Lava!)

Paw-friendly trails at El Malpais include: 
Neither the Zuni-Acoma Trail or Lava Falls Trail is recommended if you plan to hike with a dog.

When exploring the trails, remember to...
have your dog on a leash no longer than 6 feet (2 meters) long
be attached to the other end of the leash
pick up and dispose of pet waste responsibly 
Camping in El Malpais National Monument is limited to backcountry camping, and even then the options are few.  Solid lava rock isn't the easiest thing to drive tent stakes through.  Visit the "Camping" page on our website for specific details. 

Why not try nearby public lands and private campgrounds?  Joe Skeen Campground, run by the Bureau of Land Management, is a 9-site designated campground that fills on a first-come, first served basis.  Dispersed, primitive camping is permitted in the El Malpais National Conservation Area and Cibola National Forest.  Private campgrounds can be found through any online search. 
Remember to leave things like rocks, flowers, and any artifacts where you see them.  This ensures that future visitors have the same chance to experience those things as you did.  Artifacts are especially sacred to peoples that have lived in the area for generations, so it is important to respect their customs during your visit.  

National parks everywhere are expecting higher-than-normal visitor use, so pack out what you can and dispose in areas not as stressed if you see overflowing trash bins.  If you are out on a trail, remember to pack out all trash:  pistachio shells, fruit peels and cores, wrappers and other packaging, dog waste, kitchen sink, that spare screwdriver you don't remember packing, etc.  
Rattlesnakes live in the area.  They are most active in the morning and evening, but an encounter can happen at any time.  If you meet one at the visitor center, let a park ranger know so they can move the snake to a different location.  If you meet one on a hike, give it space.  Rattlesnakes use their tail rattles as a warning if they feel threatened, so if you hear a rattle or see a snake rear up into an S-shape, back away slowly and go back the way you came.  Rattlesnakes are venomous, which means if one bites you or a pet, immediate medical attention is needed. 

Both deer and elk live in the park and are most active during dawn, dusk, and through the night.  Use caution while driving around tight turns.  Wildlife and vehicle encounters are never fun for anyone involved.

Respect cave closures.  They are often in place to protect bat populations in the park and for human safety.  The amounts of bat guano in some caves can be hazardous to human health.

As with any national park, remember to keep pets on a leash no longer than 6 feet at all times.  This helps you pull it back from a rattlesnake if such an encounter happens and also prevents pets from chasing other wildlife.  Although your dog may be friendly, it still smells like a predator to wildlife in an already stressful environment.
Popular national parks like Petrified Forest and Grand Canyon will likely be crowded and have limited parking, so why not explore some hidden gems after visiting El Malpais?  

From El Malpais...

The National Park Service isn't the only land management agency in the area.  The Bureau of Land Management's El Malpais National Conservation Area frames most of El Malpais National Monument.  A section of the Cibola National Forest is just north of Grants and offers a rugged drive and trail access to the summit of Mount Taylor, campgrounds, and endless spaces for dispersed camping.
Last updated: July 18, 2021