El Calderon Area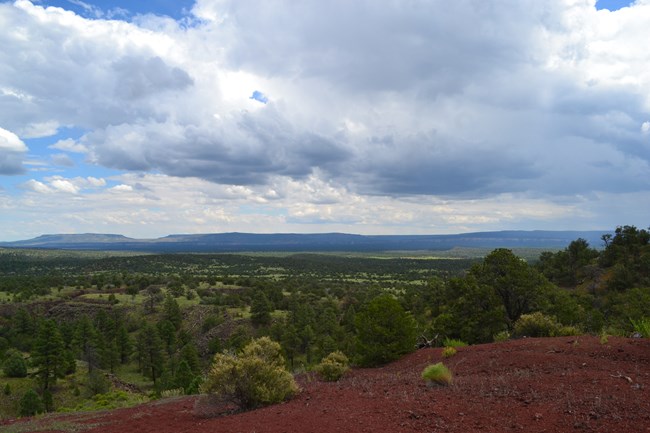 El Calderon Area offers a sampling of all of the features that make El Malpais so unique: lava tubes, cinder cones, and lava flows! The first mile of the trail passes by the entrances to several lava tube caves, including Bat Cave where you can see Mexican free-tailed bats fly out on warm summer evenings. The trail then climbs through a ponderosa forest to the top of El Calderon cinder cone, a small volcano that last erupted somewhere between 30,000 to 60,000 years ago and created the lava tube caves you hiked by at the start of the trail. From the cinder cone, either hike along primitive road for a shortcut back to the parking lot or continue across the younger Twin Craters lava flow (approximately 18,000 years old) to the Continental Divide Trail junction to return to your vehicle.

The full hike is a 4.8 mile (7.7 km) figure-8 loop. The larger loop is 3.5 miles (5.6 km) through piñon-juniper forest and stands of ponderosa pine, while the other loop is 1.1 miles (1.7 km) along the cinder cone rim. The full hike can be shortened by hiking a dirt road that bisects the main trail back to the parking lot. We recommend downloading the NPS App before your visit to access a full hiking guide and georeferenced map of the trail.

Picnic tables and pit toilets are available at the trailhead.

The El Calderon Trailhead is located 20 miles south of Grants on Highway 53 and is generally accessible year round. Call the El Malpais Visitor Center for road and trail conditions.

Please remember to be prepared and plan ahead for any adventures in El Malpais!
Things to Do at El Calderon
Last updated: January 18, 2023