Weather
The weather at El Malpais goes through dramatic, sweeping changes over the span of hours, weeks, and seasons. Daily temperatures can swing 30 degrees (in both Fahrenheit and Celsius) or more from nightly lows to afternoon highs.

Since seasonal patterns can be very broad, it is important to prepare for a variety of conditions before visiting El Malpais. Current weather conditions can be found at the bottom of this page or through the National Weather Service.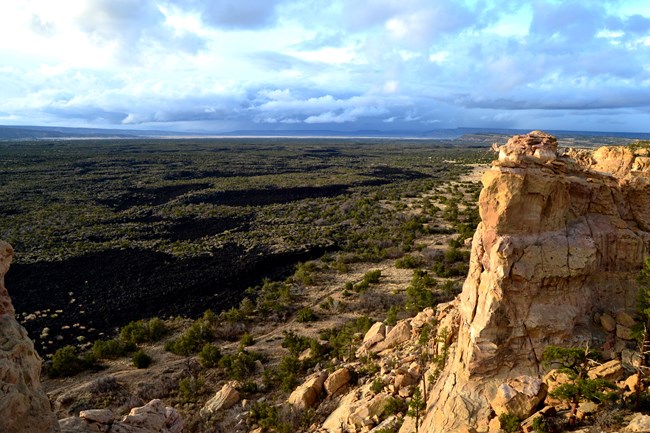 Spring
March-May
Spring is notoriously dry and windy, with gusts up to 60 mph (96 kmh) not uncommon. On especially windy days, enough dust can be kicked up to make visibility while driving or hiking difficult.

Daytime temperatures can be cool to warm, and vary considerably throughout the season. Warm spring days, if free from high winds, are very pleasant for hiking and birdwatching. The El Malpais region of New Mexico is part of Great Plains Flyway and the Rocky Mountain Flyway, so migratory birds are common this time of year.

Spring nights can be very cold, with night frosts sometimes lingering into April or May. Overnight dustings of snow can also occur from time to time. Clear winter skies offer excellent opportunities for stargazing, as long as you wear appropriate layers.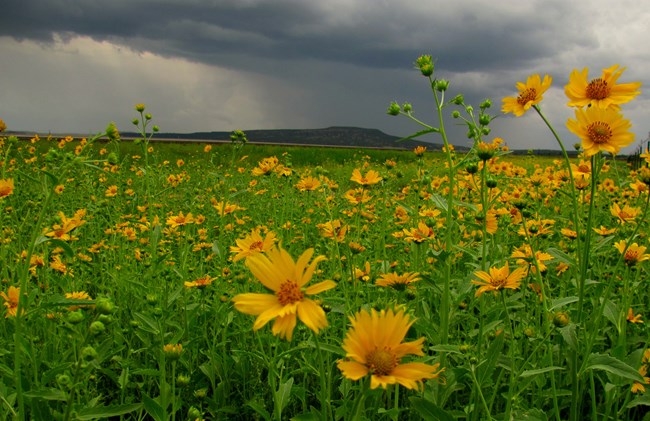 Summer
June - Mid-July
Summers at El Malpais begin with very hot, dry periods in June through mid-July before breaking with the later monsoon season that encapsulate August and September.

The high winds of spring have died down by summer, so there is little to reduce the heat during the hottest time of year. Early summer temperatures can easily soar between the mid-80s and mid-90s degrees Fahrenheit (26 to 35 degrees Celsius) in the afternoon.

The black lava flows (like on the Zuni-Acoma Trail and Lava Falls) absorb and reflect any sunlight that falls on them, so outdoor activities are best done in the morning or evening. Regardless of the time of day, long-sleeved shirts, wide-brimmed hats, sunscreen, snacks, and plenty of water (1 gallon/~4 liters per person, per day) are always recommended for your safety.

Life at El Malpais in early summer is managed by the sunlight. Most plants remain dormant, and birds and reptiles are most active in the mornings before the afternoon heat drives them to cooler places. In the cool of evening, life rebounds.
Mid-July - September
The second half of summer at El Malpais is defined by its thunderstorm-monsoons. Temperatures are generally milder, though heat is still present. Thunderstorms form quickly, making it important to know the forecast before venturing out. Lightning groundstrikes can occur anywhere, so be mindful of your surroundings as you may be the highest point, such as at Sandstone Bluffs. These storms bring much-needed rain to the arid landscape, however even small amounts of water can make dirt roads such as County Road 42 completely impassible and a driving hazard.

The high desert ecosystem explodes with life after the rains. Grasses and wildflowers light up in a rainbow of colors and new life. This surge in plant activity draws out an abundance of mammals, insects, toads and frogs, and other hidden life into the open.

The best way to prepare during the monsoon season is to check the forecast before heading out. Even then, it is important to keep an eye to the sky: if clouds grow to towering heights and grow dark, the wind picks up, or it suddenly feels cooler, seek shelter in your vehicle until the storm passes. Remember, "when thunder roars, get indoors."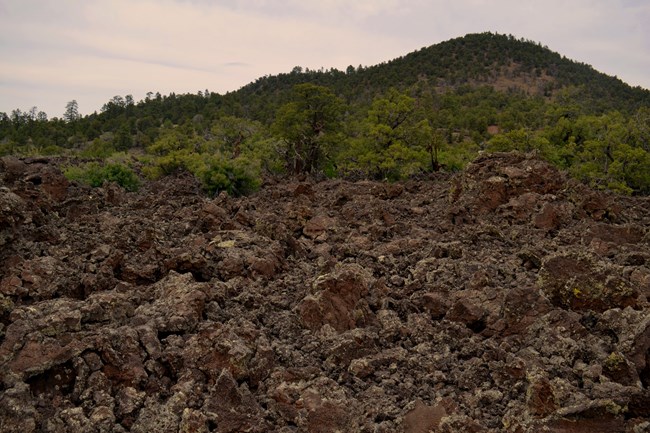 Fall
October - Early December
Daytime temperatures begin to cool to the mid-60s to mid-70s degrees Fahrenheit (18-24 degrees Celsius), while evening temperatures can drop around freezing. These create ideal road conditions in areas such as County Road 42. Winds can still be present, but not enough to be of serious concern. Mornings can be chilly, and because of elevation early snowstorms are always possible. Sunny days are the most common type of weather forecast this time of year.

Decidious trees, such as aspen, begin to change color as the season rolls along. Migratory species of birds and bats alike begin to trek south for warmer climates.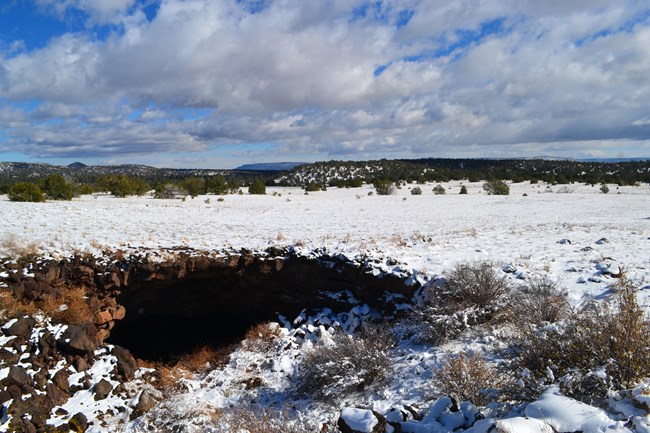 Winter
Late December - February
Dramatic temperature changes become a regular thing during the winter months. Night time lows can sometimes reach -20 degrees Fahrenheit, (-29 Celsius). These temperatures do not account for windchill, which can make the temperatures feel colder than they already are. Day time temperatures are typically above freezing, sometimes jumping up into the 50's Fahrenheit (10 Celsius).

Snows are usually light within the monument, and typically melt away by early afternoon. The most common places to see higher accumulations are along the Continental Divide and along Highway 53 between El Malpais and El Morro National Monuments. While El Malpais may get a light dusting, higher elevations can get a few inches. Always check weather and travel conditions, as they can quickly change and make roads hazardous if not impassible.

Some caves are closed during this time to protect hibernating bat populations. Caving may still be available, but options may be limited based on road conditions. The dramatic temperature swings and occassional snow may make dirt roads impassible. Always check with a ranger before embarking on your trip.
Loading weather forecast...
Last updated: May 12, 2021