Community Artist Program

The natural lands of the United States have inspired artists for generations. Artists visited these immense landscapes to create art and share it with the American public. Some of their work inspired the creation of America's first national parks. Read more about Arts in the Parks.
The scenery within the national parks in southeast Utah inspired the creation of the Community Artist in the Parks program. The program began in 2009 as a way to highlight the connection between local artists and the landscapes contained within the parks of the National Park Service's Southeast Utah Group: Arches National Park, Canyonlands National Park, Hovenweep National Monument, and Natural Bridges National Monument.
The program gives visitors from across the globe an opportunity to see first-hand the results of artistic inspiration from wild nature. It provides local artists an ability to teach and demonstrate their medium and passion for creative expression.
The Community Artists host events throughout the summer where you can watch them in action, and even try your hand at some artwork.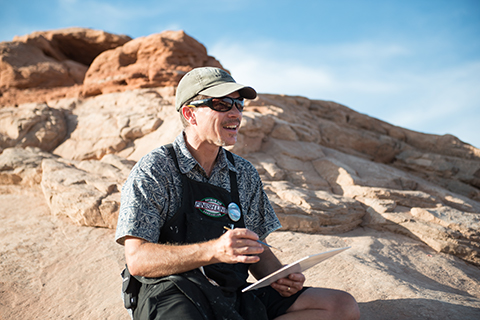 2017 Community Artist in the Parks
Last updated: September 11, 2017