Alerts & Conditions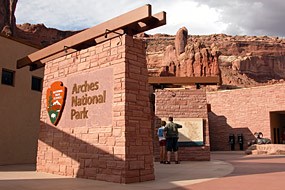 Operating Hours
Arches National Park is open 24 hours a day, year-round.
The visitor center is open every day except December 25. Operating hours change with the seasons. Read more: When is the park open?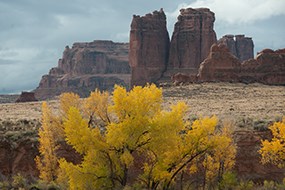 Weather
Spring and fall bring pleasant weather. These are the busiest seasons in the park thanks to the mild conditions. Summers can be hot with daytime temperatures over 100 degrees. Winters can be cold, with occasional snowy or icy conditions.
Get a weather forecast and see monthly average temperatures.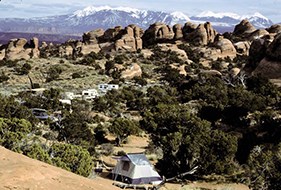 Campground
You can make reservations for campsites March through October. The campground is usually full each night during the summer. If you don't have a reservation when you arrive in Moab, you will need to camp outside the park. In winter, sites are first-come, first-served.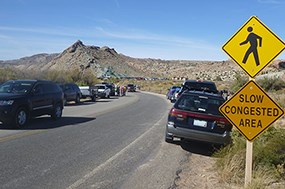 Traffic
Between March and October, wait times at the park entrance may exceed 30 minutes, especially between 9 am and 2 pm. Parking lots at popular trailheads may be full for much of the day. How can I avoid the traffic?
For more information on traffic conditions in the area around Moab and Arches National Park, visit the Utah Department of Transportation Traffic Site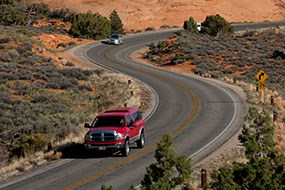 Road Conditions
The main park road is open. Backcountry roads may be impassable following summer storms. Read more about auto touring.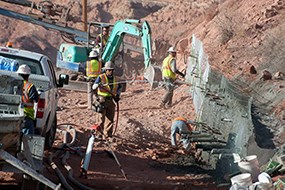 Construction Projects
These construction projects may cause driving delays or closures:
Early September through late November 2019: Crews will be installing two new toilets, expanding parking, and moving part of the trail at The Windows Section. Some parking spaces may close.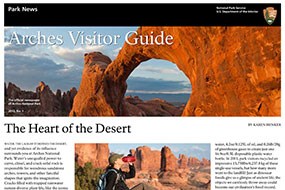 Park News
Looking for more information about what is happening at Arches? Check out our latest News Releases or read the Park Newspaper. Or connect with us through social media. We're on Facebook, Twitter, Instagram, YouTube, and Flickr.
Last updated: August 28, 2019