Alerts & Conditions
Latest COVID-19 Update
To protect the health of those who live, work, and visit national parks and National Park Service (NPS) facilities, and in support of President Biden's Executive Order on Protecting the Federal Workforce and Requiring Mask-Wearing the NPS has implemented a mask requirement for employees, visitors, partners and contractors.

At Arches National Park, all people must wear face masks when indoors, including park stores and restrooms, regardless of vaccination status. Additionally, masks must be worn in outdoors spaces where physical distancing cannot be maintained, such as narrow or busy trails, overlooks, visitor center patios, and other congested areas. For a full list of areas where this mandate will be enforced, see the Superintendent's Compendium.

Park rangers are on duty to provide information, protect visitors and park resources, and uphold this requirement.
Facilities Status Update
Currently, the following facilities are open for public access:
All Arches' roads, trails, and restrooms,
Staff and exhibits at Arches Visitor Center to help people learn about the park,
Arches bookstore offering high quality, educational items for sale, and
Commercial services previously permitted.
The Fiery Furnace is currently open to self-guided exploration permits only. Self-Guided Fiery Furnace Exploration permits are available for reservation on www.Recreation.gov or by calling 1-877-444-6777.
The park film theater at Arches Visitor Center remains closed.
Devils Garden Campground is open. Water is available at Arches Visitor Center and at Devils Garden Campground.
When recreating, park visitors should follow the National Park Service mask mandate, maintain social distance, and avoid high-risk outdoor activities. Please do not visit if you are sick or were recently exposed to COVID-19. Park staff will continue to monitor all park functions to ensure that visitors adhere to CDC guidance for mitigating risks associated with the transmission of COVID-19 and take any additional steps necessary to protect public health.
Keep your distance and be aware of the mask requirement.
Give others plenty of room whether you are on a trail or in a parking lot. If staying at least six feet from others is not possible, wear a cloth face covering as recommended by the CDC.
Keep it with you.
If you brought it, take it with you. Trash pickup and restroom facilities are limited in many park areas. Follow Leave No Trace principles.
Know your limits.
Arches National Park has an unfortunately busy search and rescue operation. Many of these incidents could be avoided with visitors planning and making responsible decisions. Heat-related injuries can kill. It is critical to make wise choices to keep our national park rangers and first responders out of harm's way.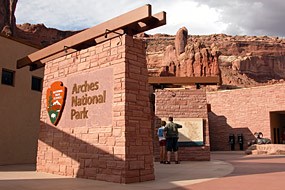 Arches National Park is Open
Arches National Park is generally open 24 hours a day, year-round. On very busy days, when parking lots fill to capacity we temporarily delay additional park entries. Visitors who encounter a closed gate may try back in a few hours or consider visiting other nearby destinations.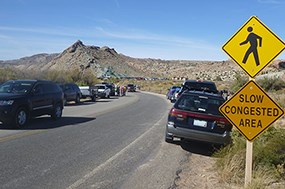 Traffic
Between March and October, wait times at the park entrance may exceed 30 minutes, especially between 9 am and 2 pm. Parking lots at popular trailheads may be full for much of the day. How can I avoid the traffic?
For more information on traffic conditions in the area around Moab and Arches National Park, visit the Utah Department of Transportation Traffic Site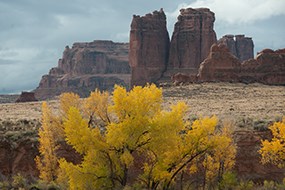 Weather
Spring and fall bring pleasant weather. These are the busiest seasons in the park thanks to the mild conditions. Summers can be hot with daytime temperatures over 100 degrees. Winters can be cold, with occasional snowy or icy conditions.
Get a weather forecast and see monthly average temperatures.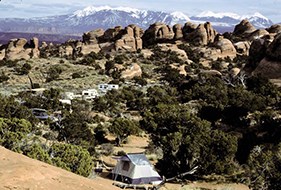 Campground
You can make reservations for campsites March through October. The campground is usually full each night during the summer. If you don't have a reservation when you arrive in Moab, you will need to camp outside the park. In winter, sites are first-come, first-served.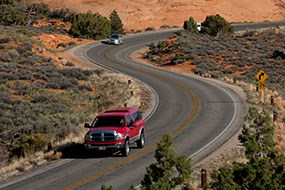 Road Conditions
The main park road is open. Backcountry roads may be impassable following summer storms. Read more about auto touring.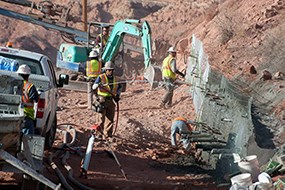 Construction Projects
There are no major construction projects planned at this time.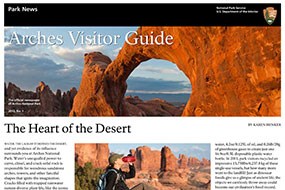 Park News
Looking for more information about what is happening at Arches? Check out our latest News Releases or read the Park Newspaper. Or connect with us through social media. We're on Facebook, Twitter, Instagram, YouTube, and Flickr.
Last updated: December 13, 2021