2013 Community Artist - Sarah Hamingson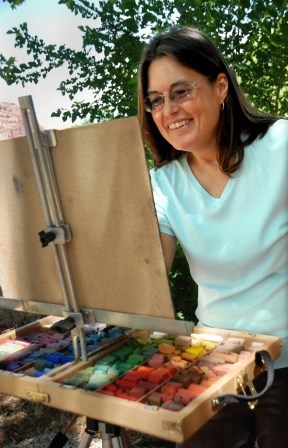 Sarah Hamingson loves rocks -- especially red rocks -- as well as clouds, and the ever-changing play of light and shadow that makes desert landscapes so dynamic.
Its no wonder that she's infatuated with Moab's desert scenery, where she has lived and worked since 1996. A classroom teacher by trade, Sarah has made art in some form or other throughout her life, but discovering the medium of pastels six years ago ignited her passion to create and share her art with others. "Art is a way to build an understanding of and connection to the land around us," she says. "I hope to share my vision of it, and challenge visitors to look more deeply themselves."
From April through November 2013, Sarah will share her creative passion with park visitors. During your visit to Arches, Canyonlands, Natural Bridges or Hovenweep, you might see Sarah and her easel set up at a viewpoint or along a scenic trail. Don't be surprised if she hands you paper and colors, and asks you to share your inspiration, too.
Prints of Sarah's artwork are available for purchase in the Arches and Canyonlands Island in the Sky bookstores. View a gallery of her work here.
Last updated: September 25, 2021