2014 Community Artist - Serena Supplee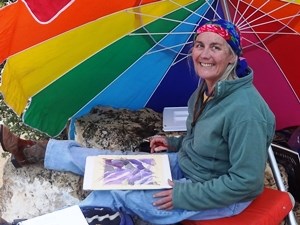 The beauty, truth and freedom of canyons and rivers pulse through Serena Supplee. Thirty years of living and loving the Colorado Plateau inspire Serena's artwork. Her passionate palette captures the expansion of rims, the movement of rivers, the dance of clouds, the splendor of starlight, and the lighting on canyon walls which make The West so captivating. From rivers, hiking trails and 4-wheel-drive roads she finds new vantage points and is always looking for "the other side". Serena explores with her sketchbook and watercolors, so she can paint on-site or compose detailed sketches she uses to create brilliant large oil paintings back at her studio in Moab.
While serving as the 2014 Community Artist in the Parks, Serena enjoyed sharing her enthusiasm for the parks with visitors while painting the landscape with her passionate palette.
Last updated: September 25, 2021