2017 Community Artist - Anthony Lott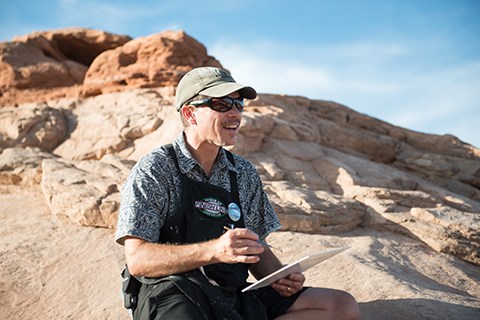 Born in Salt Lake City, Utah, Anthony Lott spent college weekends backpacking in southeastern Utah canyons, taking countless photos, and using them to paint landscapes back home. He and his family now live in the small town of Bluff, and he teaches drawing, painting, ceramics, art appreciation, and emergency medical response at the Blanding campus of Utah State University.
He speaks of his desert home in colorful images: "The dry sandstone is as climbable as Velcro... Water shapes the landscape through the violence of summer thunderstorms. Dry washes become temporary rivers that scour the sides of canyons with rocks, trees, and silt, and this turbulence is recorded by the stone and sand as it subsides. More often, however, it is stillness that defines the life that grows here."
Anthony captures this dance of stillness and life in figure paintings and landscapes, using acrylic and oils.
Last updated: February 1, 2019