2015 Community Artist - Katrina Lund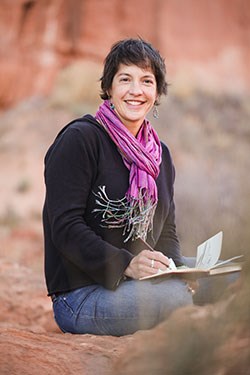 For Katrina Lund, 2015 Community Artist in the Parks, the red rock desert is a very special place and art is a tool to deepen one's outdoor experiences.
Katrina spends a lot of time outdoors working as a biologist. She also loves to sketch plein air (outside), connecting with the striking landscape in front of her. She works in many different mediums, but especially loves combining pen & ink drawings with watercolors to capture the raw energy and emotion of the desert.
Her first sketch happened by accident over 20 years ago, when she forgot her camera but found a pen and paper in her car. She was immediately hooked.
How do you experience a place? Katrina hopes to share sketching with the visitors she meets in the parks, as another tool to deepen their experience. "You don't have to consider yourself an 'artist' to feel the joy and magic of sketching and truly connecting on a different level to these wild and beautiful places."
Last updated: September 25, 2021