2011 Community Artist - Kathy Cooney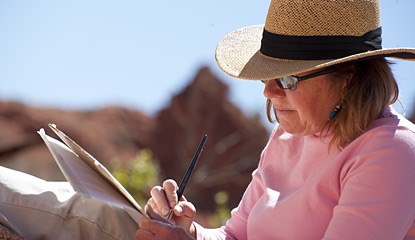 Moab artist Kathy Cooney was the 2011 Community Artist in the Parks. Kathy's watercolor paintings reveal her deep love of canyon country's desert landscapes and the timeless heritage of the Four Corners area.
A resident of Moab since 1987, Kathy "realized that the rocks, mountains, water and trees are not separate entities, but are all connected to the same heart of the scene." Her work is exhibited in several local shops and on her online gallery.
Kathy Cooney wraps up her season as our 2011 Community Artist this weekend. In this video, Kathly reflects on a year spent painting in national parks with a wit, warmth and charm many of you have experienced first-hand.

Duration:

2 minutes, 25 seconds
Last updated: March 6, 2018