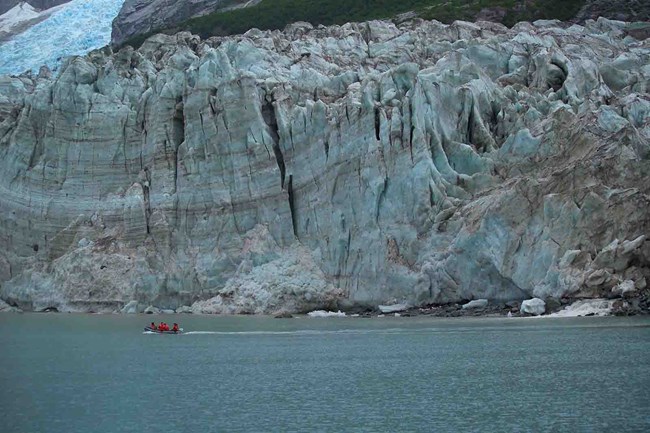 Climate
Warm ocean currents flowing through the Gulf of Alaska result in a climate characterized by cool summers and mild winters. Kenai Fjords National Park, divided by the Kenai Mountains, lies in both the maritime and transitional Cook Inlet zone. The coast has a typical maritime climate, with cool rainy summers and snowy, storm-driven winters.
Geology
The outer coast of Kenai Fjords National Park rides the exposed edge of the North American Plate, where the Pacific Plate is subducting beneath it. As a result, the region is subject to earthquakes of moderate frequency and intensity with resulting landslides onto the ocean floor and uplift and subsidence on land. The beautiful circular bays of the Aialik, Harris, and McCarty peninsulas are drowned cirques of the Chugach Mountains, which were partially submerged by tectonic subsidence during the Holocene. The ghost forests in Beauty Bay are remnants from subsidence and saltwater incursion following the 1964 earthquake.
Pleistocene and Holocene glaciations are among the major forces shaping the landscape and ecological processes of the coastline. Warming and cooling cycles over the last 100,000 years have resulted in multiple glacial advances and retreats. Ice sheets of Naptown age (7,000-1,100 years before present) extended 50-100 miles into the Gulf of Alaska beyond the current coastline. These glaciations carved off all soft and loose material, leaving steep polished bedrock walls and deep submarine valleys along the Kenai Fjords coastline. More recent glaciations reached their maximal extent in the 19th century and are currently undergoing a dramatic retreat.