Sensitive Plant Communities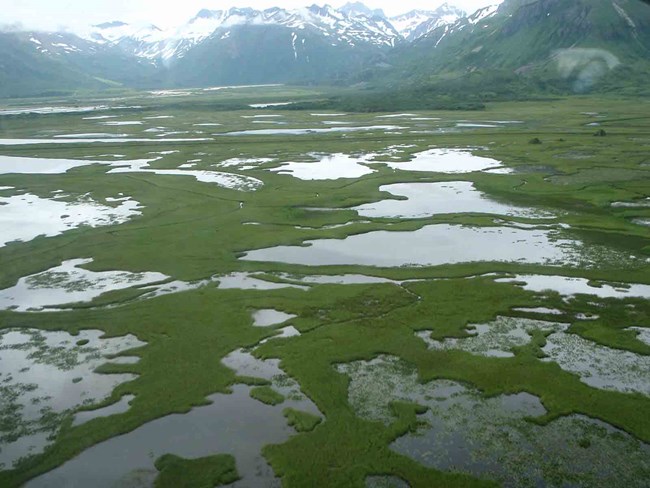 Even small changes in the environment may have substantial effects on plant communities that are strongly controlled by physical factors (e.g., hydrology, snow cover), or on species that occur at the edge of their range. Sensitive communities targeted for monitoring in Southwest Alaska parklands include (1) nunataks, or high-elevation ridges that are thought to have acted as refugia for plants and animals during the Last Glacial Maximum; and (2) salt marshes, which provide critical foraging habitat for brown bears, nursery areas for fish and shellfish, and staging grounds for migrating waterfowl.
Monitoring objectives for nunatak communities are to estimate long-term changes in species richness, abundance, and cover using the plot design outlined in the protocol for vegetation composition and structure. A separate protocol for salt marshes includes standard operating procedures for measuring topographic gradients, soil characteristics (salinity, pH), and vegetation (species richness, cover). Monitoring is focused on detecting changes in the distribution and composition of dominant species in the salt marshes.
Sensitive plant communities are monitored in Kenai Fjords National Park and Katmai and Lake Clark national parks and preserves. Check out these videos of salt marsh monitoring in Lake Clark National Park and Preserve.

Contact: Michael Hannam
Last updated: April 10, 2019