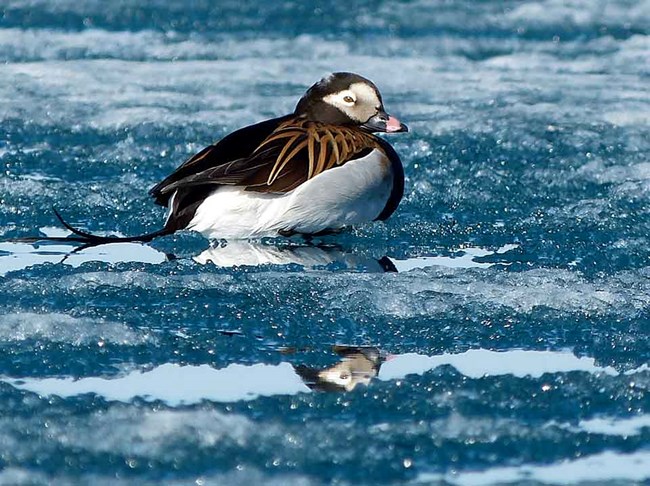 Marine birds, particularly those that forage on benthic invertebrates, were selected as a Southwest Alaska Network vital sign because of their reliance on habitats and prey associated with the marine nearshore ecosystem of park coastlines. These species are top-level consumers of marine invertebrates such as mussels, clams, snails, limpets, and forage fish. Because of these characteristics, marine birds are good indicators of change in the marine ecosystem. Monitoring focuses on birds that are trophically linked to the nearshore food web such as sea ducks, including Harlequin Ducks, Goldeneye, and Bufflehead; Long-tail Ducks, and Scoters; several species of seabirds; and shorebirds, specifically the Black Oystercatcher. During our monitoring, all observed marine birds are recorded.

Many of these focal species were impacted by the T/V Exxon Valdez oil spill and exhibited protracted recovery periods as a consequence of lingering oil in nearshore habitats. Public concern exists for the welfare of marine birds because they are affected by human activities like oil pollution and commercial fishing. Observations of marine mammals are also recorded in the course of these surveys. (Learn more about seabird die-offs and other issues impacting oceans and coastal ecosystems.)
Our monitoring objective is to estimate the species composition, distribution, and density of marine birds and mammals that occur within nearshore habitats.
We monitor marine birds in Kenai Fjords National Park and Katmai National Park and Preserve.

Contact: Heather Coletti