Marine Intertidal Invertebrates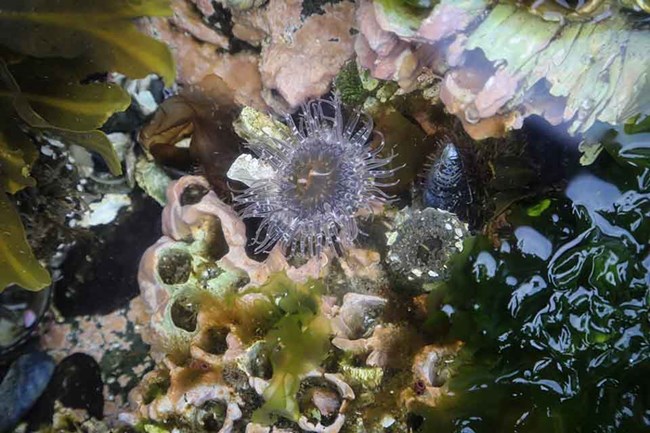 Intertidal marine invertebrates were selected as a Southwest Alaska Network vital sign because they provide a critical prey resource for a variety of seabirds, marine mammals, marine fishes, and larger invertebrates (e.g., octopus), and they provide important sources of nutrients and energy to some terrestrial carnivores such as black and brown bears that seasonally forage in marine habitats.

Two habitat types are widely recognized in supporting important, although taxonomically quite different, intertidal invertebrate communities. The rocky intertidal community typically supports diverse and abundant kelps and other algae with invertebrate fauna dominated by mussels, barnacles, limpets, and snails. Predatory sea stars are also conspicuous and common species in the rocky intertidal.

The soft-sediment intertidal habitats are characterized by unconsolidated sediments ranging in grain size from fine clays to cobble and boulders. Common marine macroinvertebrates (those larger than 5 mm), include a variety of clams. Large benthic invertebrates that feed the higher trophic levels are ecologically diverse in terms of habitat and trophic requirements, have a wide range of physiological tolerances and feeding modes, and are relatively sedentary with relatively short generation times. Measurements of species diversity, densities, size class distributions, and contaminant levels in intertidal invertebrates will provide useful inference relative to causes of change that will be detected in higher-level consumers that occupy nearshore food webs.

Our objectives are to monitor long-term trends in invertebrate species size, distribution, density, and percent cover at randomly selected sites in sheltered rocky and mixed sand-gravel habitats as well as specified mussel bed sites.
We monitor marine intertidal invertebrates in Kenai Fjords National Park and Katmai and Lake Clark national parks and preserves. We also monitor intertidal invertebrates in Prince William Sound and Kachemak Bay in partnership with Gulf Watch Alaska.

Contact: Heather Coletti
A Synthesis of Chemical Contaminants Monitoring Data in Southeast and Southwest Alaska
The marine coastlines in the national parks of southeast and southwest Alaska receive cumulative contamination from various diffuse sources, making them susceptible to chronic pollution. They are also susceptible to catastrophic releases, as in the case of the Exxon Valdez oil spill in 1989. Documenting contaminant concentrations provides a baseline of information that can be used to evaluate the study area over time and in comparison to other regions. The National Park Service Southeast Alaska Network and Southwest Alaska Network and the National Oceanic and Atmospheric Administration's (NOAA) National Mussel Watch Program released a new report of results from sampling between 2007 and 2018. Read more here.
Last updated: December 21, 2020