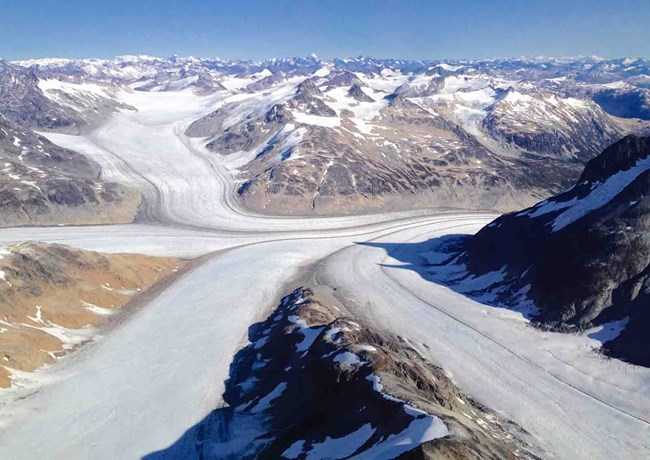 Glaciers currently cover approximately one-eighth of the combined area of Katmai National Park and Preserve, Kenai Fjords National Park, and Lake Clark National Park and Preserve in southwest Alaska. The water storage and nutrient fluxes controlled by these "rivers of ice" influence ecosystems locally and globally by creating, transporting, and mixing sediment and freshwater into streams, rivers, lakes, and oceans.
Changes in temperature, precipitation, and surface albedo (how reflective the snow surface is) affect the volume and coverage of glaciers both short term and long term. Recent years have seen dramatic reductions in both the volume and extent of most of Alaska's glaciers. Changes to these glaciers have both global and local consequences with impacts ranging from their contribution to global sea level rise to the transformation of scenic and recreational values for park visitors.
Our monitoring objective is to map the extent of glacier ice in Southwest Alaska parklands on decadal time scales, thus providing resource data to inform science-based decision making on a range of topics from ecosystem and infrastructure vulnerability to visitor experience and interpretation.

Contact: Peter Kirchner