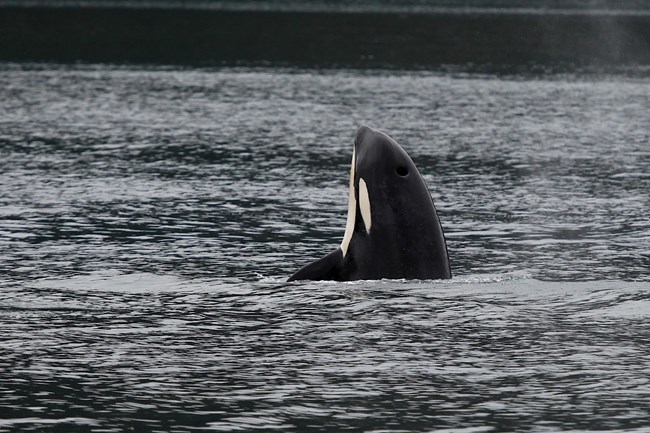 Orcinus orca
Basic Facts
Orcas, or killer whales, are the largest member of the dolphin family, reaching a length of 23 to 26 feet and weighing four to eight tons. Seeing orcas attack large whales, eighteenth century Basque whalers called the predator "ballena assasina" meaning, "whale killer." Orcas are predatory sea mammals belonging to the suborder Odontoceti or toothed cetacean. Orcas display a prominent dorsal fin easily seen when the animal surfaces. A mature male's dorsal fin is roughly triangular and can extend up to six feet out of the water. Females and sub-adults have smaller, more crescent-shaped dorsal fins. Orcas have a black body and white chin, belly and patch behind the eye. They also have a gray saddle patch behind the dorsal fin. Researchers use black and white photos of the saddle patch and dorsal fin, viewed from the left side, to identify individual whales.
Orcas become sexually mature at 10 to 15 years of age. Upon maturing, the male dorsal fin begins to straighten and grow. The growth spurt distinguishes the male dorsal fin from the female. It takes about five to six years for the fin to reach its full length of up to six feet in height.
The life expectancy of killer whales is not yet certain. Using mortality rates among known populations, scientists estimate that these whales live 30 to 50 years. Several females among local resident pods in Alaska have reached over 50 years of age. It is believed some individuals, mostly female, may occasionally reach 80 to 90 years of age. Mature orcas are the top predator, while sharks may also prey upon the young. Except for hunting in the past by humans, most death is thought to be due to age, disease, and environmental toxins such as DDT and PCBs. Examination of carcasses indicates tooth wear and gum disease as well as environmental toxins are problems for the orcas in this area.
Habitat, Range and Local Sightings
Three kinds of orcas—resident, transient, and offshore—roam the waters around Kenai Fjords National Park. DNA analysis reveals that the three types are genetically distinct populations. Resident and transient populations are most frequently observed. These two types of orcas share the same waters, but their diets differ and they have not been observed associating or interbreeding. Residents eat fish and have a range of at least 800 miles. Transients eat marine mammals and have a range of at least 1,500 miles. Offshore orcas typically live in open ocean areas; during the summer, groups of offshores—or unidentified orcas—turn up in Kenai Fjords. The diet of offshore orcas is not as well known and varies with location and pod (family). Some offshore orcas are known to feed on baleen whales and some pods are believed to possibly feed on sharks.
Vocalizations and communication
Vocalizations of the two most commonly encountered killer whale forms, resident orcas, and transient orcas, are difficult to distinguish by the untrained ear. Researchers, however, can use these to identify groups as easily as photographs. They help identify not just resident versus transient, but also which pod and even sub-pod the group belongs to.
While clicks are primarily used for echolocation, calls and whistles form the basis for social communication. Based on differences in usage of calls, whistles, and clicks, researchers can tell whether the whales are foraging, resting, or socializing.