Kelp and Eelgrass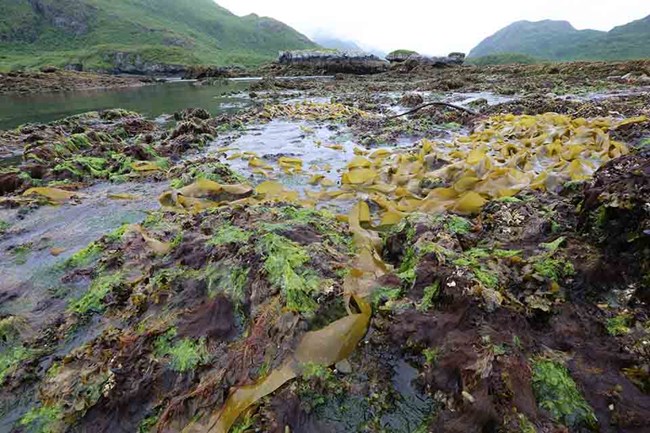 Kelps and eelgrasses are "living habitats" that serve as nutrient filters and provide understory and ground cover for planktivorous fish, clams, and urchins, and a physical substrate for other invertebrates and algae. Kelps and eelgrasses also provide spawning and nursery habitats for forage fish and juvenile crustaceans. Kelps are the major primary producers in the marine nearshore and because they are located in shallow water, they are prone to be more impacted by oil spills and other human-related activities. Other potential stresses include activities that disturb the beds directly, such as dredging and anchor scars, and events that reduce the ability for light to penetrate into the water column, such as runoff (increased turbidity) or nutrient addition.

Our monitoring objectives are to:
Document broad-scale decadal changes in occurrence and distribution of canopy kelps, eelgrass, and surfgrass along the entire length of the southwest Alaska coastline using oblique aerial video imagery.

Document smaller-scale annual changes in species composition, distribution, and relative abundance of kelps and seagrasses within intensively sampled sites.
We monitor kelp and eelgrass in Kenai Fjords National Park and Katmai and Lake Clark national parks and preserves. We also monitor kelp and eelgrass in Prince William Sound and Kachemak Bay in partnership with Gulf Watch Alaska.
Contact: Heather Coletti
Last updated: June 18, 2018