Sea Otters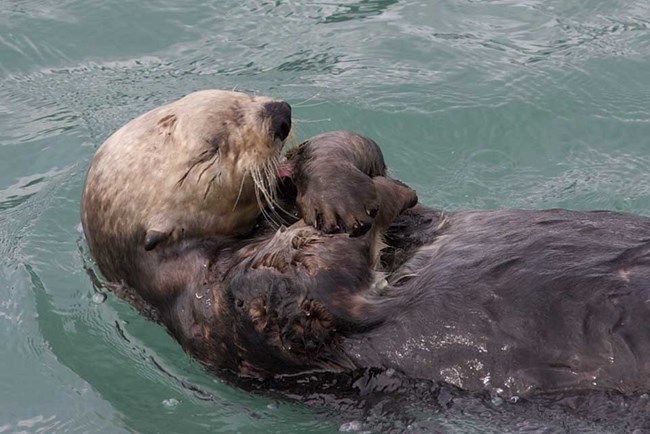 Sea otters are a keystone species in nearshore marine environments. A keystone species dramatically affects the structure and complexity of their environment. Sea otters are important mammalian members of the nearshore community throughout the north Pacific and are the only marine mammal that relies exclusively on shallow or intertidal macroinvertebrates as prey. By consuming grazers—the animals that feed on kelp—sea otters dramatically change the structure and complexity of their ecological community, resulting in communities characterized by diverse and abundant algae and relatively few large grazing invertebrates, such as sea urchins. Other well-documented sea otter-mediated predation effects include reduced biomass and size distributions of many large and conspicuous invertebrates, such as clams, mussels, urchins, and crabs. Sea otters tend to have small home ranges in comparison to other marine mammals; eat large amounts of food; have an incidence of disease that is correlated with contaminants; and have broad appeal to the public.

In 2005, sea otter populations in the southwest Alaska population segment (which includes coastal habitat of Katmai National Park and Preserve) were listed as threatened under the Endangered Species Act. Further, the U.S. Fish and Wildlife Service designated almost 6,000 miles of coastline in southwest Alaska as critical habitat for the northern sea otter. Critical habitat is habitat that is deemed essential for the conservation of a threatened (or endangered) species. Monitoring sea otter populations, as well as other components related to sea otter status, in nearshore ecosystems will result in important information to better understand population trajectories.

The primary monitoring objectives are to:
Estimate distribution and density of sea otters in Southwest Alaska parklands.

Estimate age composition of dying sea otters.

Investigate role and response to the structure and function of nearshore communities.
We monitor sea otters in Kenai Fjords National Park and Katmai National Park and Preserve. We also monitor sea otters in Prince William Sound and Kachemak Bay, in partnership with Gulf Watch Alaska.

Contact: Heather Coletti
Last updated: June 18, 2018