Place
Hermits Rest (Grand Canyon)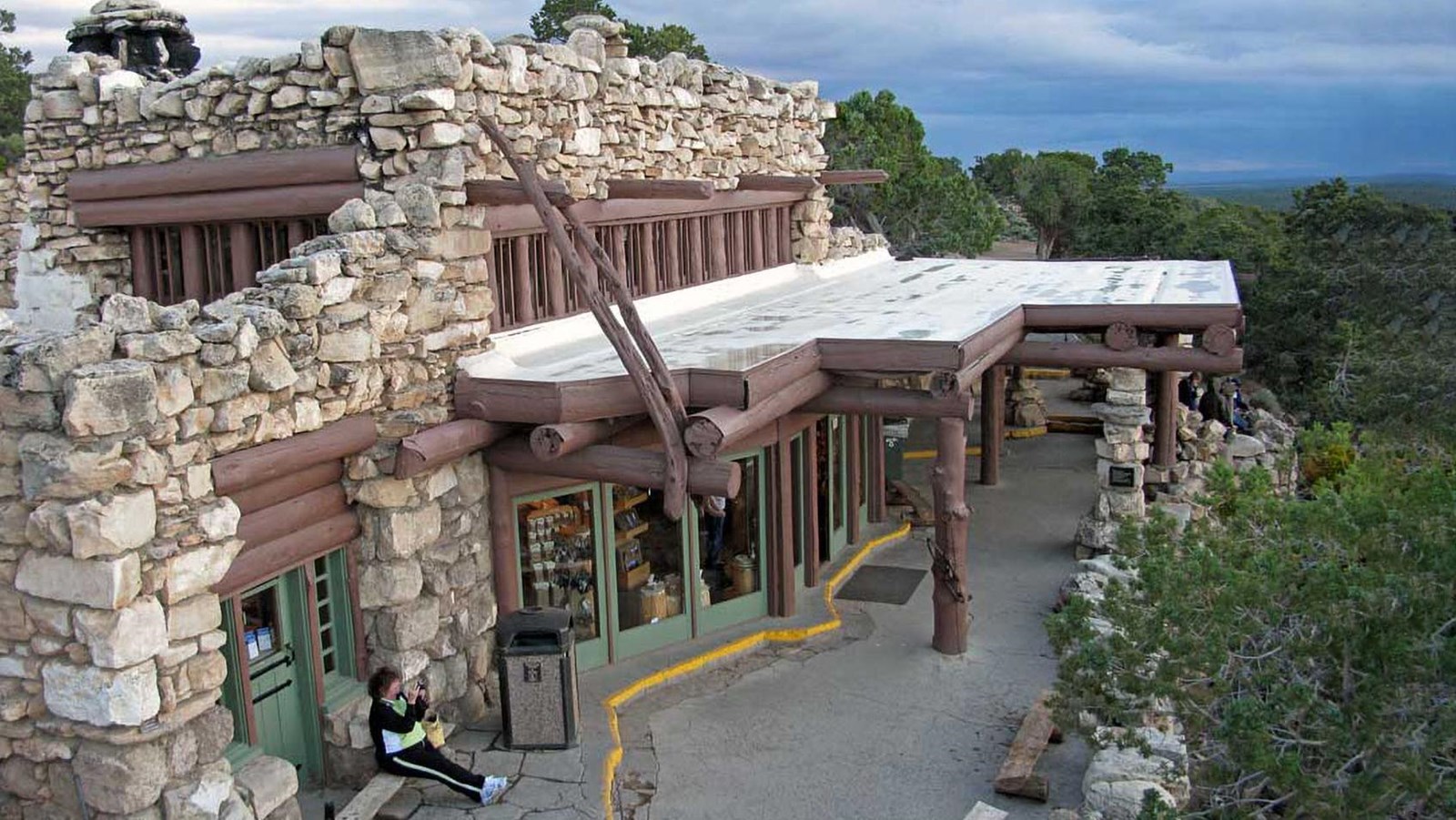 Designation:
National Historic Landmark
Audio Description, Automated External Defibrillator (AED), Benches/Seating, Bicycle - Rack, Bus/Shuttle Stop, Fire Extinguisher, First Aid Kit Available, Food/Drink - Coffee, Food/Drink - Ice Cream, Food/Drink - Snacks, Gifts/Souvenirs/Books, Historical/Interpretive Information/Exhibits, Information, Information - Maps Available, Information - Ranger/Staff Member Present, Parking - Auto, Picnic Table, Recycling, Scenic View/Photo Spot, Toilet - Vault/Composting, Water - Bottle-Filling Station, Water - Drinking/Potable
Hours of Operation
Gift Shop and Snack Bar: 9 am to 5 pm
Hermits Rest is an iconic and historic stop, at the conclusion of Hermit Road, and the Canyon Rim Trail. It also serves as the gateway to magnificent backcountry hiking trails that originate from the Hermit Trail, a steeply winding path into the canyon that begins 0.25 miles (0.4 km) west of this distinctive building.

Hermits Rest was built to resemble an old miner's cabin with native stonework, a giant alcove fireplace, and front porch. It presently offers a gift shop, snack bar, and west end views of Grand Canyon. Restrooms and a water bottle filling station are available outside, behind the main building.
History
Commissioned by the Fred Harvey Company in 1914, Hermits Rest is one several structures designed by architect Mary Colter. Built as a rest area at the end of scenic Hermit Road (also constructed by Fred Harvey), Hermits Rest was also the last bastion of civilization for those visitors preparing to descend down into Grand Canyon on Hermit Trail.

Horse-drawn carriages, and later automobiles, operated by Fred Harvey, carried visitors on scenic tours along the Hermit Road, dropping them off here for a respite before the return trip to Grand Canyon Village. The distinctive style of this structure is unique and skillfully crafted out of native materials that blend in with the natural environment.

Today, this location is frequented by hikers, travelers, and history enthusiasts that arrive by foot, bicycle, the Hermit Road (Red) Route shuttle bus, and, during the months of December through February, personal vehicles.
Last updated: April 7, 2023