Kaibab Rim Route Shuttle Bus
COVID-19 Safety Modifications to Shuttle Operations:
Shuttle capacity is limited to 31 passengers. (5/29/2021)
Passengers must have their own face mask/covering.
Hand sanitizer will be available for use.
Passengers must follow all CDC and public health physical distancing guidelines while in line and on the bus.
Sidewalk decals, tape, and signage has been installed at bus stops to promote physical distancing.
Buses will undergo daily cleaning according to CDC and public health guidance.
Shuttle bus staff will follow specific screening protocols when reporting to work each day.
Eastbound Kaibab Rim (Orange Route)
The Kaibab Rim (Orange Route) provides transport between the Visitor Center Plaza and South Kaibab Trailhead, Yaki Point, and Pipe Creek Overlook. The road to South Kaibab Trailhead and Yaki Point is closed to private vehicles, so the only access is by park shuttle bus, on foot, or by bicycle.
Important: the Kaibab Rim Route, from the visitor center, westbound to Yavapai Geology Museum, is not in operation. The westbound portion of the route is CLOSED until further notice.
If you walk along the Rim Trail between the Visitor Center and Yavapai Geology Museum, you will need to walk back to your starting point.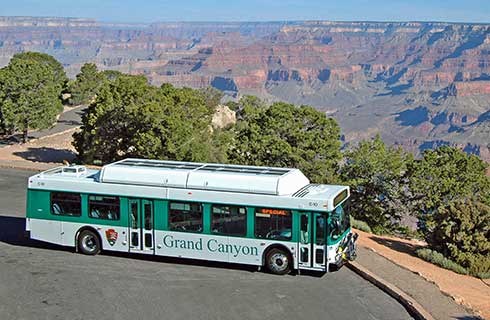 In Service
30 Minutes Round-trip
(without getting off the bus)
Summer 2021 Bus Schedule
(May 29 - September 11, 2021)

Kaibab Rim (Orange Route) buses start at 4 am, and run until one hour after sunset. Plan to be at a bus stop no later then 30 minutes after sunset

View 2021 Sunset Times

Points of Interest
Visitor Center Plaza
South Kaibab Trailhead
Yaki Point
Pipe Creek Vista
Suggested Activitiy

Walking East from Mather Point on the Canyon Rim Trail
Leave the car in one of the parking areas at Grand Canyon Visitor Center Plaza, follow the signs to Mather Point, then walk east along the paved Canyon Rim trail, experiencing spectacular canyon views.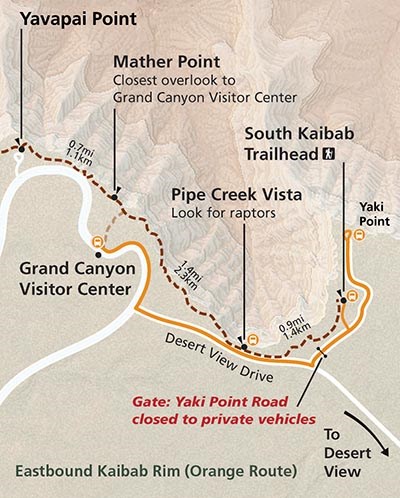 By following the Canyon Rim Trail, you are able to enjoy a scenic walk along the rim, then board the bus at one of the designated stops, for the return trip.
Walking from Mather Point, in approximately 1.4 miles (2.3 km), you will come to Pipe Creek Vista, where you can choose to take the bus back to the visitor center. (FYI, the round trip walking is 2.8 miles/4.6 km).

From Pipe Creek Vista, you have the option to continue walking another .9 mile (1.4 km) to the South Kaibab Trailhead, where you can board the Kaibab Rim (Orange Route) bus, which will first stop at Yaki Point, then Pipe Creek Vista before returning to the Visitor Center Plaza.

The total walking distance along the Canyon Rim Trail from Mather Point to the South Kaibab Trailhead is 2.3 miles/3.7 km one way. (4.6 miles/7.4 km round trip). More about the Canyon Rim Trail >

It is also possible to first ride the bus to the South Kaibab Trailhead, then walk back the 2.3 miles/3.7 km to Mather Point and the Visitor Center Plaza.
Kaibab Route - Need to Know
This route and the morning Hiker's Express shuttle bus offer the only motorized access to South Kaibab Trailhead — since there is no visitor parking at the trailhead.
The Kaibab/Rim Route provides excellent walking and cycling opportunities via the Canyon Rim and Greenway trails — be aware of ice and snow during the winter months along these trails.
When walking or cycling at Grand Canyon, make sure to take your time and carry food and water with you. The South Rim averages 7,000 feet / 2,134 meters above sea level. Visitors with respiratory or heart problems may experience difficulties. Exercising at this elevation can be strenuous.
Yaki Point is an excellent place to view the sunrise and sunset.
South Rim Shuttle Routes - Summer 2021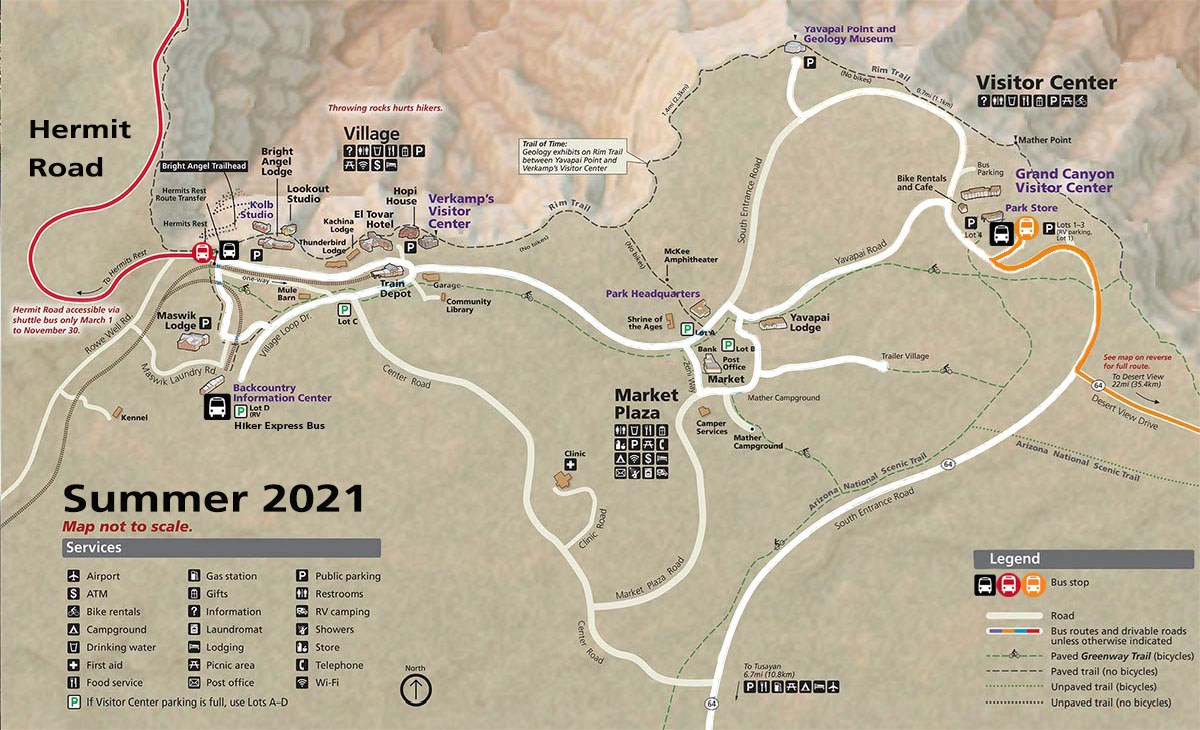 Last updated: June 5, 2021