Kaibab Rim Route Shuttle Bus
Limited Shuttle Service has Resumed
All South Rim shuttle bus service was suspended in mid-March due to the coronavirus pandemic. In an effort to protect public health and follow public health guidelines, shuttle bus service will be significantly modified.
Safety modifications to normal shuttle operations include:
Shuttle capacity is limited to 15 passengers.
Face masks/coverings are required. Prior to entry passengers must have their own face mask/covering.
Hand sanitizer will be available for use.
Passengers must follow all CDC and public health physical distancing guidelines while in line and on the bus.
Sidewalk decals, tape, and signage has been installed at bus stops to promote physical distancing.
Buses will undergo daily cleaning according to CDC and public health guidance.
Shuttle bus staff will follow specific screening protocols when reporting to work each day.
Kaibab Rim Route - Eastbound (Orange Route)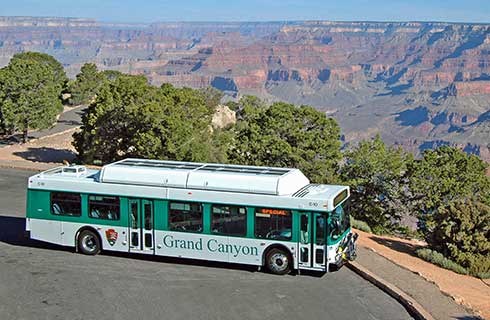 30 Minutes Round-trip
(without getting off the bus)
The Kaibab Rim Route (Orange Route) Eastbound will operate from 5 am until one hour after sunset each day.

View

sunset times.
Park at the Visitor Center and be transported to exceptional canyon views is by taking the eastbound Kaibab Rim bus to Yaki Point. (Yaki Point is closed to private vehicles).
This bus also transports hikers and backpackers to and from the Visitor Center and the South Kaibab Trailhead.
Kaibab Rim Route - Fall 2020 - Need to Know
This route and the morning Hiker's Express bus (Departing from the Backcountry Information Center at 6,7, and 8 am) offer the only motorized access to South Kaibab Trailhead.

The westbound bus from the Visitor Center to Yavapai Geology Museum will not be in operation.
The Kaibab/Rim Route provides excellent walking and cycling opportunities via the Rim and Greenway trails – be aware of ice and snow during the winter months along these trails.
Yaki Point is an excellent place to view the sunrise and sunset. Please refer to the loop diagram below, along with the South Rim Pocket Map and Services Guide, (shown below the route diagram below) for more information on this scenic route.

Points of Interest
South Kaibab Trailhead
Yaki Point
Pipe Creek Vista
Points of interest are also shown below on the South Rim Pocket Map and Services Guide. When you enter the park, you will receive a paper copy of this map.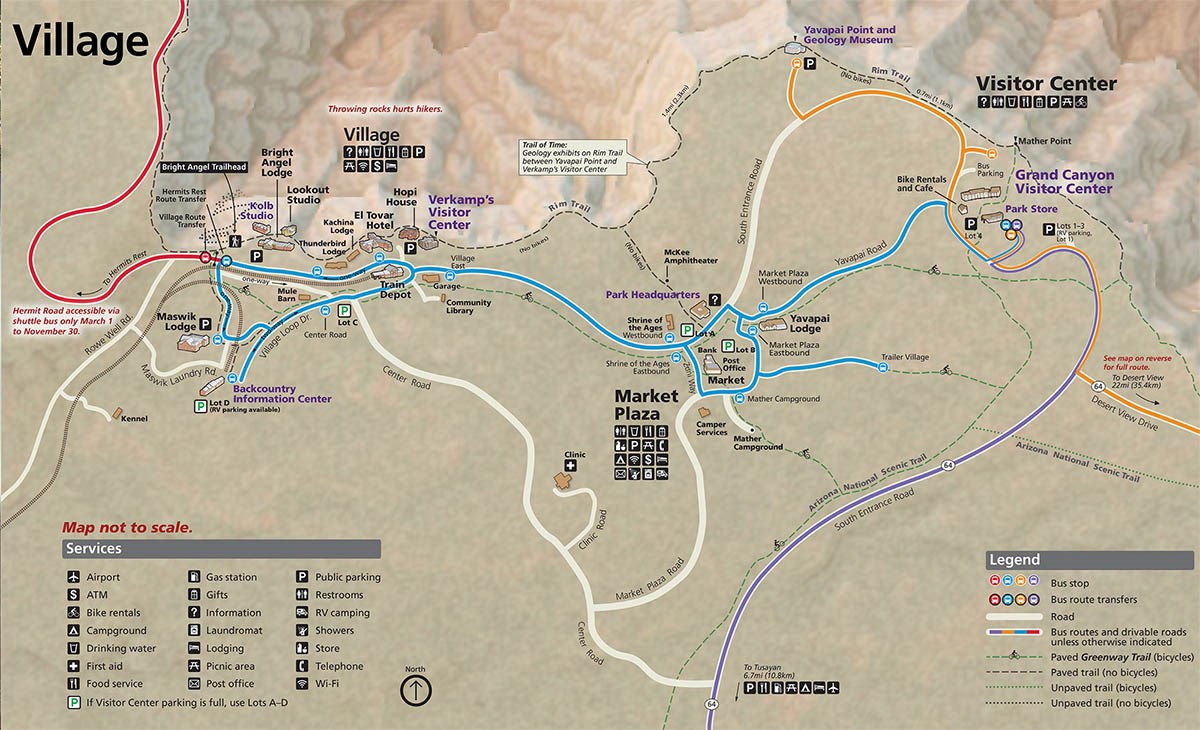 Possible Itineraries Along This Route:
Beautiful Views, Ecology and So Much More
Leave the car in one of the parking areas at Grand Canyon Visitor Center, follow the canyon rim signs to Mather Point, and walk east along the Rim and Greenway trails taking in spectacular canyon views. In approximately 1.4 miles (2.3 km), you will come to Pipe Creek Vista, where you can take the Kaibab/Rim Route back to the visitor center or continue walking another 1.0 mile (1.6 km) to the South Kaibab Trailhead, where you can get on a Kaibab/Rim Route shuttle bus, which will then stop at Yaki Point and Pipe Creek Vista before returning to the visitor center.
When walking or cycling at the Grand Canyon, make sure to take your time and carry food and water with you. The South Rim of Grand Canyon averages 7,000 feet / 2,134 meters above sea level. Visitors with respiratory or heart problems may experience difficulties. Exercising at this elevation can be strenuous.
Pre-Covid Kaibab Route schedules - for reference only.
Additional Shuttle Bus Routes
Last updated: September 5, 2020