CESI Modeling Projects by Title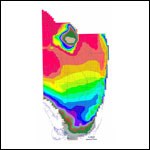 These projects support the development and refinement of predictive models that simulate physical and biological responses to proposed modifications. Simulation Modeling projects use data from Baseline Research and Long-term Monitoring projects to parameterize models.
Projects below can be sorted according to year, project title or principal investigator. Where available, click on project titles for more in-depth project information.
Project Title

2007

A Coupled Surface Water and Ground Water Model to Simulate Past, Present and Future Hydrologic Condition

Wolfert, M.

USGS

2006

A GIS-based Decision Support
Tool to Evaluate Land Management Policies
in South Florida

Bernknopf, R.

USGS

2000

Smith, T.

UV

1999

Mazzotti, F.

UF

2007

Application of Hyperspectral and Multispectral Satellite Data for CERP Monitoring and Assessments

Kearns, E.

NPS

2004

ATLSS Modeling: Extensions to Variable Spatial Grid Hydrologic Models

Gross, L.

USGS

2001

Climate Topographic Data for
Completion of Vertical Control Network

Beadman, J.

Beadman
& Assoc.

2003

Comp Long-term Climatic Variability and Exploration of Hydro/Eco Impacts

Lall, U.

COLUM

1997

Computer Simulation Modeling of Intermediate Trophic Levels for ATLSS

Gaines, M.

NPS

2001

Crayfish Response to Hydrologic Restoration

Hilborn, R.

WASH

2002

Development/Evaluation of Rainfall Driven Formula for Water Management

Lall, U.

COLUM

1997

Development of Selected Model Components of ATLSS for Wetland Systems

Gross, L.

UTK

1997

Development of Trophic Models for Amphibians / Reptiles

Dalrymple, G.

ERG

2006

Effects of Hydrological Restoration on Manatees: Integrating Data and Models for the Ten Thousand Islands

Langtimm, C.

USGS

2001

Establishment of Critical Parameters
with Modeling/Monitoring
Snail Kite Populations

Kitchens, W.

UF

1997

FATHOM: A Mass Balance Model for Salinity in Florida Bay

Fourqurean, J.

FIU

1998

FATHOM: Effects of Water Management on Salinity / Nutrient Loading in Florida Bay

Fourqurean, J.

FIU

1998

FATHOM: Salinity Predictions

Fourqurean, J.

FIU

1997

Flow Velociy/Water Level Transects in SICS Model Area

Swain, E.

USGS

2001

Habitat-based GIS Query Tools

Olsen, D.

USGS

2001

Hydro/Topos/Edaphic Factors
to Landscape Community Structure
in Marshes

Volin, J.

FAU

2001

Importance of Water Flow to
Landscape Structure/Sediment Transport

Chilers, D.

FIU

1998

Individual-based Spatially Explicit
Model of Cape Sable Seaside
Sparrow Populations

Gross, L.

UTK

1999

Internet-based GIS to Visualize ATLSS Datasets

Johnson, J.

USGS

2002

Landscape Model of Ridge & Slough
Topography Integration of Hydro & Bio

Givnish, T.

UW

2006

Linking a Conceptual Karst Hydrogeologic Model of the Biscayne Aquifer to Ground Water Flow

Cunningham, K.

USGS

1999

Mangrove Modeling of Landscape/Stand-Level/Soil-Nutrient Processes

Doyle, T.

USGS

1998

Model Development for Restudy: Additional Runs for DOI Restudy Needs

Gross, L.

USGS

2006

Modeling Hydrologic Flow and Vegetation Responses Across the Tamiami Trail and Coastal Watershed

Doyle, T.

USGS

1997

Multi-Modeling Implementation Supporting ATLSS

Fishwick, P.

UF

2001

NSM Calibration

Fennema, R.

1998

Parameter Est./Pop-based Simulation
Modeling of Alligator Populations

Rice, K.

UF

1997

Parameterizing Individual-based
Models for the Snail Kite

Kitchens, W.

UF

1998

Predicting the Response of Aquatic
Macroinvertebrate Populations to Changes
in Critical Habitats

Acosta, C.

NPS

2001

Marshall, F.

CLF

1999

Simulation Model of Sea Grass
Communities in Florida Bay

Madden, C.

SFWMD

1997

Swain, E.

USGS

2008

Spatially Distributed Hydroecosystem Modeling of Everglades Ridge and Slough Landscapes

Jawitz, J.

UF

1998

Spatial / Temporal Dynamics of White-Tailed Deer

Portier, K.

UF

2001

Spatial Variability / Modeling of
Soil Accretion in Shark Slough

Clark, M. W.

UF

2002

Statistical Salinity Models for Florida Bay / Southwest Gulf Coast

Marshall, F.

CLF

2007

The Use of Statistical and Mass Balance Models for the Improvement of Interim Goal Indicators

Marshall, F.

CLF

2001

Time Series Analysis/Stat Modeling of Salinity/Canal Discharge/Available Data

Serafy, J.

UM

2001

DeAngelis, D.

USGS
Last updated: June 24, 2016