CESI Modeling Project 01-7
Using Statistical Models to Simulate Salinity Variation and Other Physical Parameters in North Florida Bay
Frank Marshall, III

Historically, seasonal pulses of freshwater from the Everglades fed and nurtured the estuarine waters of Florida Bay. Over the past century, large-scale hydrologic modifications have served to divert water, resulting in greater salinities. Ongoing restoration efforts aim to restore a more natural flow of water to the Everglades watershed, making the health of Florida Bay an important gauge of overall success.
This two-year study focuses on modeling predicted salinity patterns in Florida Bay. Calling upon data from the South Florida Water Management District, Everglades National Park, the National Weather Service, and the National Ocean Service, this study provides important insight into the suitability of statistical models for this purpose. Modeling salinity in Florida Bay will prove important in helping evaluate effects from proposed restoration projects.
Final Report
(PDF, 2 MB)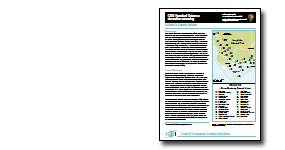 Project Fact Sheet
(PDF, 670 KB)
Literature Cited
Marshall, F.E., G.L. Wingard, and P. Pitts. 2009. A simulation of historic hydrology and salinity in Everglades National Park: Coupling paleoecologic assemblage data with regression models. Estuaries and Coasts. 32:37-53.
National Research Council. 2003. Science and the Greater Everglades Ecosystem Restoration. The National Academies Press, Washington DC, 154 pp.
RECOVER (Restoration Coordination and Verification). 2004. Program documents accessed February 18, 2009, at www.evergladesplan.org//pm/recover/recover.aspx
U.S. Army Corps of Engineers/South Florida Water Management District. 2002. Florida Bay/Florida Keys Feasibility Study, accessed February 18, 2009, at www.evergladesplan.org/pm/studies/fl_bay.aspx
RELATED PUBLICATIONS
Marshall, F. E., Smith, D. T., Nickerson, D. M. (2011). Empirical tools for simulating salinity in the estuaries in Everglades National Park, Florida. Estuarine, Coastal and Shelf Science, 95(2011): 377-387
Contact the principal investigator directly with questions about this study,or to receive copies of related publications.
Last updated: April 14, 2015