CESI Modeling Project 00-1
A Landscape-Scale Seagrass Model for Florida Bay
Thomas M. Smith, Joseph Zieman & Karen McGlathery

Historically, the seagrasses of Florida Bay provided important habitat for a bevy of marine life and contributed to the clarity of the bay's waters. Water management practices in south Florida, however, have resulted in changes to the physical and chemical workings of the bay. In recent years, the area has experienced a significant loss of seagrass, and scientists continue to closely investigate possible linkages.
The ongoing effort to restore the Florida Everglades relies upon predictive modeling to simulate effects of proposed projects. This CESI-funded project develops a model to simulate patterns of seagrass dynamics in response to changes in Florida Bay.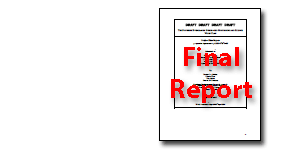 Final Report
(PDF, 730 KB)
Contact the principal investigator directly with questions about this study.
Florida Bay, seagrass, seagrass, model, Thomas Smith, Joseph Zieman, Karen McGlathery, CESI, Critical Ecosystem Studies Initiative, Everglades, Sea Grass
Last updated: April 14, 2015