CESI Modeling Project 02-3
Vegetation Differentiation in the Patterned Landscape of the Central Everglades: Importance of Local and Landscape Drivers
Thomas J. Givnish, V. Dianne Owen, Valeria C. Volin,
Jordan D. Muss, Michael S. Lott, Paul H. Glaser, and John C. Volin

The uniquely patterned ridge and slough landscape of the central Everglades is believed to have formed gradually over time in response to hydrologic conditions. Though returning historic populations of wildlife to these areas has been a central goal in restoration efforts, it is often believed that the systems upon which they depend are somewhat static. Greater understanding is necessary regarding how changes in flow, hydroperiod and water depth might influence the origin and maintenance of receiving landscapes.
This CESI-funded project focuses on the highly managed areas within Water Conservation Area 3, and results in the development of a conceptual model of ridge and slough drivers. This model assimilates numerous variables of importance, including gradual sheetflow, peat accumulation, the dispersal of nutrients, occurrence of fire, and the effects of repetitive feedback loops. The use of such models is critical in helping predict the possible effects of water management decisions on ecosystems.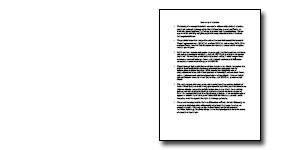 Executive Summary
(PDF, 15 KB)
Givnish, T. J., Volin, J. C., Owen, V. D., Volin, V. C., Muss, J. D. & Glaser, P. H. 2008. Vegetation Differentiation in the Patterened Landscape of the Central Everglades: Importance of Local and Landscape Drivers. Global Ecology and Biogeography, 17:384-402.
Contact the principal investigator directly with questions about this study,
or to receive copies of related publications.
Central Everglades, CESI, Critical Ecosystem Studies Initiative, Patterned Landscape, Ridge & Slough, Thomas Givnish, Vegetation, WCA 3A, Model, Modelling
Last updated: April 14, 2015