CESI Modeling Project 99-1
The Multi-Species/Habitat Ecological Evaluation of
Alternative Everglades Restoration Plans
Frank Mazzotti, Leonard Pearlstine, Tom Hoctor & Gareth Mann

The alteration or loss of habitat is one of the primary stressors for the threatened and endangered species of south Florida. Completed by the U.S. Fish and Wildlife Service in 1999, the South Florida Multi-Species Recovery Plan provides a valuable tool for both identifying lands important to imperiled species, and managing potential impacts to their quality.
This project incorporates species information into a Geographic Information System (GIS), and utilizes map layers to model habitat requirements. In total, twenty-two threatened and endangered terrestrial vertebrate species are examined, providing valuable insight into how we might prioritize land acquisition and protection.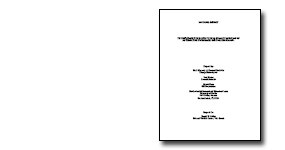 Full Project Report
(PDF, 3.7 MB)
Contact the principal investigator directly with questions about this study.
Last updated: April 14, 2015