CESI Modeling Project 97-8
Assigning Boundary Conditions to the Southern Inland and Coastal Systems (SICS) Model Using Results from the South Florida Water Management Model (SFWMM)
Melinda A. Lohmann, Christian D. Langevin, & Eric D. Swain

The ongoing effort to restore the Everglades relies upon the use of models to test the effects of various water management scenarios in southern Florida. To that end, the South Florida Water Managment Model (SFWMM) and the Southern Inland and Coastal Systems (SICS) model were developed to simulate scenarios in the area's inland freshwater systems and coastal and estuarine habitats, respectively.
This CESI-funded report describes the procedure for linking these two important models for integrated analysis. The efficacy of this technique is verified through the evaluation of a 5-year simulation against field data.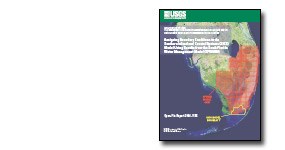 Final Report
(PDF, 5.8 MB)
Contact the principal investigator directly with questions about this study.
Last updated: October 3, 2018