CESI Modeling Project 04-1
ATLSS Modeling: Extensions to Variable Spatial Grid Hydrologic Models
Louis J. Gross

Models are often used to compare and contrast the possible effects of proposed restoration actions. The effectiveness of these models, however, relies upon the successful integration of myriad environmental variables with quality data. Simulating ecosystem responses can be a complex endeavor that necessitates the development of specific tools and methodologies.
This CESI-funded project provides updates to a suite of landscape classes that provide new functionality to the Across Trophic-Level System Simulation (ATLSS) model. The new classes effectively allow for the integration of hydrologic data into Spatially-explicit Species Index (SESI) models. Investigators developed basic tools for input conversion, formatting and data storage, which were tested using the SESI White-tailed Deer Model.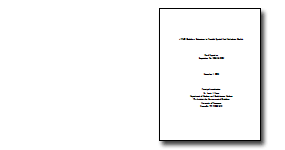 Final Report
(PDF, 460 KB)
Contact the principal investigator directly with questions about this study.
ATLSS, Modeling, Model, Extensions, Variable, Spatial, Grid, Hydrologic, Models, Louis, Gross, CESI, Critical Ecosystem Studies, Initiative, Everglades, National Park
Last updated: April 14, 2015