CESI Modeling Project 01-9
Spatial Variability and Modeling of Soil Accretion in Shark River Slough
M. W. Clark and K. R. Reddy

Fire, frost, hydrology and tropical storms are but a handful of the physical forces that help shape the Everglades landscape. Paralleling these are less conspicuous biological processes that also bear significant influence. The accumulation of soils in the Everglades ecosystem, for example, can result in notable changes in topography over time. These changes in elevation often serve to alter the hydroperiod, water flow, and availability of nutrients in an area.
This CESI-funded investigation examines the dynamics behind the two principal processes of soil accretion in the Florida Everglades-- the deposition of organic matter and the formation of calcite by periphyton communities. Understanding how these processes both influence the development of vegetation communities and interplay with other physical factors will be important in our efforts to restore the Everglades to a more "natural" system.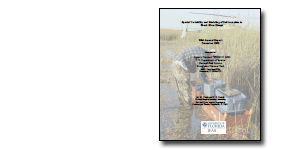 Final Report
(PDF, 1.7 MB)
Contact the principal investigator directly with questions about this study.
Soil, Accretion, Shark River, Slough, Everglades, National Park, M. W. Clark, K. R. Reddy, CESI, Critical Ecosystem Studies Initiative, Deposition, Biological Processes
Last updated: April 14, 2015