CESI Modeling Project 01-8
Development of a Simulation Model Relating Hydrology, Topography, and Edaphic Factors to Landscape Community Structure in Freshwater Marshes
John Volin & Thomas Givnish

Northeast Shark River Slough and the adjoining Water Conservation Areas were once part of the largest slough system draining the historic Everglades. A system of canals and levees has now altered the flow within the ecosystem. Reestablishing the natural hydrologic patterns of Shark River Slough is a critical component of the Comprehensive Everglades Restoration Plan (CERP).
It is important to understand how future restoration actions might influence the growth of vegetation communities in these areas. This CESI-funded project developed a spatially explicit vegetation model that will help predict how anticipated changes in environmental conditions might affect the structure of freshwater marsh communities. This study yields important insights regarding the influence of both water depth and length of inundation.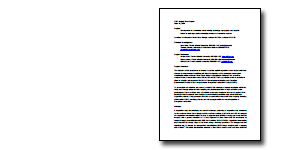 Final Report
(PDF, 1.6 MB)
Contact the principal investigator directly with questions about this study.
Simulation, Model, Hydrology, Topography, Edaphic, Plant, Community, Freshwater, Marshes, CESI, Critical Ecosystem Studies Inititative, Shark River Slough, Everglades, John Volin, Thomas Givnish
Last updated: April 14, 2015